Last updated on 31st October 2019
A Dazzling Place
Kuala Lumpur, short KL, is the capital city of Malaysia. I like the city. When I flew in from Miri I expected another polluted, messy and chaotic town like Bangkok. I was in KL some years ago for a few hours on a stop over of a flight from Australia to Berlin. It was in October too, and I did not like it: the rain, the dirt, the trash, the pollution, the heat, the eateries and that smell everywhere. But this time I found another city. Either Kuala Lumpur has changed a lot during the last 5 years, or my perception has changed considerably. Maybe both. Certainly, the problems are still there but to a much lesser extent I felt. Yes, it's hot and in October it rains most afternoons/evenings. But the pollution was far lower to what I experienced in Bangkok in August, and there were far less dirty corners, and far less messy street food places. That changes the appearance of the city quite a lot and for the better.
Similar to Bangkok in KL every little space gets utilized for another sky scraper, especially around the Petronas Towers in the city centre – KLCC – every remaining square meter is under construction. I am not sure if there is an architectural urban planning behind it, if yes, it's not noticeable. Unfortunately, the beautiful city park behind the Petronas Towers has been downsized, I believe, to make room for more buildings. It is a very beautiful park with water fountains, a little lake and pool, trees, benches, playground etc. I went there for jogging, as many others do too, but to my surprise I found that the jogging path is interrupted by a wall that separates the construction site. Or has an old building been removed to make space for an extension of the park and it's just not completed yet?
KL has really a lot to offer and we could not see everything worth visiting. We chose to hop on the sightseeing bus but found it little helpful. The bus is very slow due to traffic and waiting times, and for the KLCC area most places can be reached on foot which might be much faster. Yes, in KLCC one can actually walk, distances are reasonable and it is interesting doing so. For all other destinations there is the Monorail, the MRT or Grab.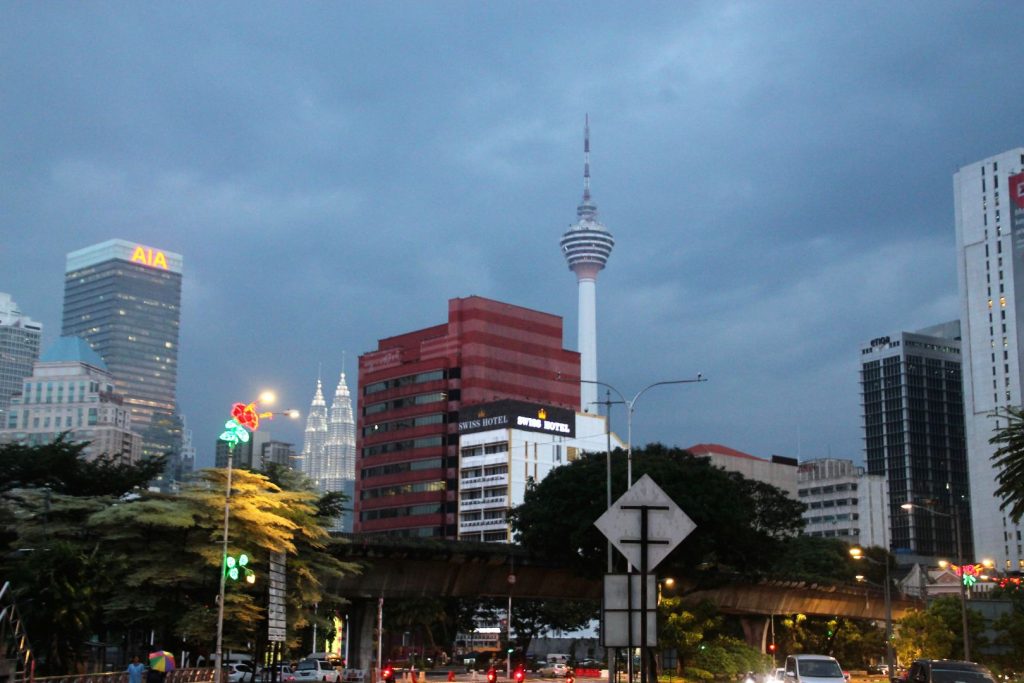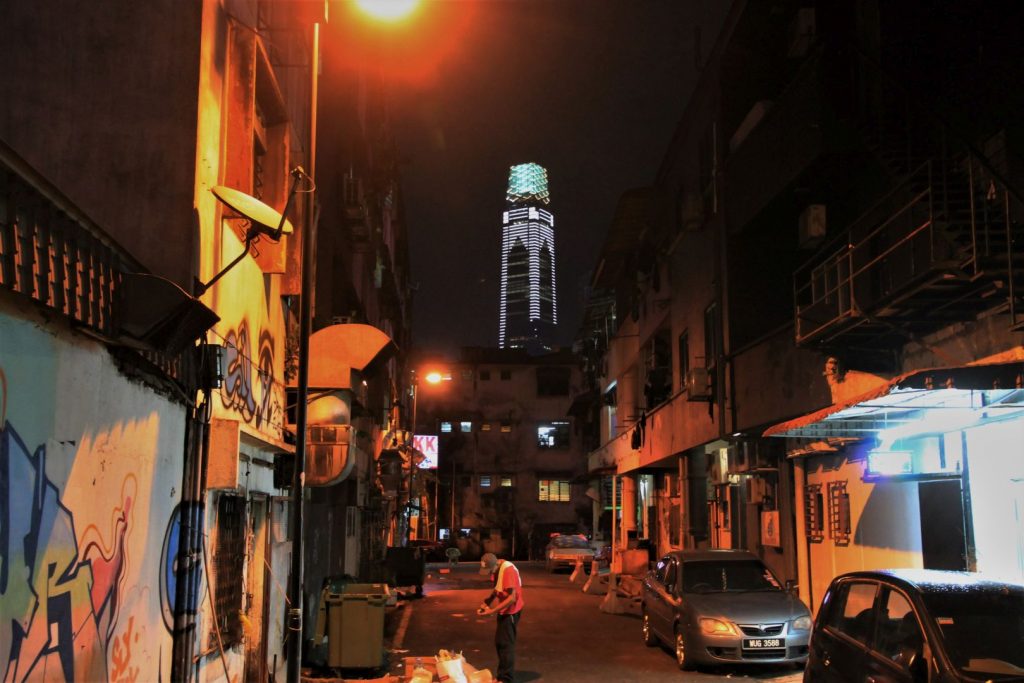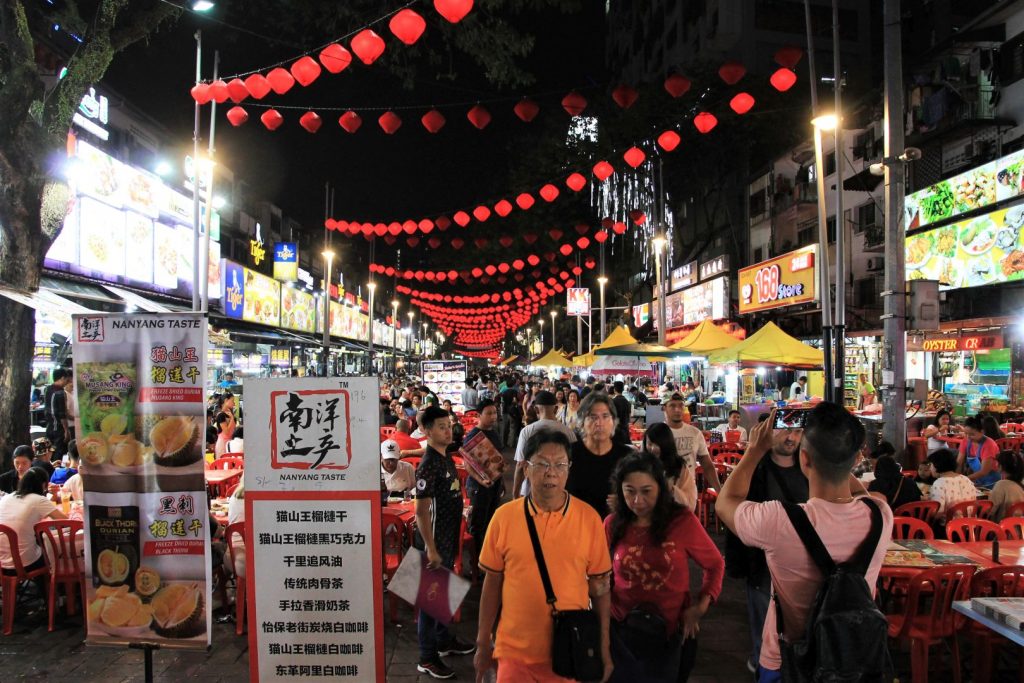 I was lucky to have Anton visiting me for short 10 days, and here is what we chose to do.
KLCC Park
It is a lovely tiny park just behind Suria KLCC shopping centre. From here, one has the best view at the Petronas Towers, and it is also the best spot for a photo. The little bridge that spans over the manmade lake was crowded with instagraming people. Lake Symphony has water fountains that perform daily water shows (not reaching the magnificence of Jerevans dancing fountains! ) KLCC Park has many indigenous trees, various waterfalls, reflecting pools, and there are a variety of facilities including a huge children's playground, a jogging track, shelters and benches, footpaths and sculptures.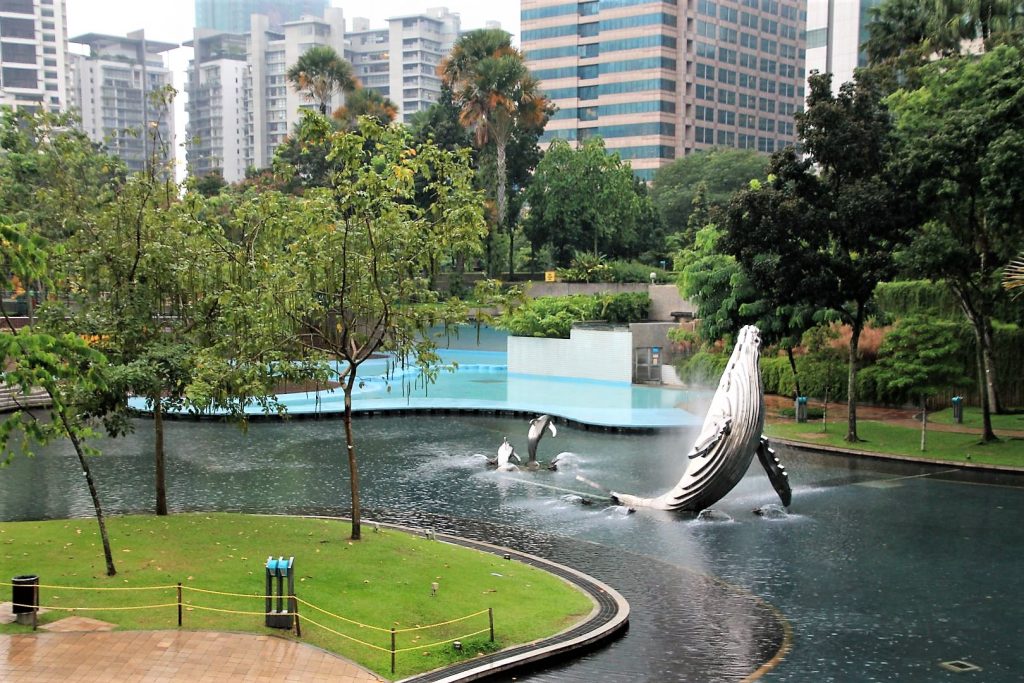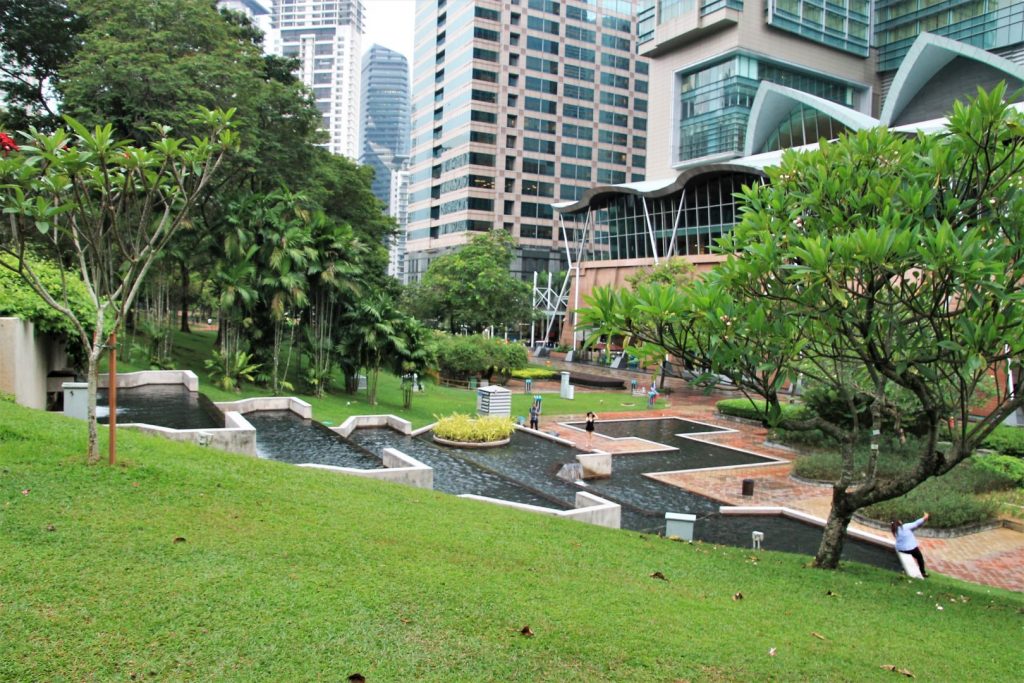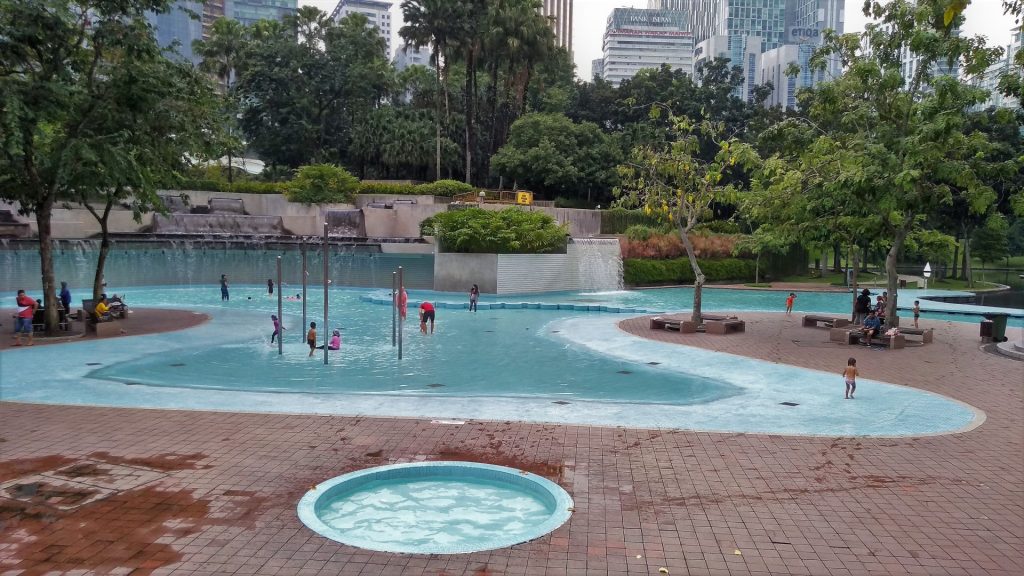 Petronas Towers
What can I say that has not already been said yet? The towers are KL's most famous landmark and a MUST see in KLCC. And actually, one cannot NOT see them. They are truly impressive. The steel and glass facade looks a little retro today and makes photos look like a black & white artwork, even if they aren't. With their height of 452m they are still the tallest twin towers in the world. Petronas is the main occupant but also companies like Huawei, IBM and Microsoft reside here, as well as some of the main news agencies. Tourists can visit the bridge that connects the two towers. We skipped that as we aimed for the KL TV tower instead.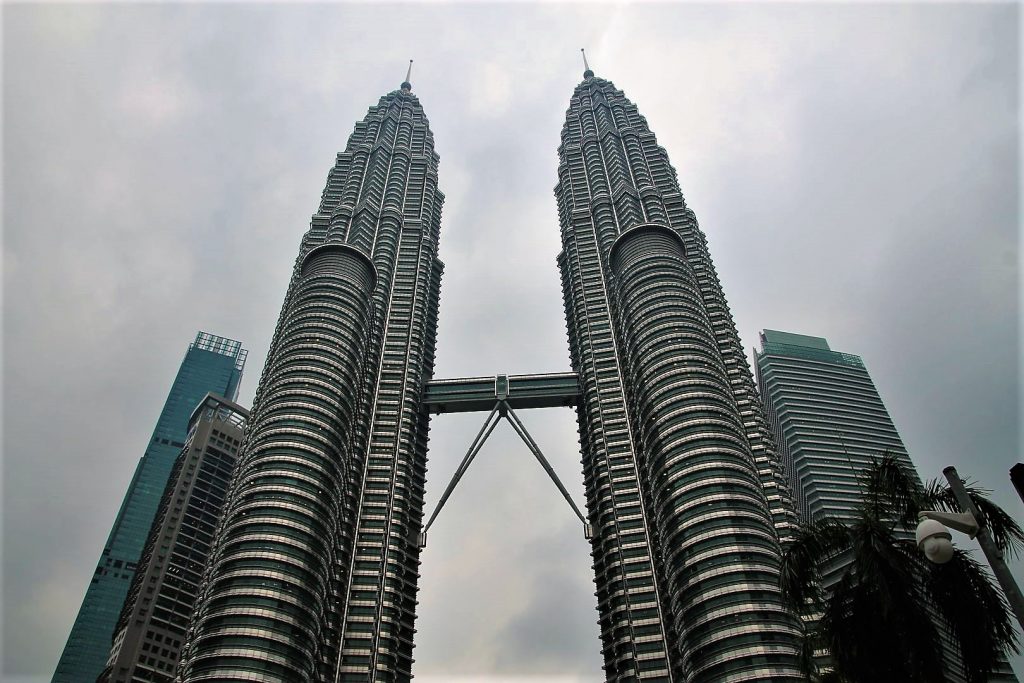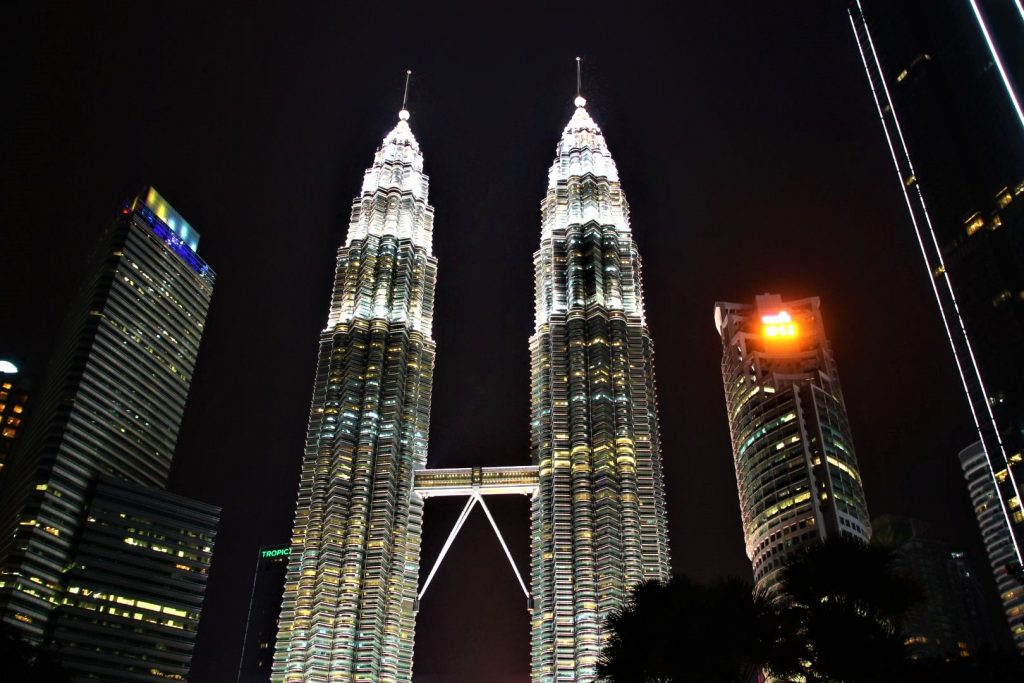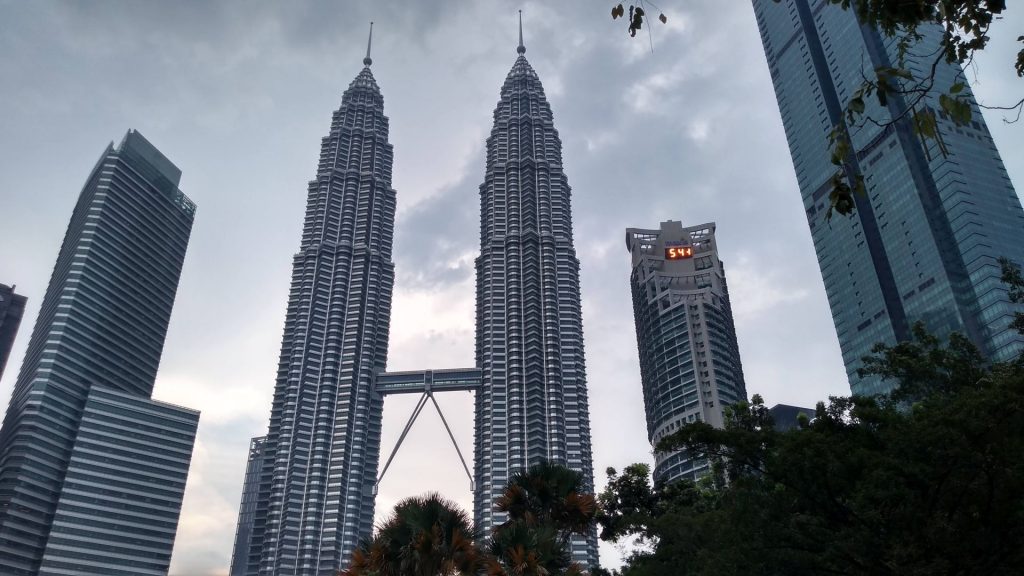 Menara Kuala Lumpur (TV Tower)
Inmidst the last remains of native jungle that existed before Kuala Lumpur was built, on top of Bukit Nanas (Pineapple Hill), towers the 7th-highest TV tower in the world. On top there is an open air skydeck and little lower an indoor observation deck. The skydeck has two skyboxes: little compartments with glass floor. The price of 99 Ringgit for the skydeck ticket is rather steep but we did it anyway. For the skybox we got a waiting number and it took us more than an hour to finally spend 1:40 min in that box for pictures and view – the time is counted and for everyone the same. All in all, it's worth going up there, we waited until sunset and even though the weather was cloudy we found it breathtaking.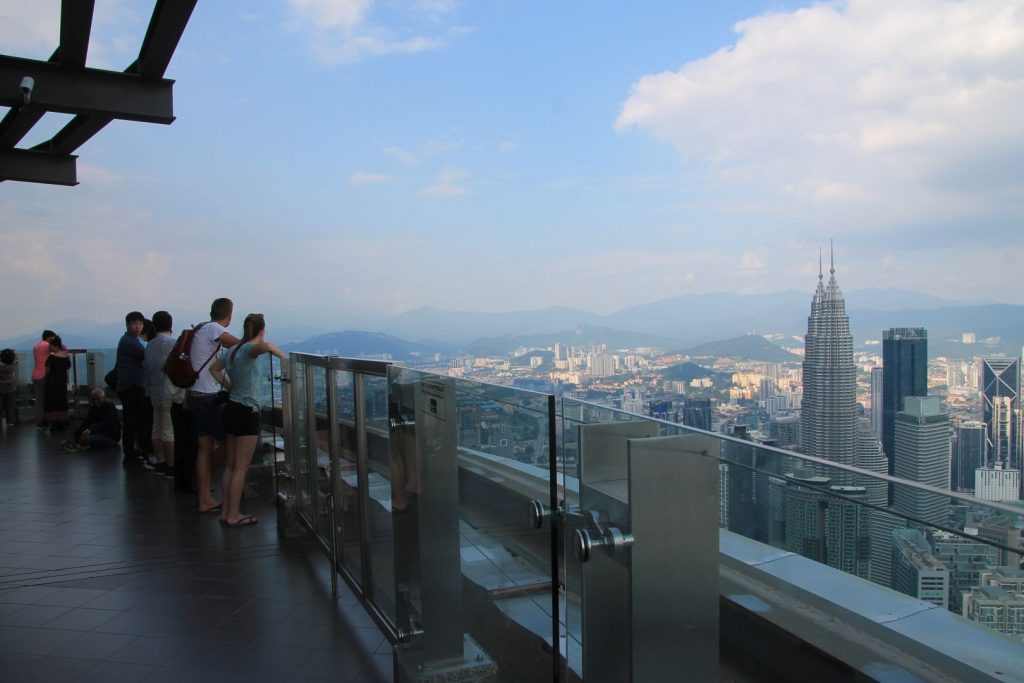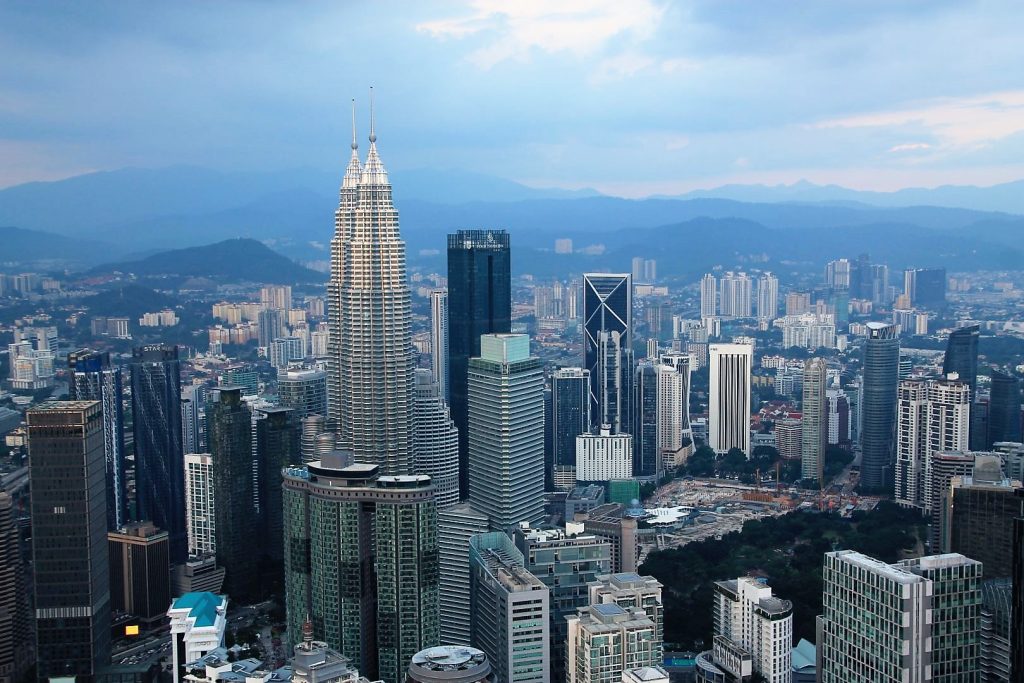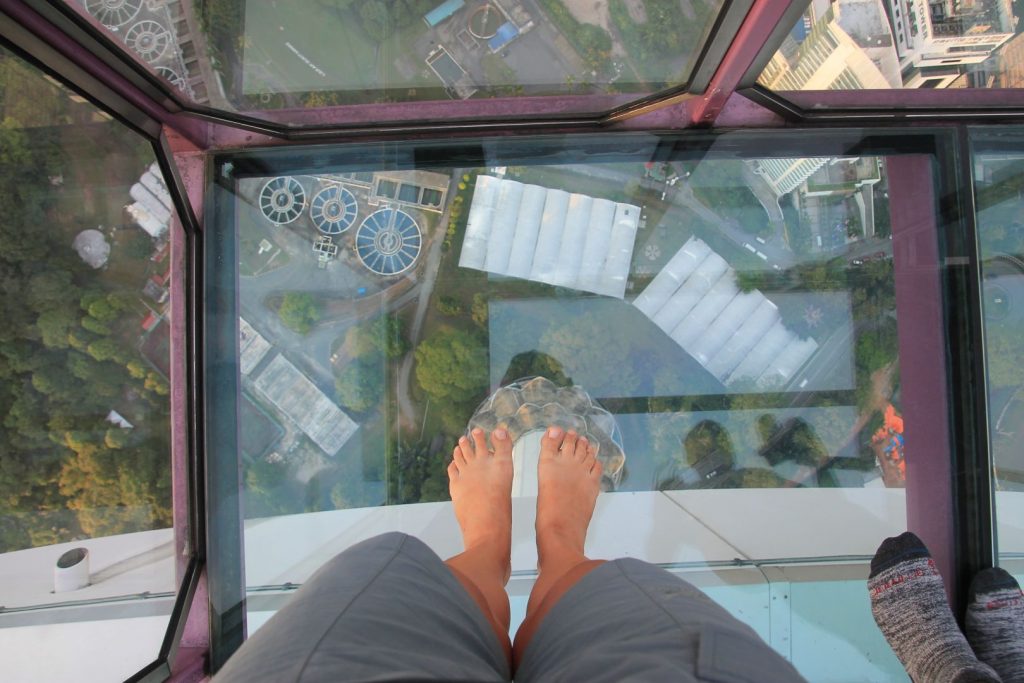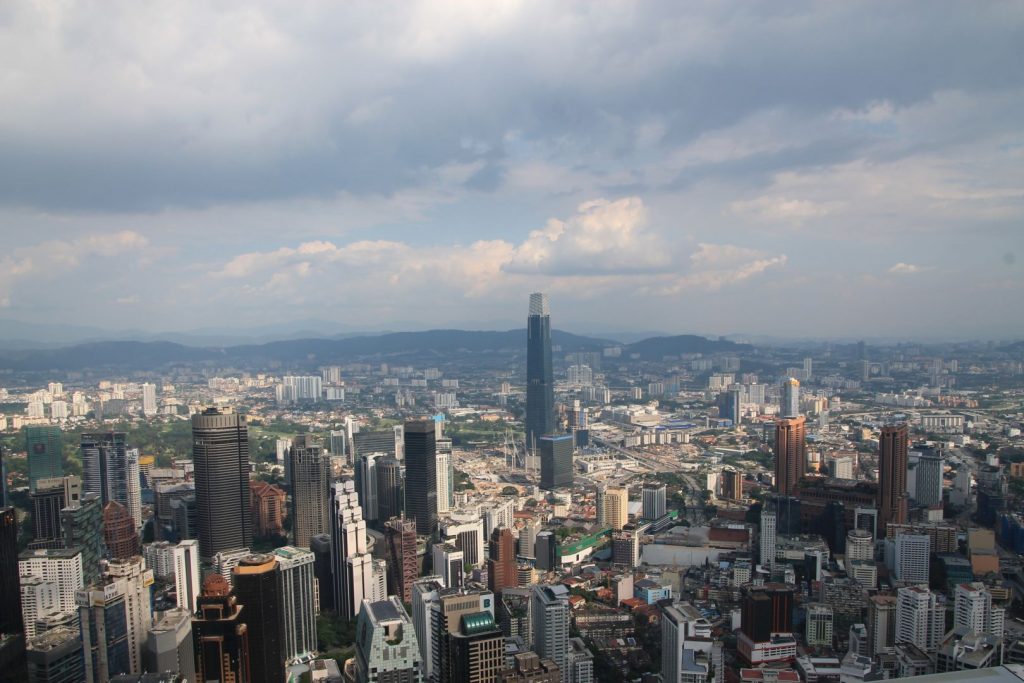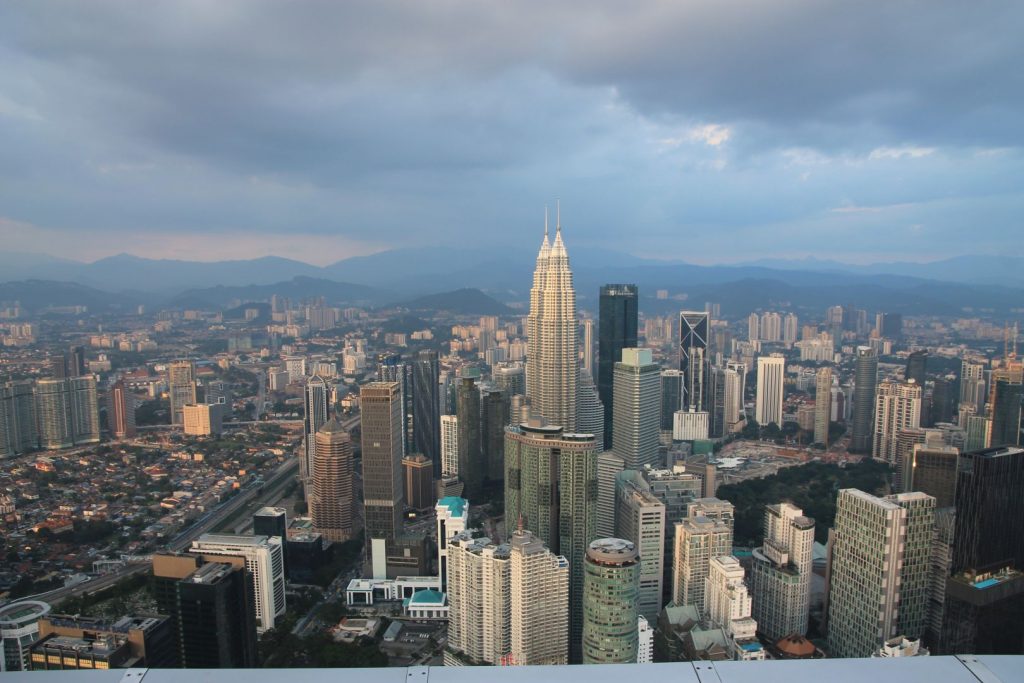 KL Forest Eco Park
Just underneath the TV tower, in the heart of KLCC, there is a little patch of rain forest left. The entrance is free. It features some short hiking tracks, a canopy walk and suspension bridge. Despite its miniature size it is full of typical rainforest plants, some of them have signs with name and explanation, and it has the typical sound. Of course, all the skyscrapers around are visible, and also the traffic can be heard. But still, it has a relaxing atmosphere and somehow its own climate. We spent around an hour in there, other tourists managed to walk every path and spent nearly three hours! There is a zoo as well but that is not our cup of tea.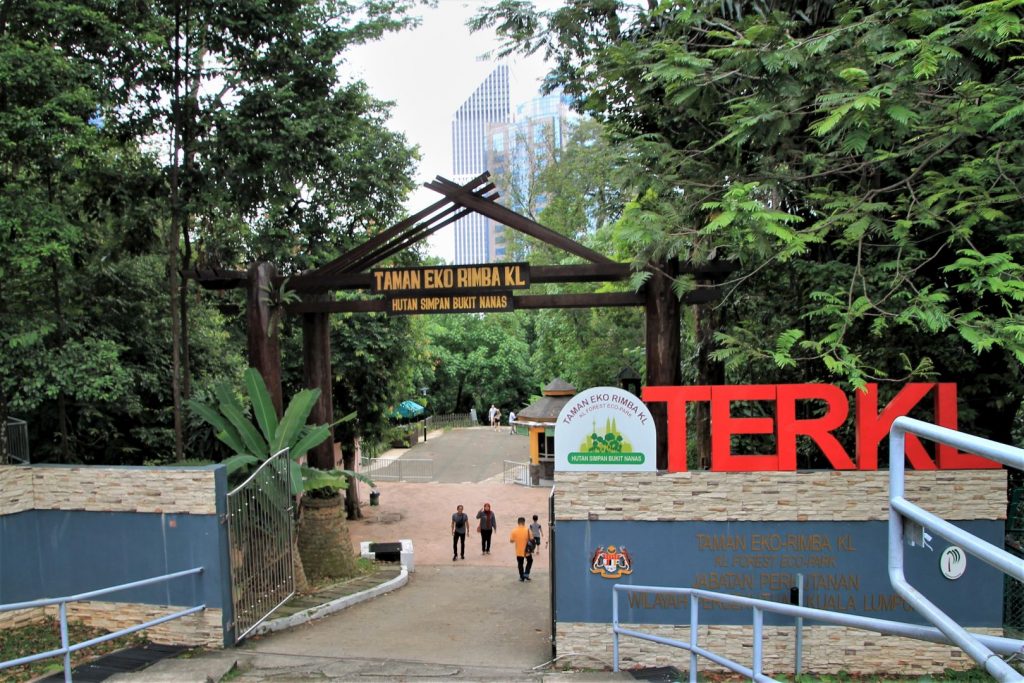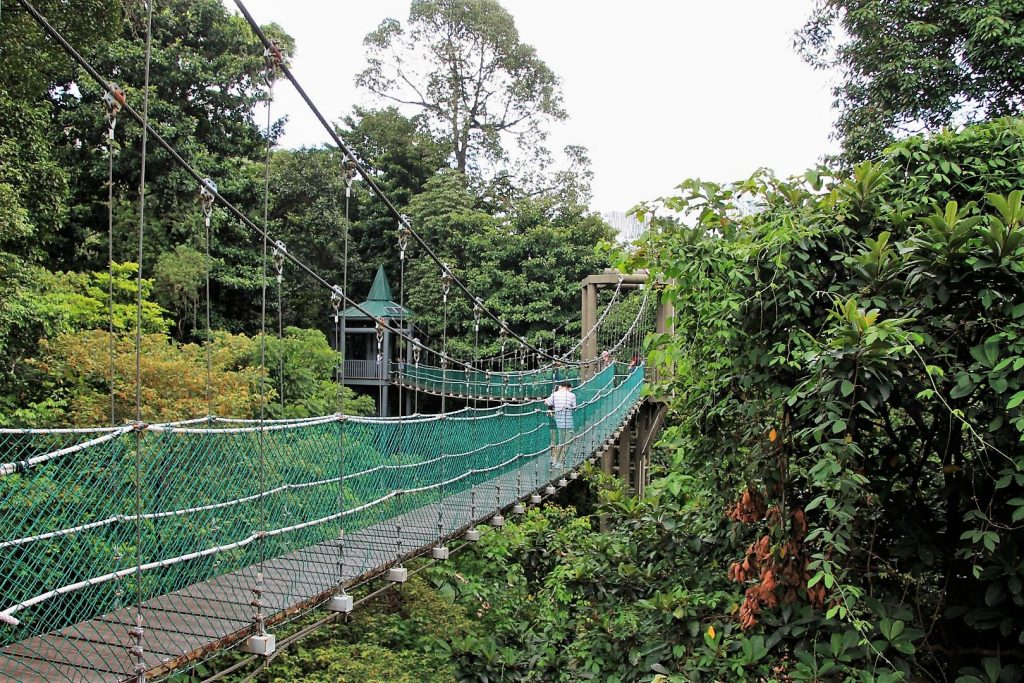 Plaza Merdeka
Also referred to as Independence Square the Merdeka Square is the place where the Union Jack was lowered and the Malaysian flag hoisted for the first time. It's a huge green field with the Sultan Abdul Samad Building on one side and the Royale Selangor Club on the other side. A 95m high flagpole is located at one end of the square, certainly one of the tallest I have ever seen. Surrounding the square are many buildings of historical interest, therefore it is part of the KL Heritage Trail.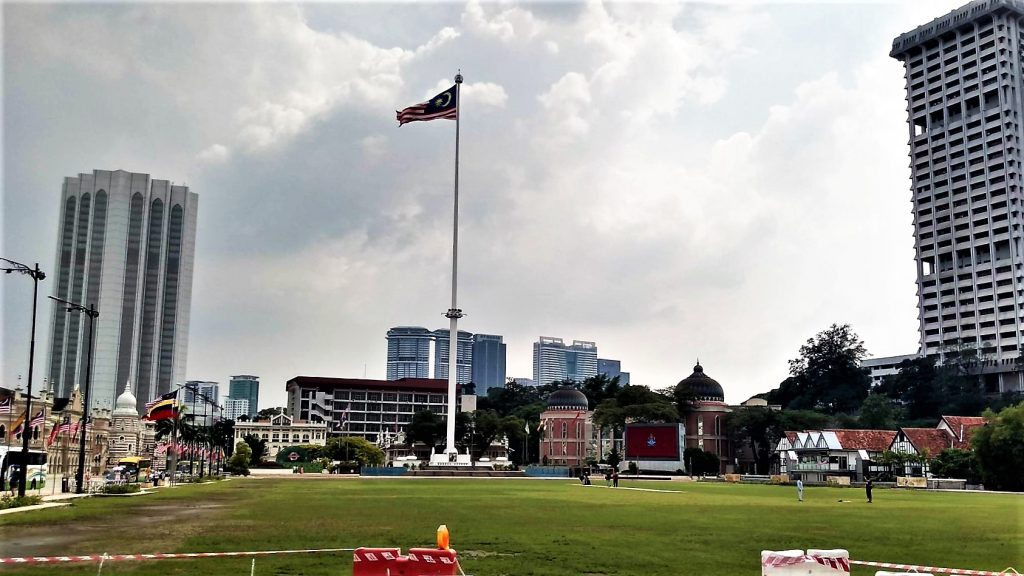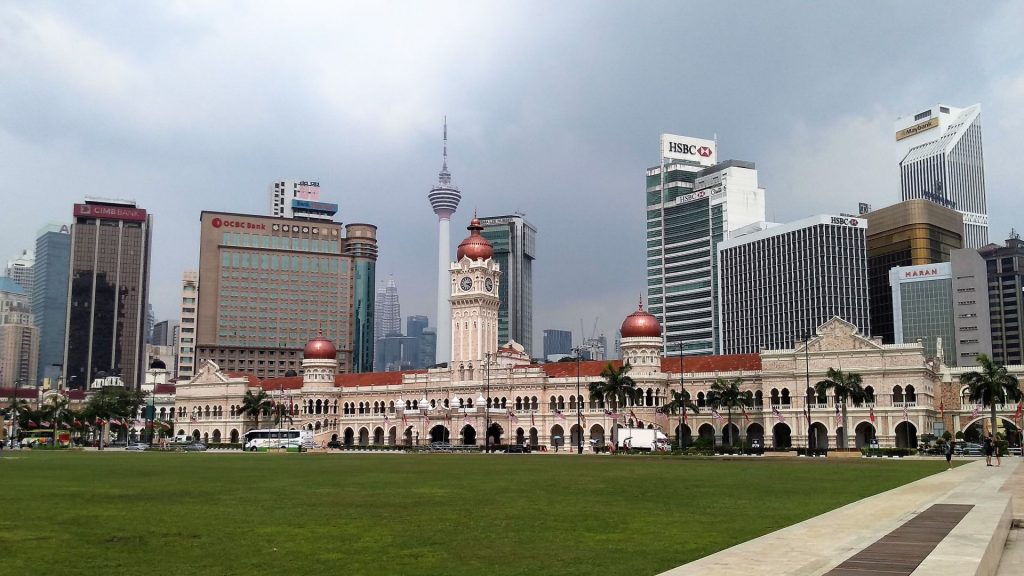 KL Heritage Trail
Kuala Lumpur has some colonial heritage that is still visible in its architecture. It is quite interesting to go a little away from the skyscrapers and discover an entirely new perspective of KL on this self-guided walking tour. It starts at the Central Market and near Chinatown, a good chance for us to visit both places too. It ends at the wonderful, shiny white KL railway station, and includes very beautiful buildings like the Old City Hall and impressive architecture like the Sultan Abdul Samad Building or the Textile Museum. I found a useful description of the trail here which we followed. It took us about 3 hours, just the morning hours and we finished just before the afternoon rain started.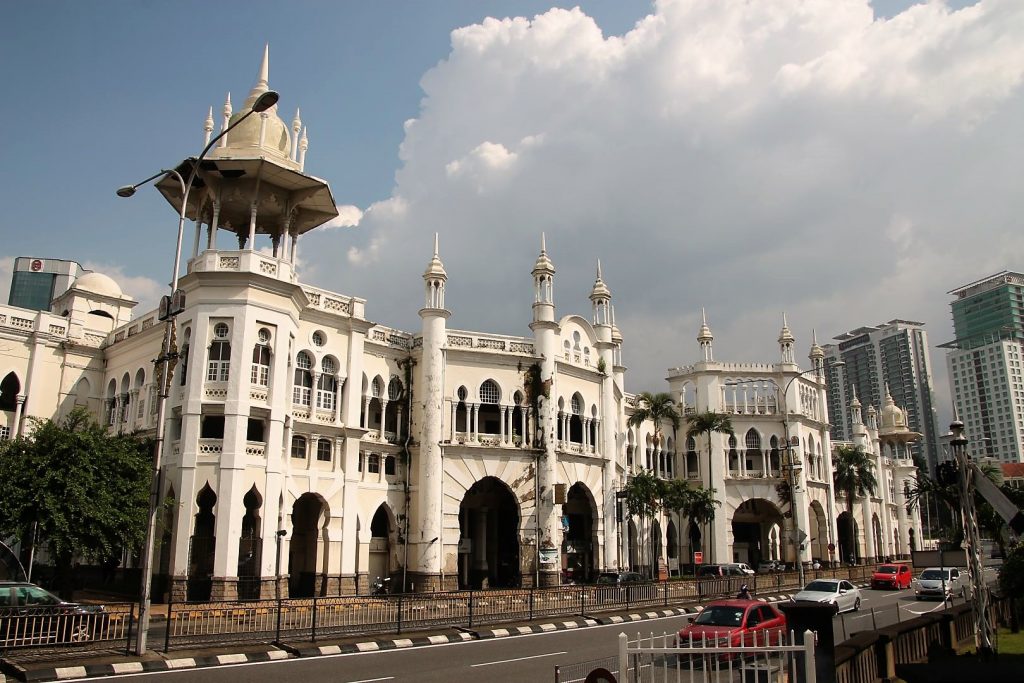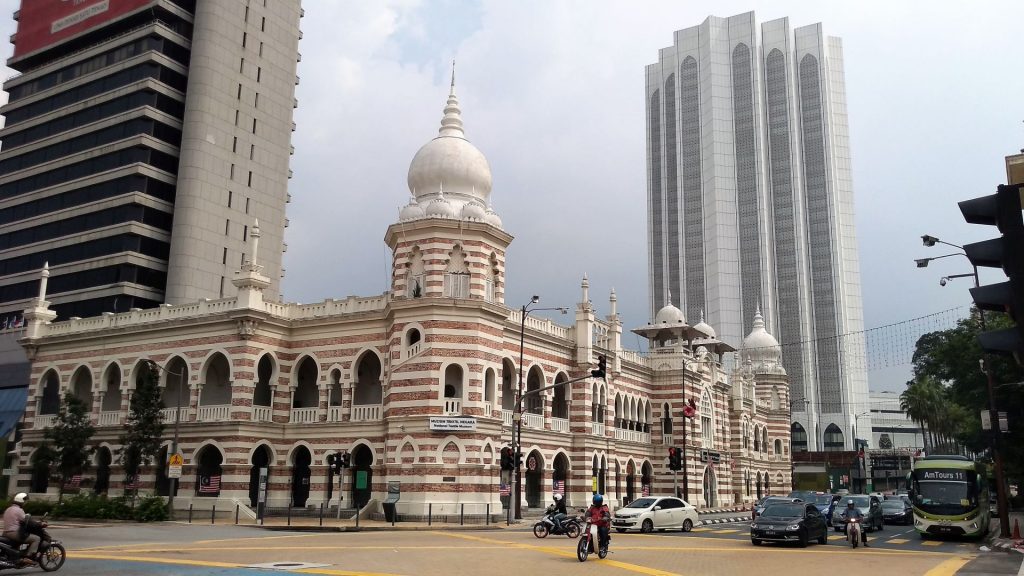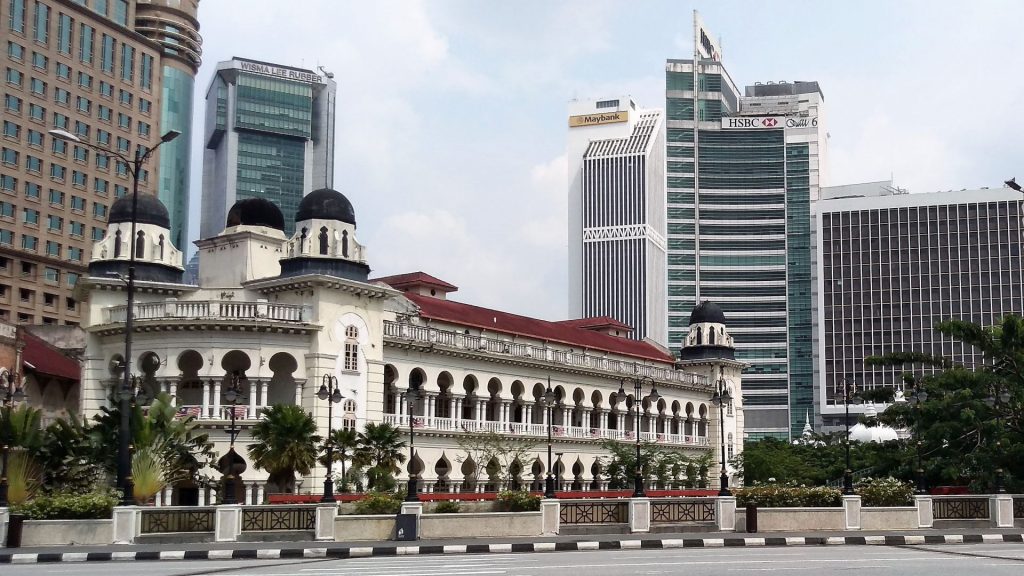 Countdown Clock
Following the Heritage Trail, we came to the impressive Dataran Merdeka, a huge square, and at its corner we discovered the Countdown Clock. We first thought it was a fascinating modern fountain with water falling from a black rooftop all around the structure. Going inside has a relaxing effect due to the sound and coolness of the falling water, quite a mesmerising experience in the heat and noise of the city. The clock counts down the time towards the year 2020 and is best visited at night when the water glows in colourful lights.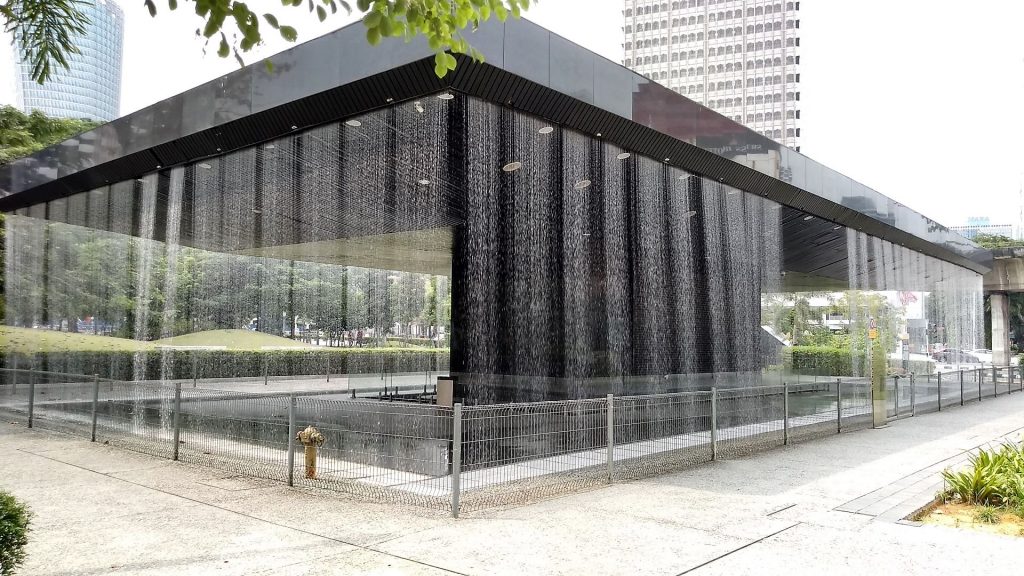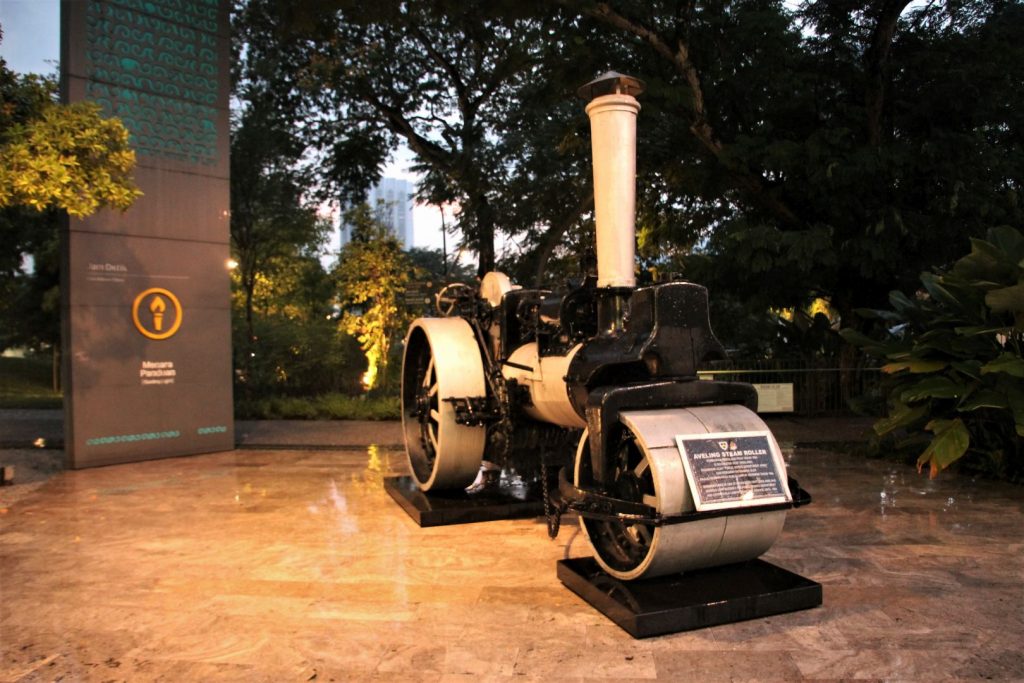 Berjaya Times Square
This is just a shopping centre but one of the biggest in the world. We went there to witness the existence of an indoor theme park and were wondering if the roller coaster might take one from shop to shop. It does not, but there is indeed a theme park indoors and the roller coaster has loops, swirls and all it needs to be a mature roller coaster. Besides, KLCC is full of huge shopping malls, one bigger than the other.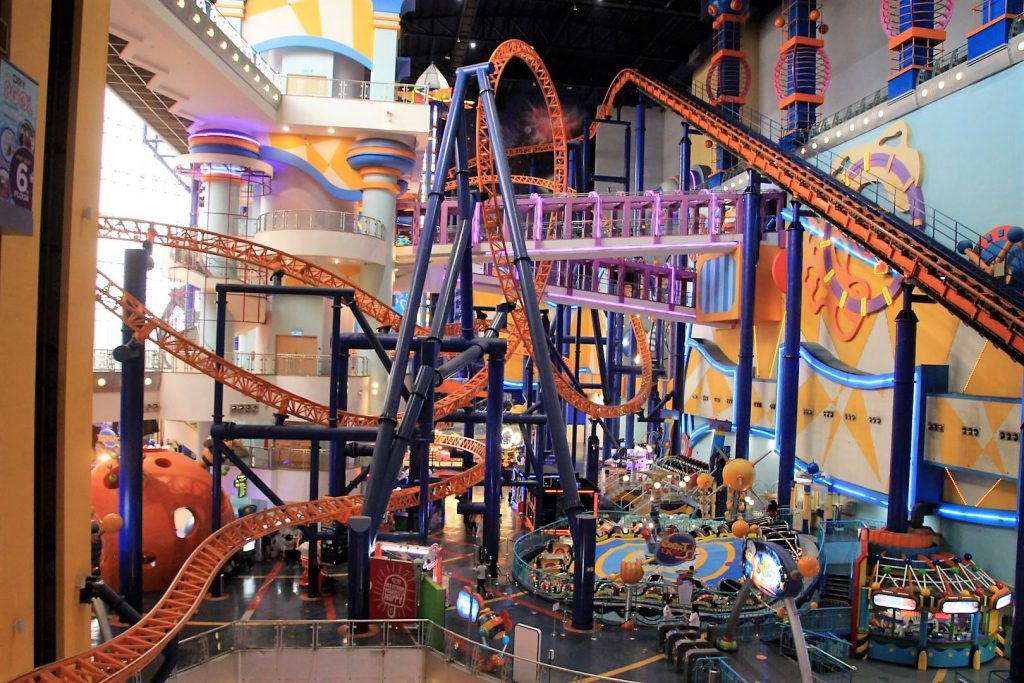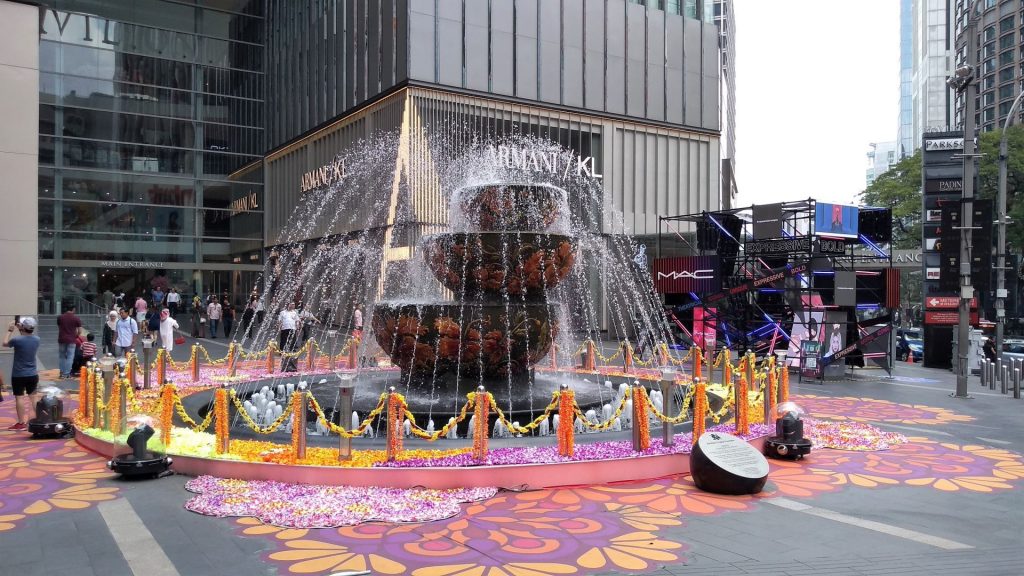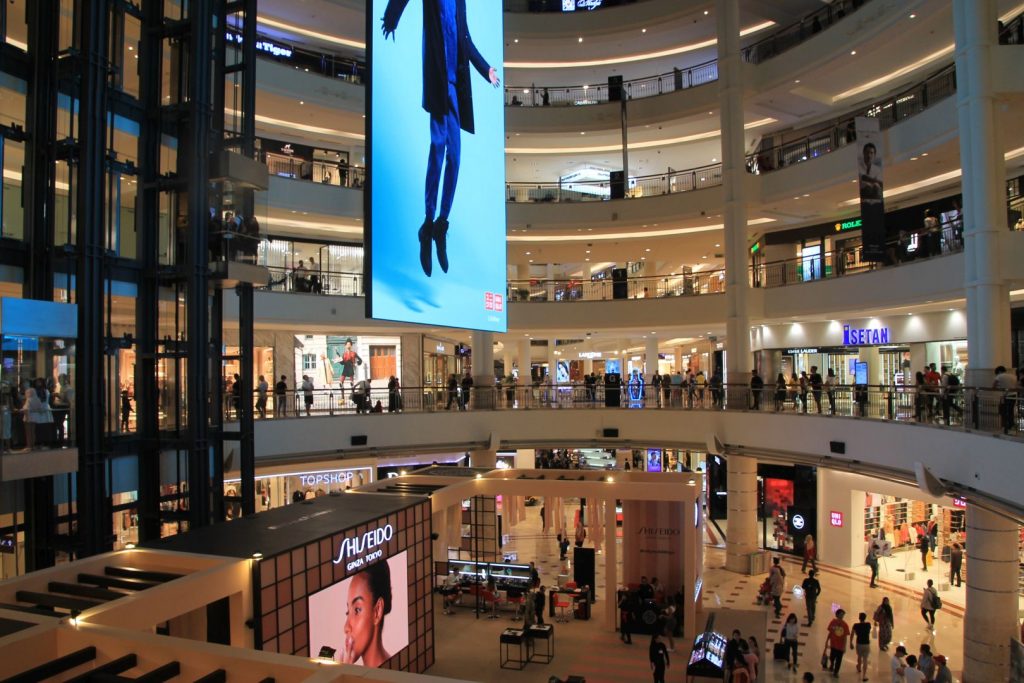 Masjid Negara Mosque and Museum of Islam
Masjid Negara, Malaysia's National Mosque, is the nationwide symbol of Islam. It is truly an impressive building with a massive prayer hall under a unique, star-shaped, bright blue roof and with an extremely high minaret. I wanted to go inside and visit but it was a disaster already when I approached a guarding lady to ask how I could enter. She nearly had a heart attack when she saw me standing in front of her smiling – with shoes! I have been chased away like a mangy bitch. I have never been treated like that, especially not from another woman. It turned out that it was prayer time and visiting was not possible anyway. I left it like that.
The total opposite to that was the welcome we received in the museum of Islam which hosted an interesting exhibition about Iran at the time. People were very friendly and invited us to visit. And the building itself is an invitation too, marvellous white marble, grand stairs and artwork, high ceilings. I was tempted but prefered to see the Botanical Garden instead, not far from the museum.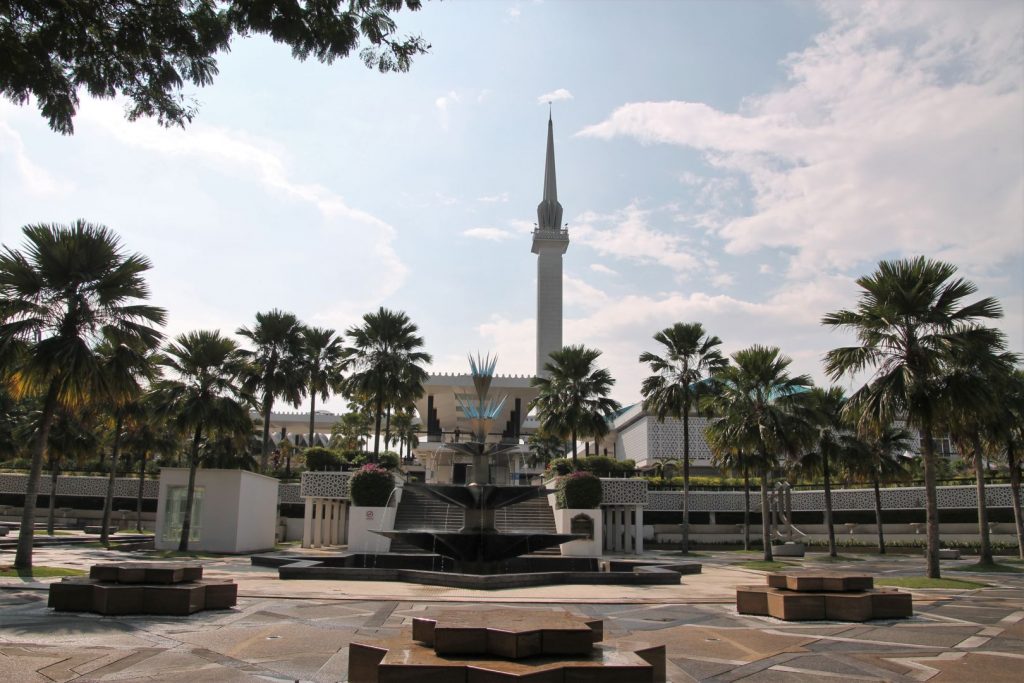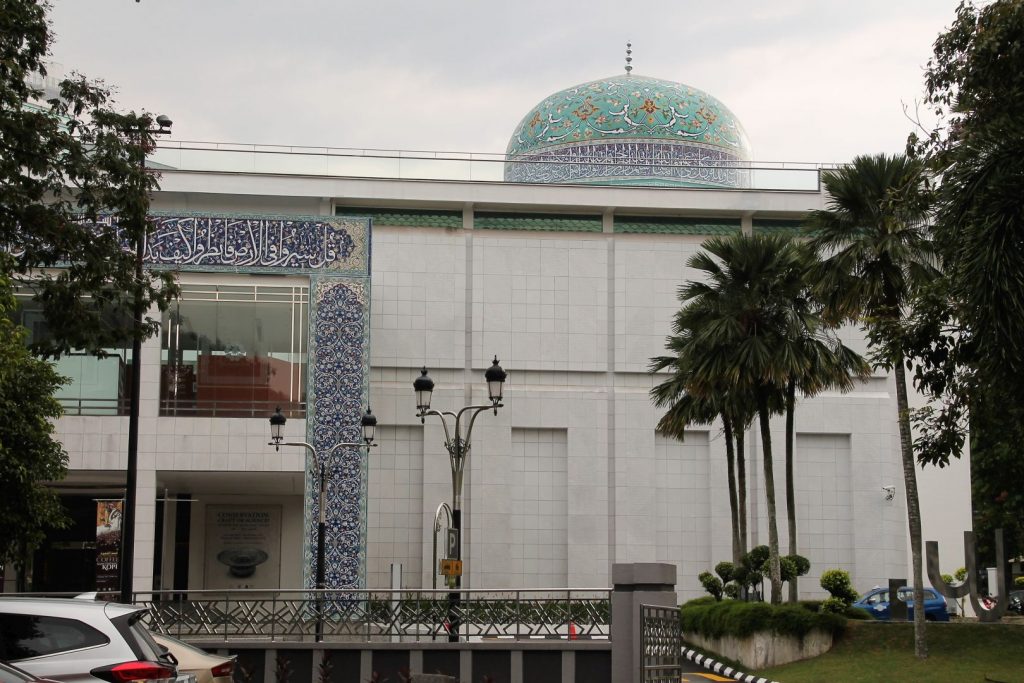 Botanical Garden
The Botanical Garden is a huge, wonderfully arranged garden full of trees and other plants which are all exotic to me, with the exception of the Moringa tree which I recognized from my trip to Tanzania. The park has a huge lake, a deer enclosure, a large event arena, a herbarium and a few bamboo houses for relaxation, a Hibiscus and an Orchid Garden, the latter unfortunately closed at the time. The police headquarters is right next to the garden and the police staff uses the park for jogging and exercise. BTW there are also female police officers who do their job with their head scarf, including the jogging in the midday's heat. That was a quite surprising sight. Entrance is free, and we spent about 3 hours walking around admiring the landscape. Nearby is the bird park, but we skipped it due to the high entrance fee of 60 Ringgit. I had seen the Hornbill as a free flying bird on the river cruise in Borneo already, and most other birds in Sri Lanka's Bird Park.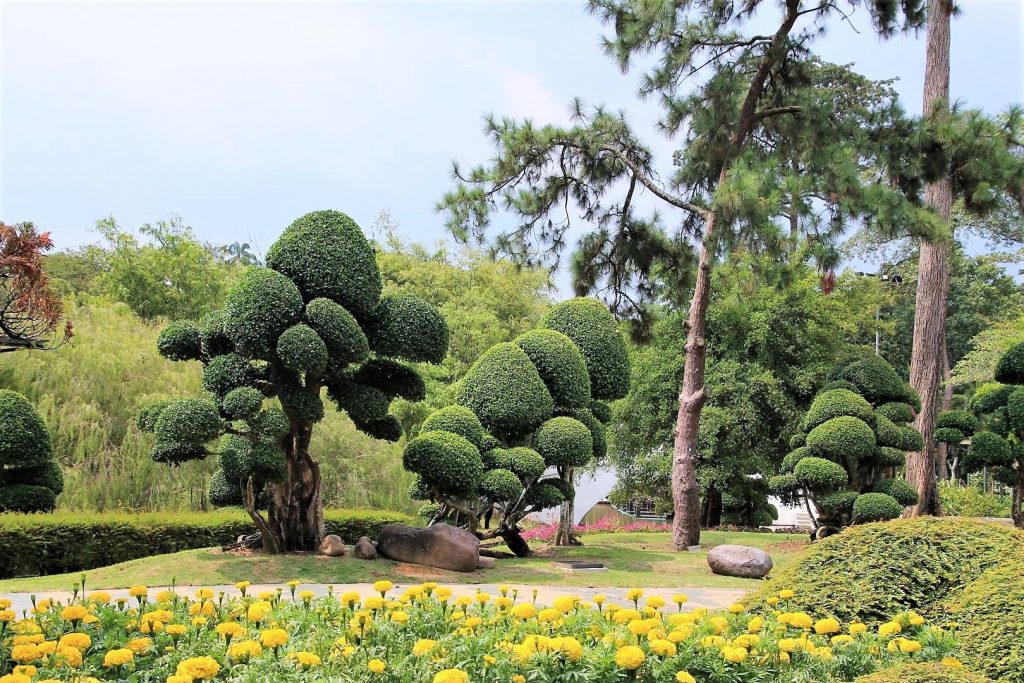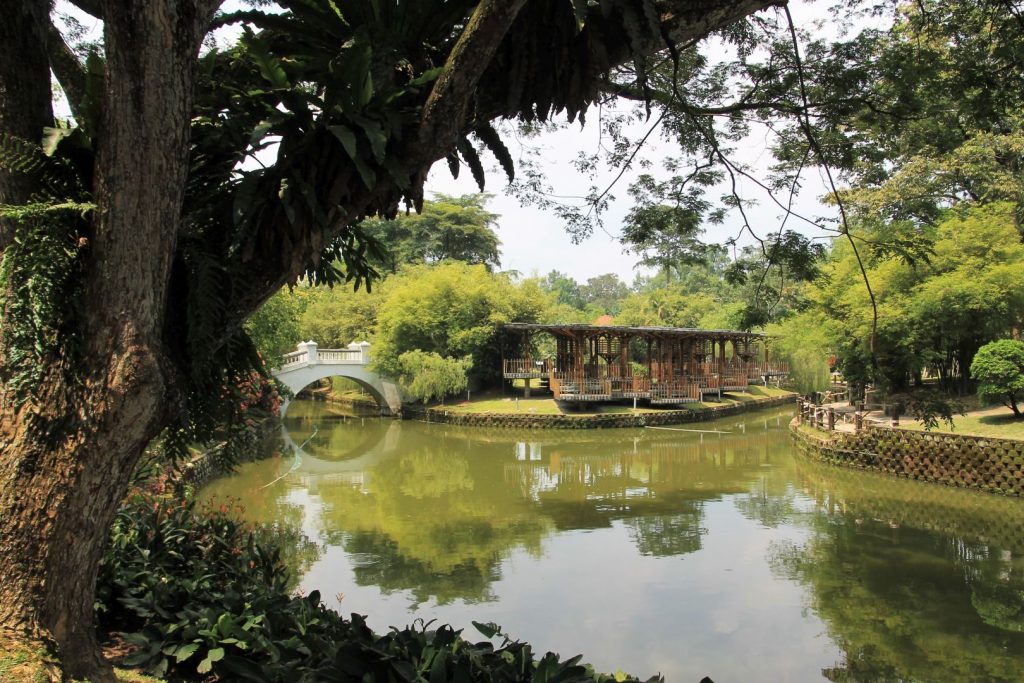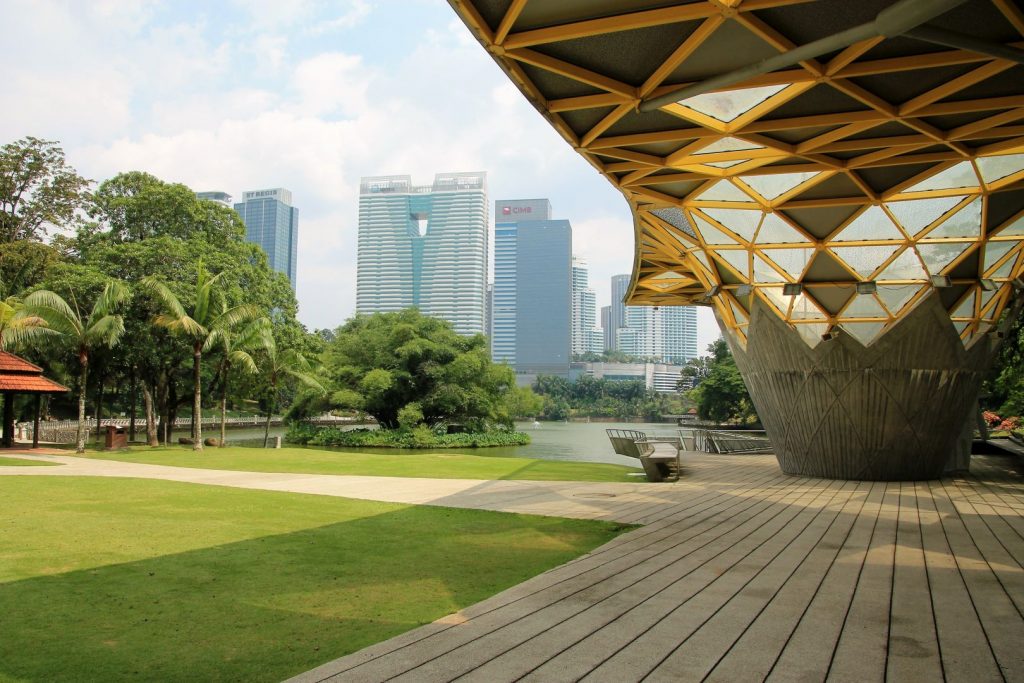 Tugu Negara War Memorial
Next to the Botanical Garden there is another park that hosts the Tugu Negara War Memorial. It was another rainy afternoon when we visited so that we could not really enjoy the setting sun or the view. Rain was pouring again and we got really wet on our way home because the local bus did not want to stop for us (we did not have the plastic card to pay our ride, cash was not accepted). Tugu Negara is nicely placed on a small hill but the monument itself is rather disturbing. It was built to commemorate the Malaysians who died in the Second World War and the following years of the "Malaysian Emergency", also referred to as Anti-British National Liberation War. It actually shows some dead warriors in the sculpture.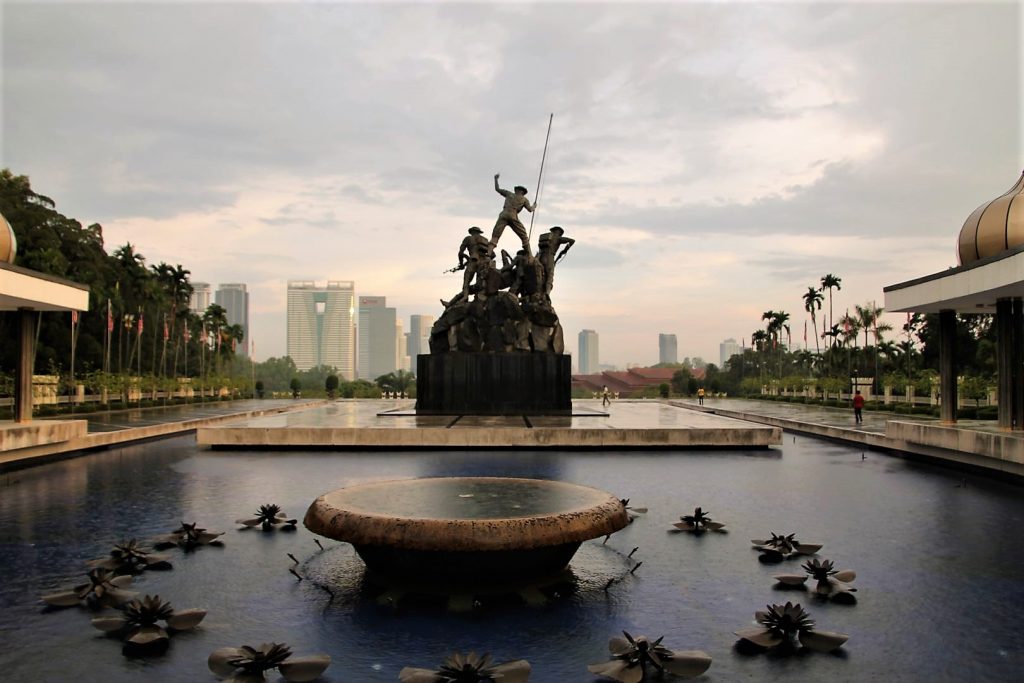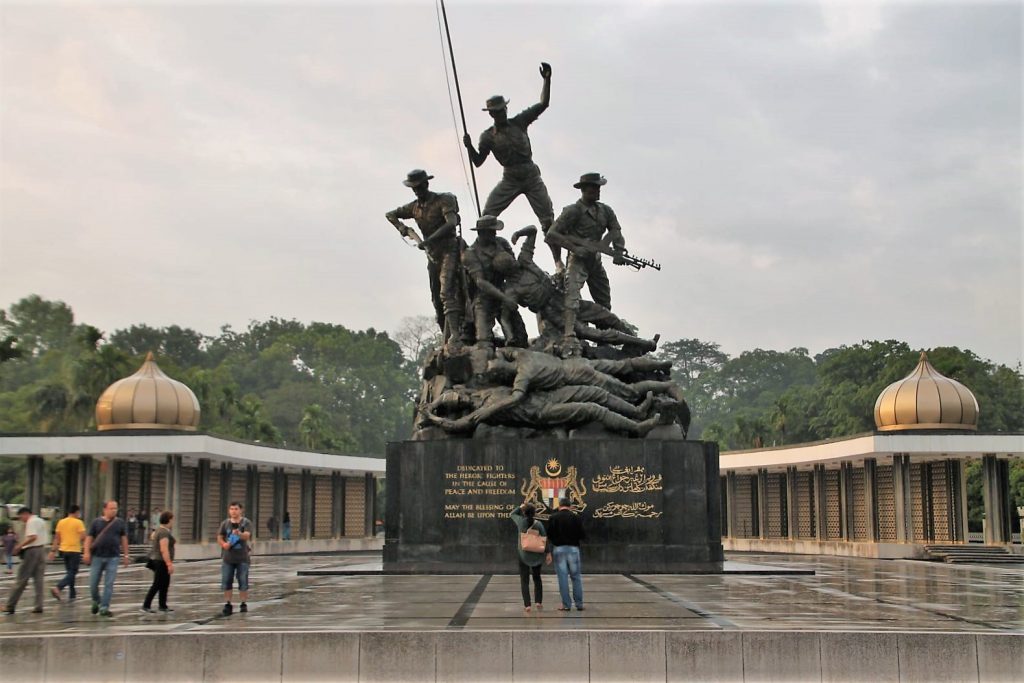 Batu Caves
A little outside the city, basically a 30 min train journey away (which also can be covered with grab) there are the famous Batu Caves: impressive limestone caves. The biggest one is nearly 100m high and open at the top. Their sheer size is impressive and the rock formations naturally beautiful. The big caves have been turned into temples, the smaller ones into museums. For the temple caves, women have to dress up with a hip-scarf that is provided for 5 Ringgit, on return one gets 2 Ringgit back. The museum caves charge an entrance fee of 15 Ringgit . But they are honestly rather disappointing. We saw some colourful paintings and long stories written in Tamil which no one can read, except Anton. And we saw a little zoo of snakes, spiders and alike inside. By the look at it we were not sure if not some of the creatures had already escaped. We left quickly. But the big temple caves are beautiful, of amazing size and of wild stone formations, carved deep into the mountain; unfortunately deprived of their natural beauty by the temples and the trash and smell that comes with them. It was rather sad to see (again) nature's beauty replaced by religious artefacts.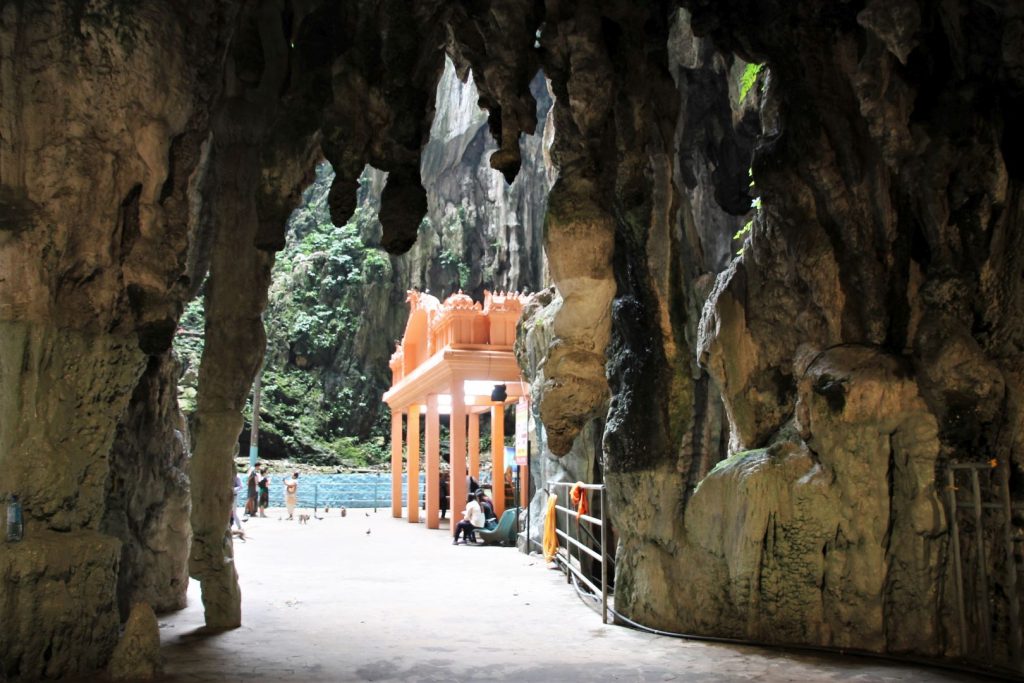 Taman Negara
At about 3 h drive from Kuala Lumpur by car lays the Taman Negara National Park. It is one of the most popular destinations in Western Malaysia, which are not located on the coast. As Anton has never been to the jungle before, we found this to be the perfect place to start with. We stayed in Kuala Tahan in a little basic room for the night. Next morning we crossed the river and, after registering and paying the fees for entrance and cameras, we set off for our hike. All hiking trails are well marked, on some stretches wooden walkways are installed, therefore a guide is not needed.
Our first aim was the canopy walkway that had just reopened on the very day we arrived. This walkway is quite different to all others I had seen before: it is just one board leading from one tree to the other flanked by a strong net on both sides. It is very high and quite bouncy to walk on it. Following that we went to climb the nearest view point, Bukit Terisek. It was not far in kilometres but uphill. In the hot and humid climate we soon were quite exhausted.
At 2pm we were back at the entrance for lunch and at 3pm we took a boat tour for the afternoon. The boat took us through the jungle to the biggest tree of the forest, to a fish sanctuary (fish feeding place) and to the rivers rapids. It was a thrilling experience and I felt sad that we only spent one day there. If more time is at hand one can hike along trails leading deep into the jungle for several days. Next time! We drove back to Kuala Lumpur on the very same evening.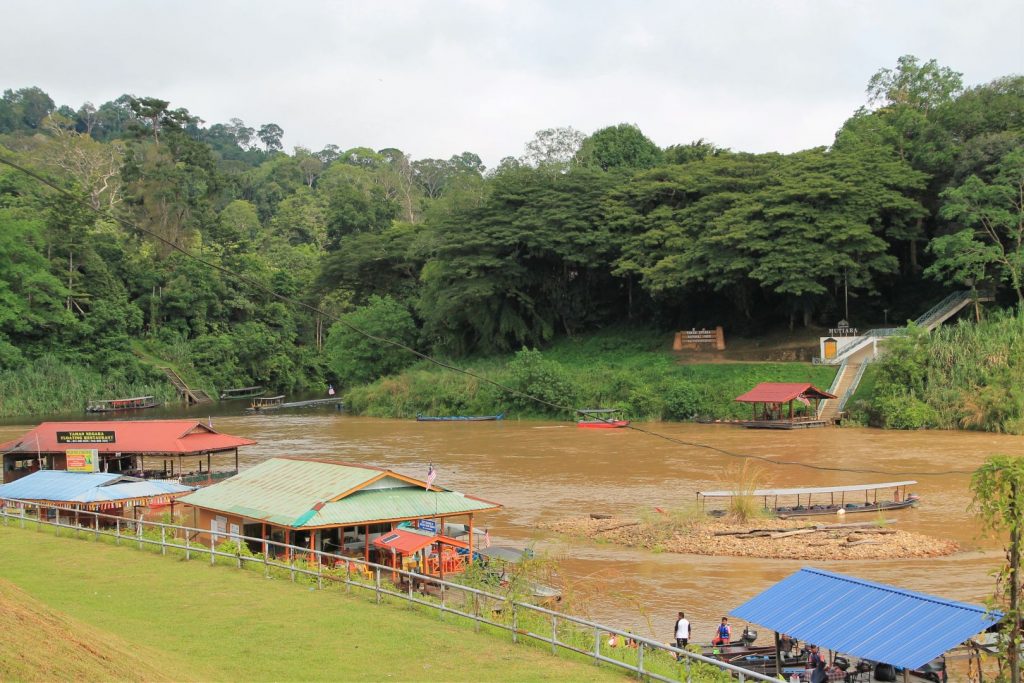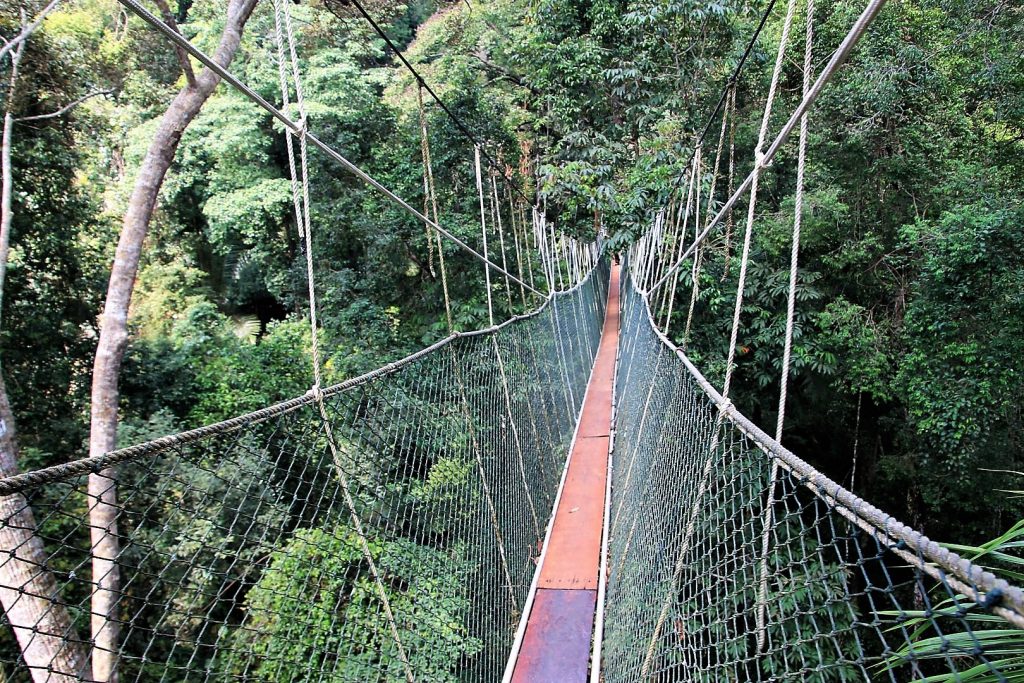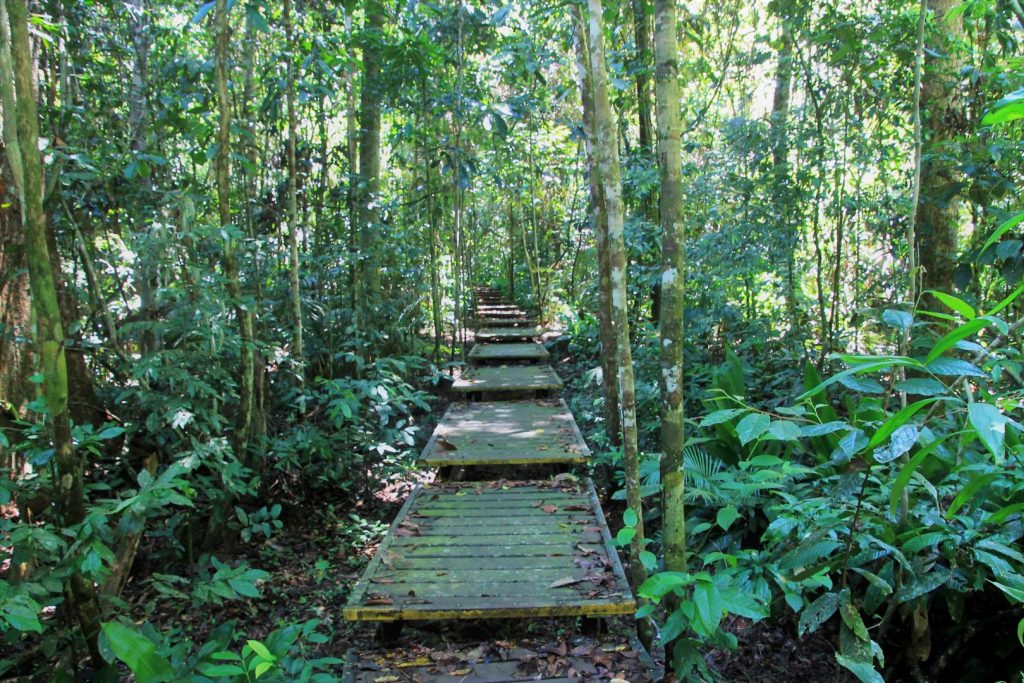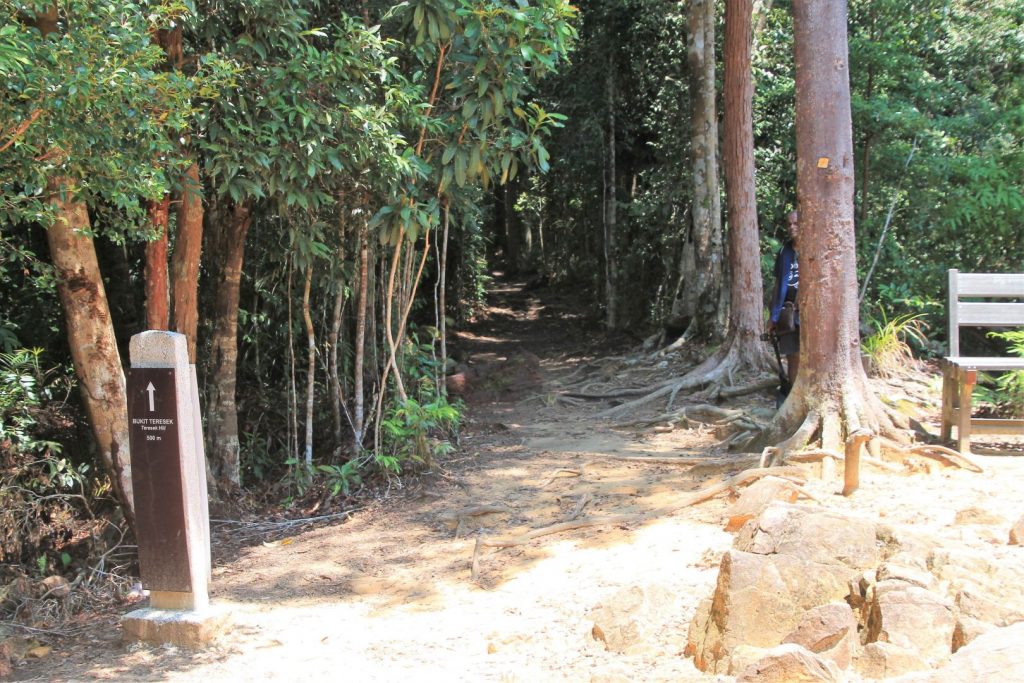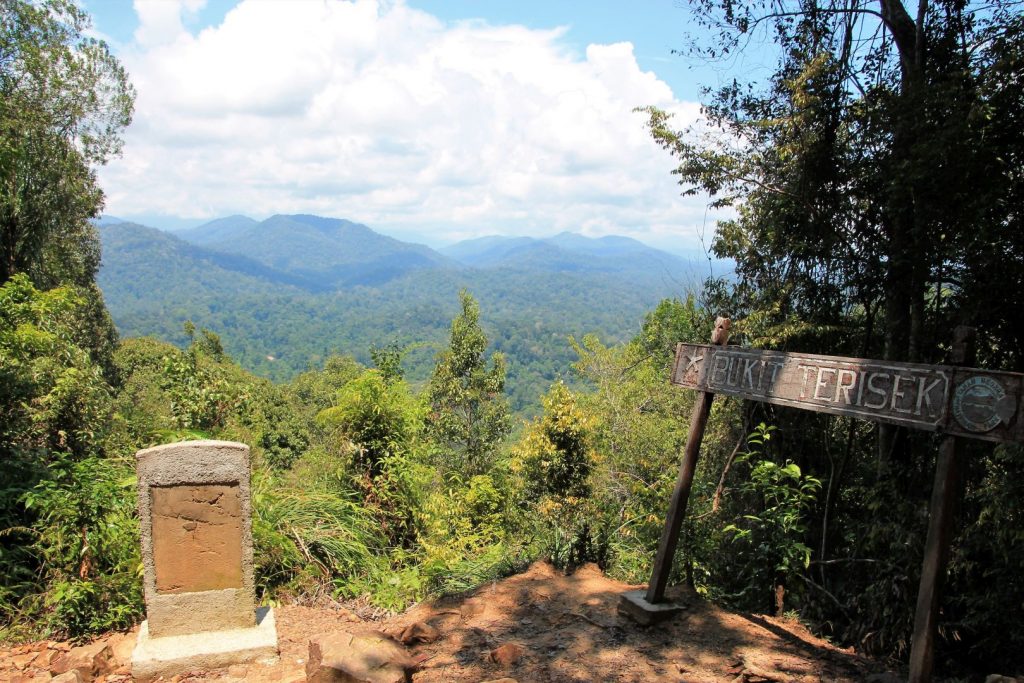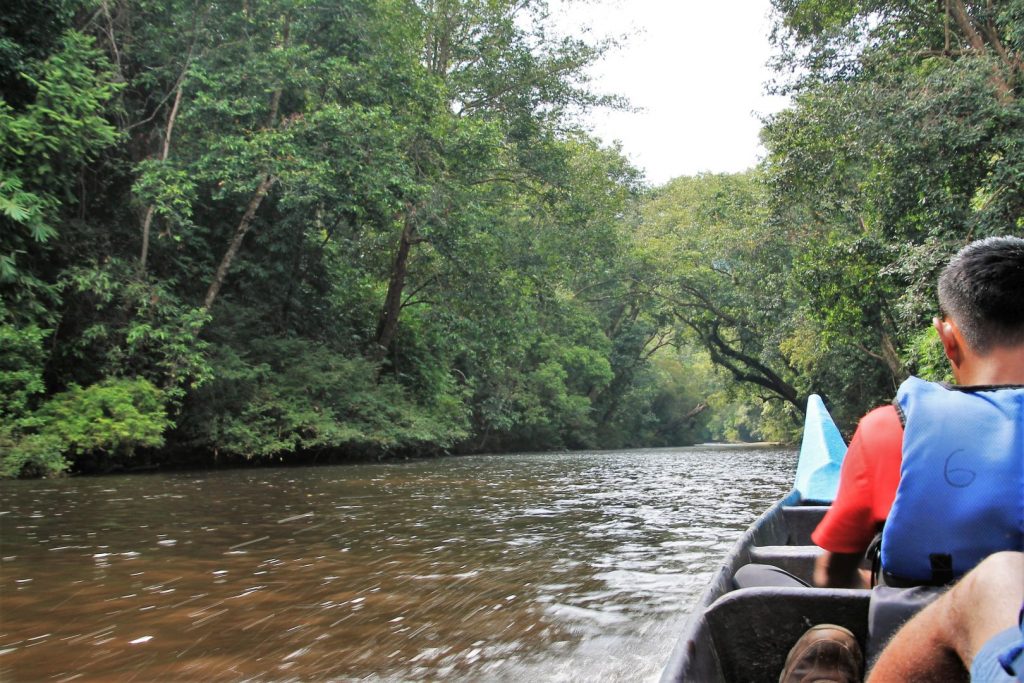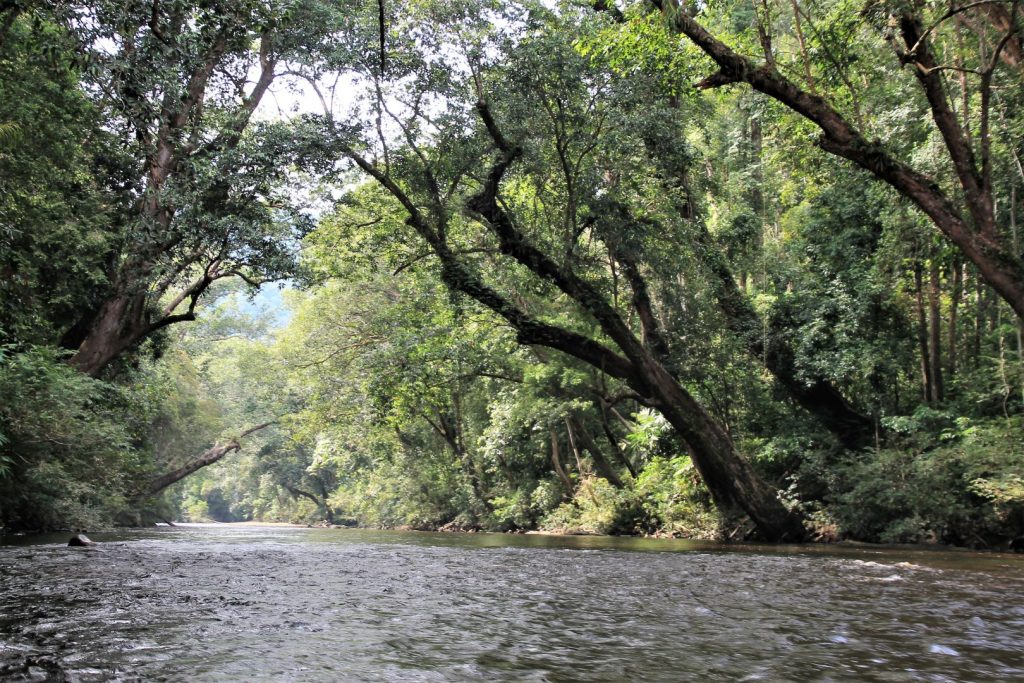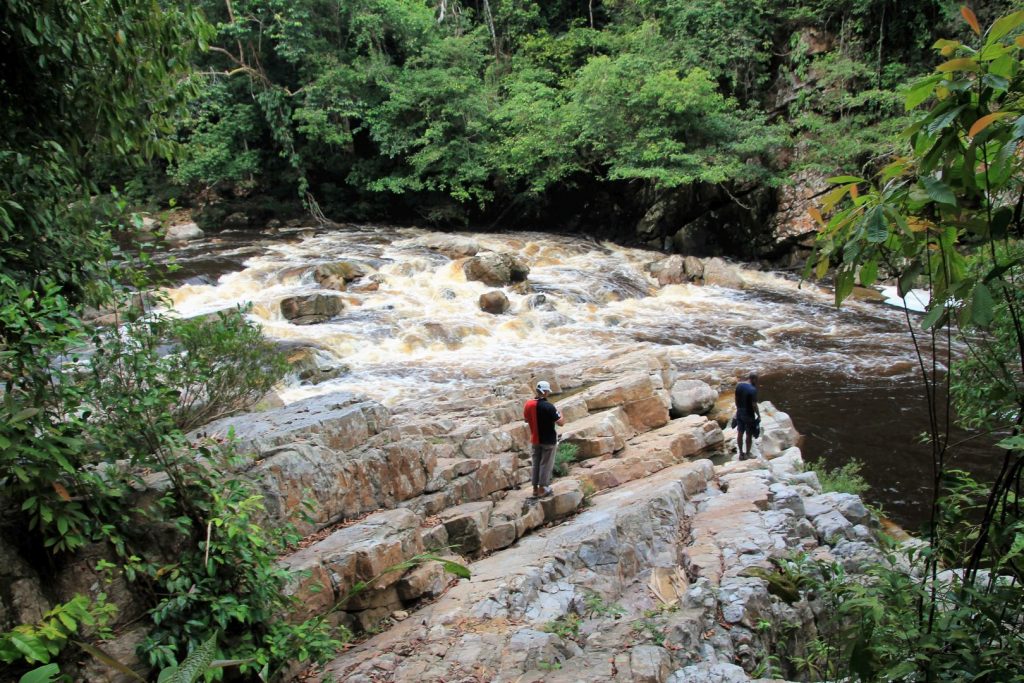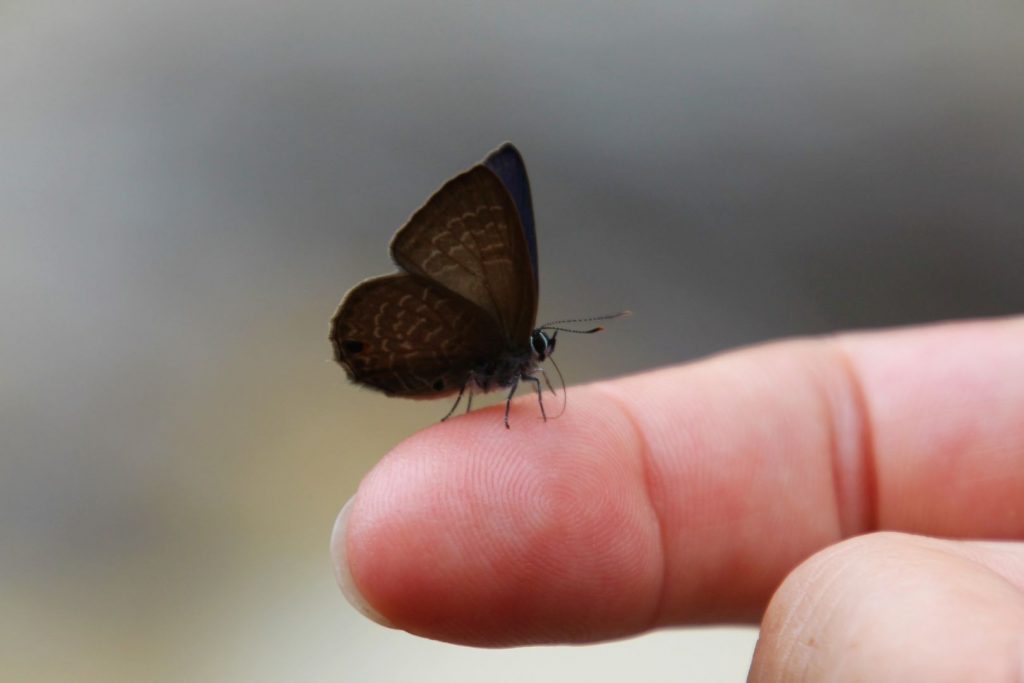 My next stop: Medan, Indonesia