Last updated on 25th August 2019
Bangkok is big, really B I G
From Colombo to Bangkok the flight takes about 3 to 4 hours. I went with Thai Lion Air (yes I was brave) and it was smooth and pleasant. I arrived at the Don Mueang International Airport (DMK). That is only a 20 min bus ride away from the last stop of the BTS Skytrain, Mo Chit.
Walking is not an option
I have learned that the hard way. Bangkok is a really big city inhabiting more people than London. Distances are long. Walking around in Thailand's brutal heat, amplified by the buildings and all the concrete around, and worsened by the excruciating pollution of the traffic and the lack of trees, make it at least unpleasant, if not unbearable, to walk longer distances. Apart from that, there is not much to see on the way. For shopping there are huge shopping malls, interesting buildings or sightseeing spots are not exactly lined up along the streets.
I tried: I walked from Siam BTS skytrain stop to the Grand Palace. It's 5.5 km. I passed two parks, had some food on the way. After 2h I finally arrived at the palace, exhausted. It was 3pm, and that day it was decided to close the palace at 3pm. Too many visitors I guess. So I had to come back another day. Which I did the very next day, not knowing that it was the king's birthday! All roads around the palace were closed. The taxi (which I took to save time) could not get through and I had to walk again. But that's a different story.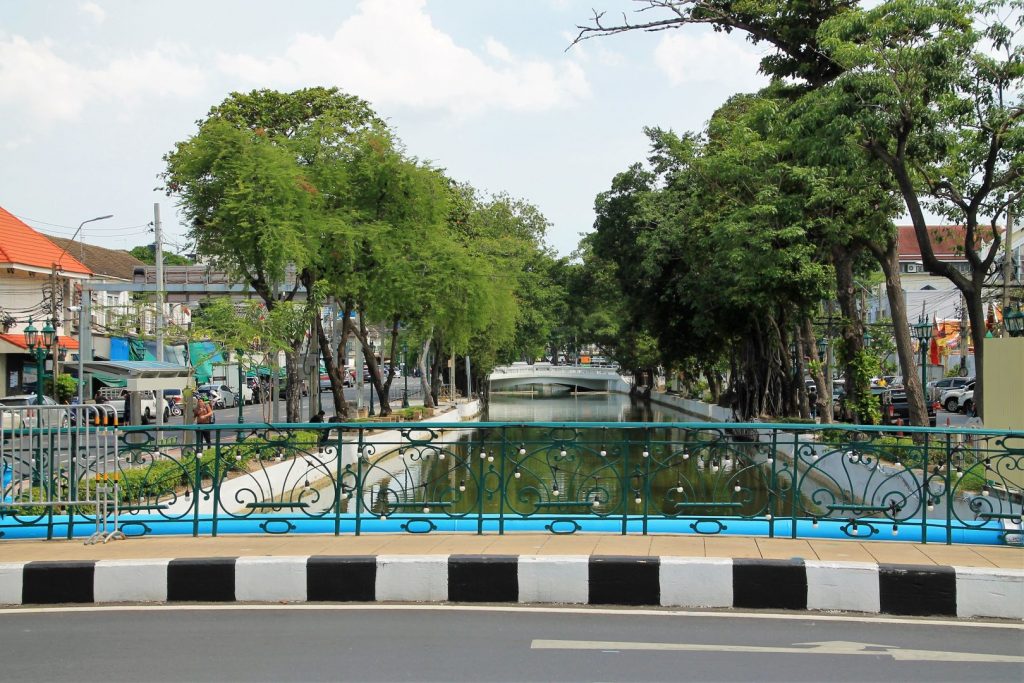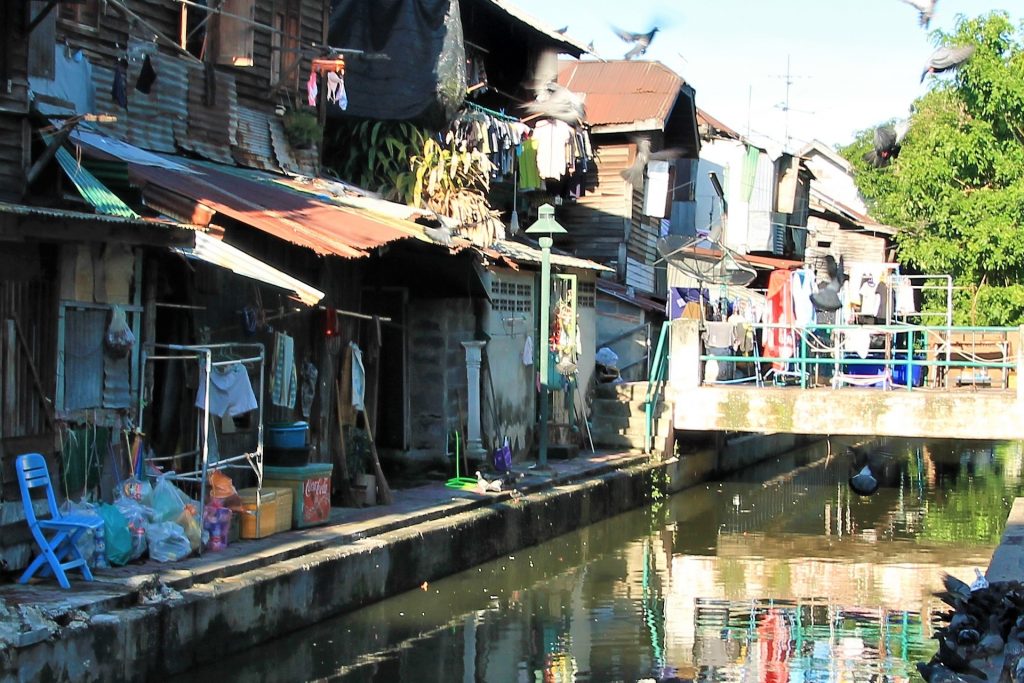 Crowded
Sidewalks, public transport, everything. The city has more than 8 million inhabitants and 41 million tourists every year. The public transport, the sidewalks (around the stations only, no one walks longer distances really), the temples and shrines, the shopping malls, the roads, even the parks during the magic jogging hours (6:30 morning and evening) are full of people. Especially the Skytrain at rush hour is so fcrowded that people have to skip several trains until they have a chance to squeeze in. Saying that, in reality they line up and wait until it is THEIR TURN to squeeze in. People are stressed and always in a hurry or at least impatient, so I had to get used to being pushed, overtaken (except I had lined up), even shouted at . I am not a slow coach, just to say.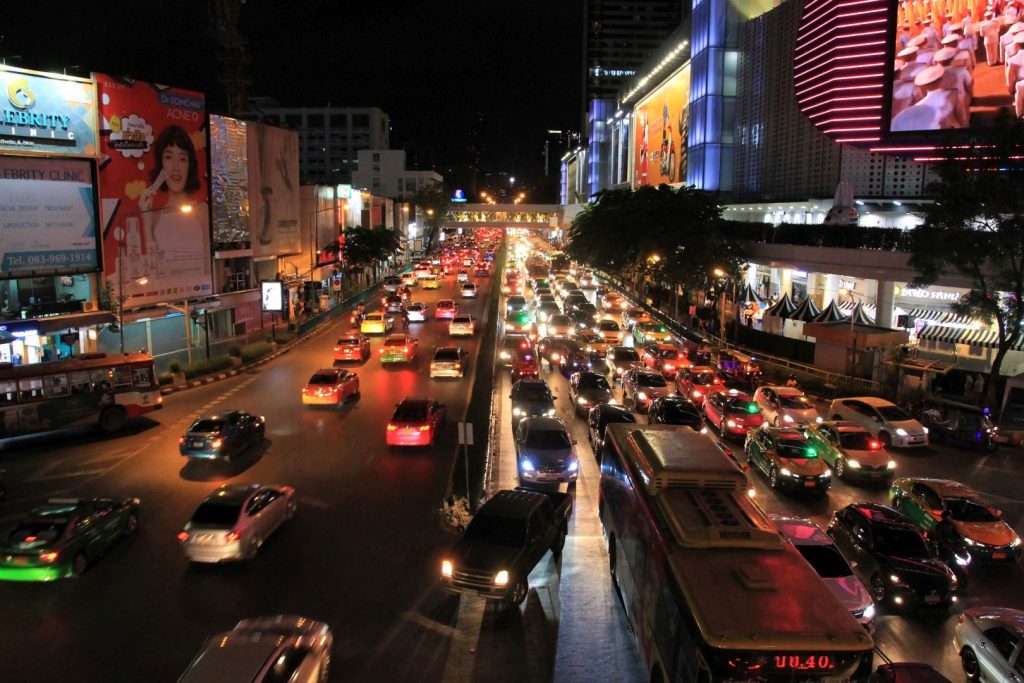 City
Bangkok combines the old and traditional with the modern and sophisticated in a very unique way. There are rich, pompous temples next to ultra modern skyscrapers and shopping malls. The Skytrain zooms through, there are motorways on different levels and futuristic-looking bridges span the river. Unfortunately the growth of the city seems to be unplanned and chaotic, I can't see any sign of architectural genius in the way the buildings, roads, parks and shopping malls are assembled. Where there is a gap, something is built. It's just chaotic. I noticed that at some newer buildings the lower floors are made for car parking. I guess for offices/flats those deep down floors are not attractive anymore. Maybe that's another reason why walking is not an option. The city is like a huge shopping mall, dotted with about 400 temples and countless hotels. Many Skytrain stations access shopping malls directly on multiple levels. In addition, there are street markets and floating markets all over the place. It would be no proplem to go shopping every day for a month without seeing one place twice.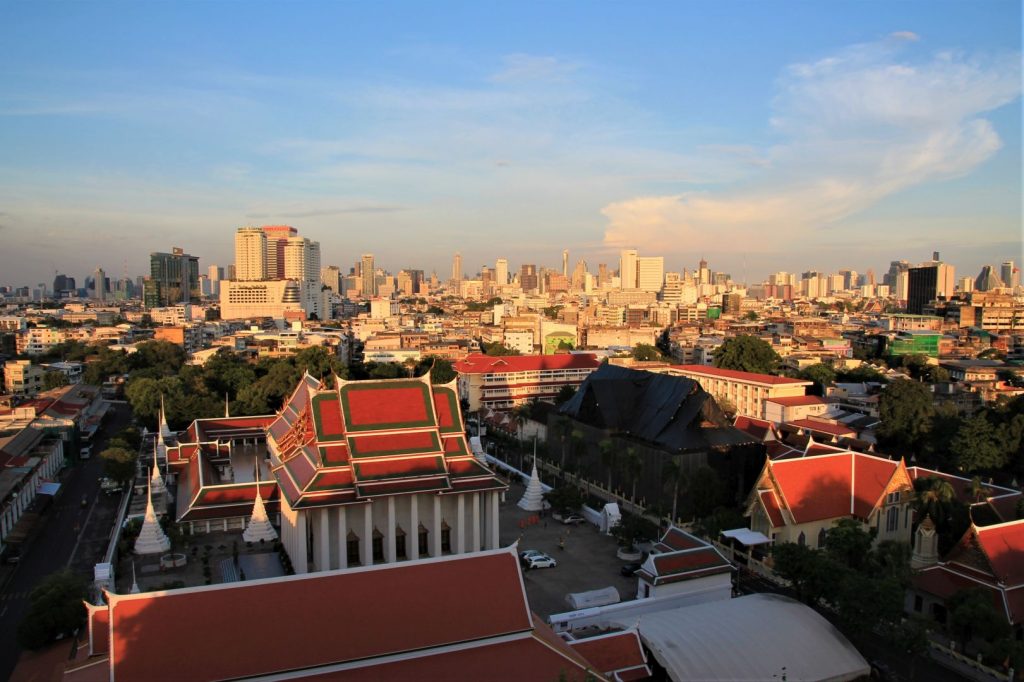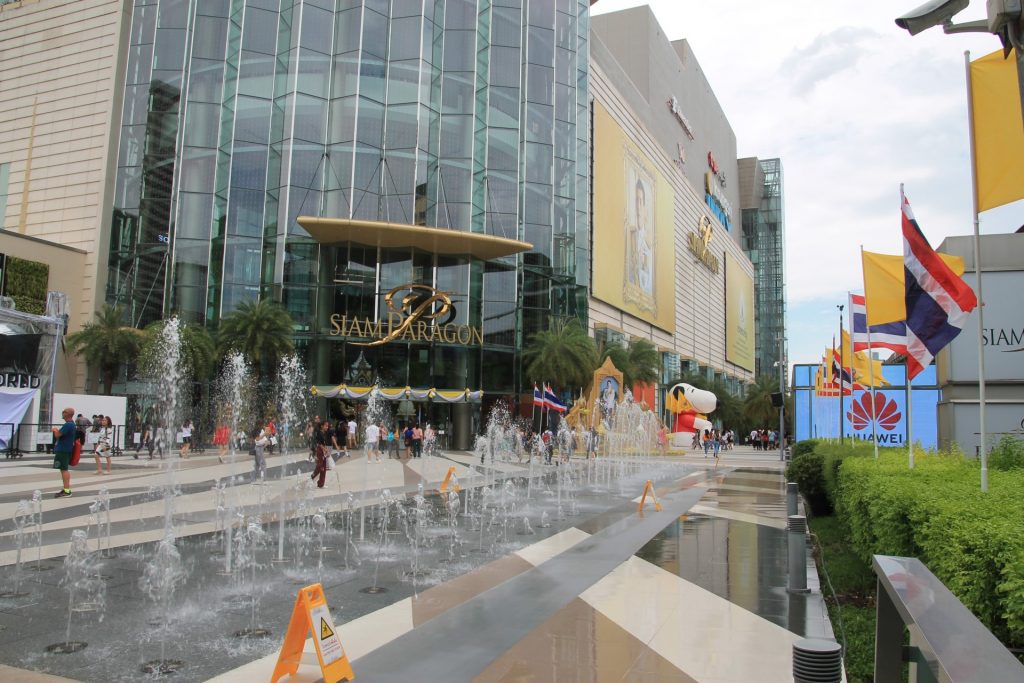 Public Transport
Bangkok has the BTS Skytrain which is actually really modern, fast and cool (literally feezing). There is also the MRT Bangkok Metro, modern and fast too. Both are connected but need different ticket. And there are the boats on the river, semi modern, connecting to Metro and Skytrain but with seperate ticket. Problem is, that boats, Skytrain and Metro don't go everywhere. Large areas of the city are not covered. For those destinations there are busses which I haven't tried. And of course there are Taxis, Tuk-Tuks and Motorbike-Taxis. The latter I did not use as they seem not very safe. Interestingly, Tuk-Tuks have nearly disappeared from the city and are replaced by taxies. I guess only tourists use them for the experience.
And by the way, pricing is very complicated! First , all transportation has its own tickets, no ticket for all, even Metro and Skytrain are separated. For frequent travellers they have the "rabbit card" for the Skytrain. I thought that would be good for me. I spent 45min with a very friendly and patient skytrain ticket officer who tried to explain how the card works. It´s really complicated. I recommend to go without the Rabbit Card. The only benefit is saving the time at the ticket counter. It's not cheaper, just faster.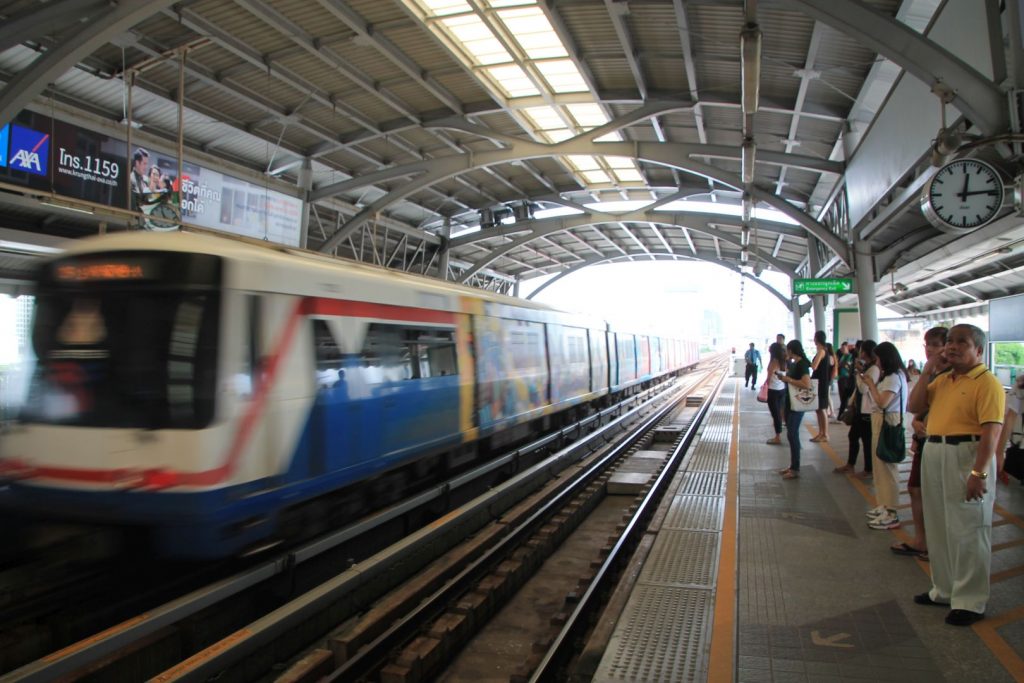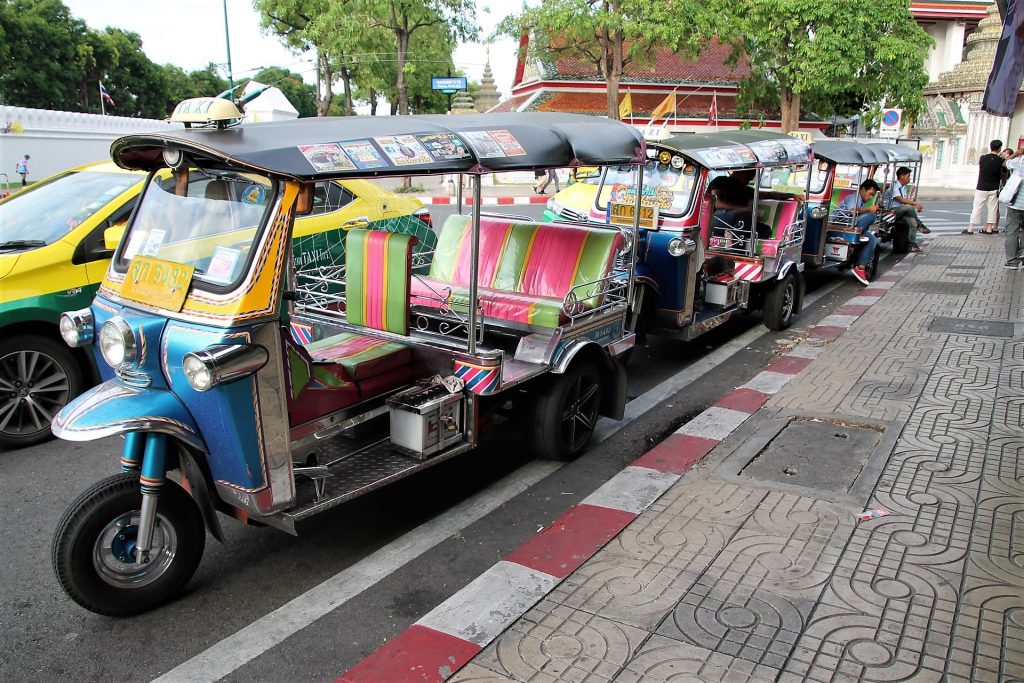 Food
Bangkok as a city is like a huge outdoor kitchen. Nearly in every road in the city people are outside cooking and offering their food, there are small food stands and big markets. The food is fresh, from fruit and vegetable to meat and fish, sweets and beverages. I tried here and there and everywhere. I do not always know what I am ordering or what it is I am trying, but I never had any bad experience. The food is nice, healthy, fresh, extremely tasty and cheap. I had a meal one evening for as little as 35 Baht: 1,31 EUR. But it must be said, portions are small. So I lost weight – YAY. Certainly there are plenty of restaurants where dining can be done very delicate and expensive. But I doubt it will be much better. I tried. I like the street food atmosphere much more than posh restaurants. It makes me become part of the people for a shared moment.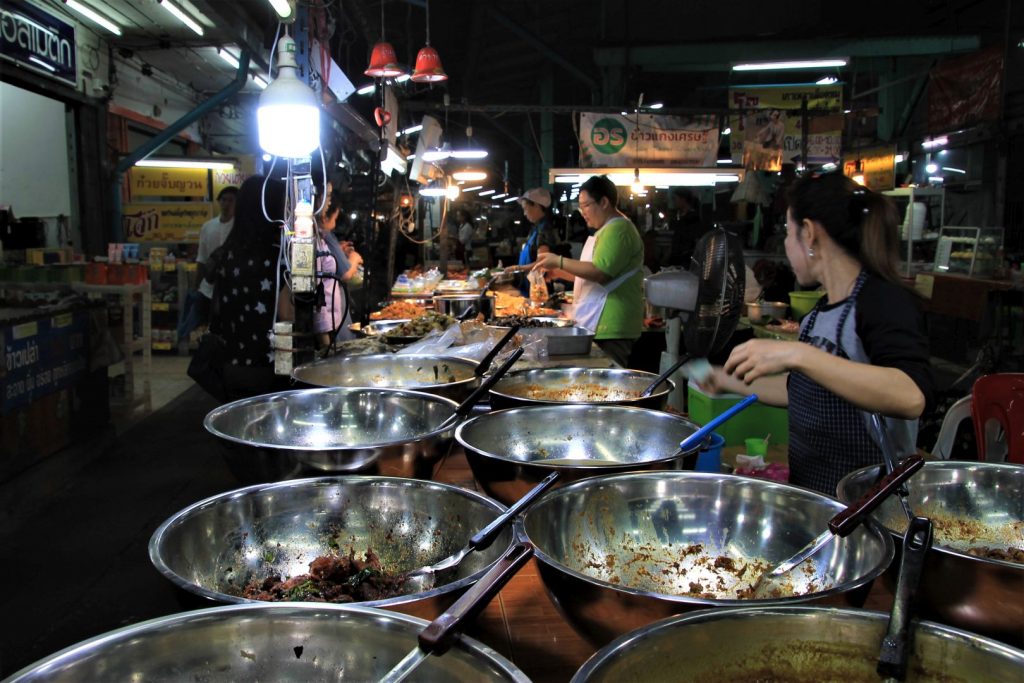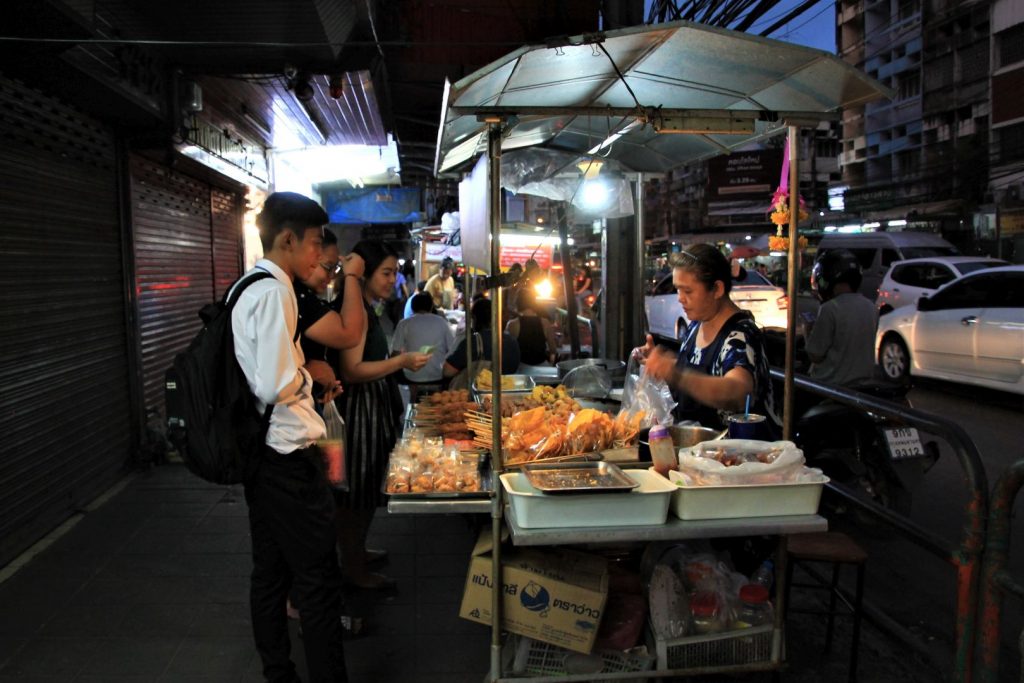 Sports
Thai people are very keen to stay fit, too. I was really surprised to see so many gyms everywhere. There is one right opposite the place I am staying, another big one across the road and at least another two nearby. All busy. From the Skytrain I see many other gyms all over the town. Bangkok has a few parks, all of them have outdoor gyms. On my walk to the Grand Palace I discovered two of them, the Rommaninat Park and the Saranrom Park.
When I went for jogging in Benchasiri Park, I not only found outdoor fitness equipment, but also hundreds of people exercising. Completely packed, it felt like crazy! In that park the course leads around a little lake and has 700m in total. So I joined in and it felt great. Most people were jogging or walking, others did some fitness and strength exercises, Yoga or Thai Chi. I learned that jogging is basically only possible in those parks, I would not know any other places for outdoor sports. The parks are not big enough to protect from the pollution but at least there are no cars nearby, there are many people exercising and most parks are landscaped quite beautifully !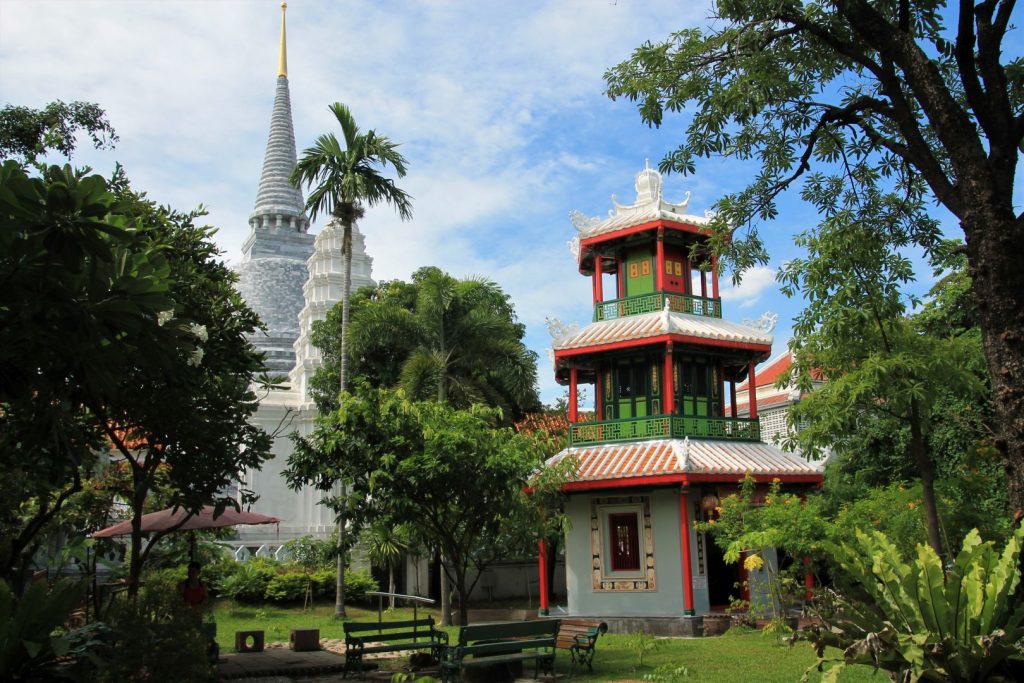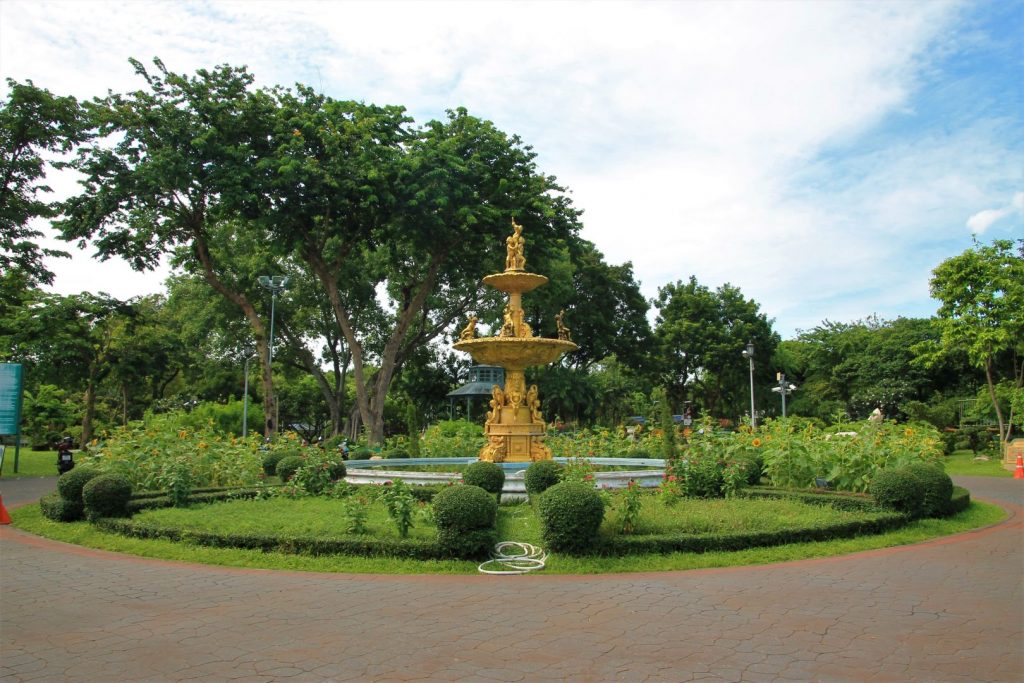 Pollution
It´s bad. I really mean very bad. The traffic and all other sources that might exist (I did not see any fires or industrial air pollution yet but that does not mean it's not there), the dense urban environment with its lack of space, trees and natural areas, and the high temperatures all year lead to such hazardous levels of pollution that it can bee seen, smelled and tasted. It can lead to all sorts of health problems. At the moment, in July, it is not too bad. But people tell me that later in the year, like from December until February, everyone wears protection masks. Isn't it mad, crazy, stupid, and completely insane? People rather wear masks than stopping air pollution in the first place? I do not understand why there is no ban of old diesel engines and restrictions for the traffic, there are so many things that can be done to improve the situation instantly. I don't understand why another and another building is filling the gaps, one higher than the other, instead of planting a few trees. Over here, streets have no trees.
The other problem is plastic. Water is sold in plastic bottles, small and big sizes, drinking from the tab is not safe. Plastic bags are given to customers wherever and whatever they buy. Cutlery is plastic, every drink has a straw, all the street food is sold in one-way containers. I don't have to mention that I have seen all this in large amounts floating on the river.
Talking about pollution I can say that the city is comparably clean. Roads and sidewalks are washed every day and there is no rubbish. In general it looks very tidy and good. But as I was walking around several times I saw the side roads and the area behind the buildings. And the river is not cleaned from the floating stuff either. Still, I have seen small and big fish in that river!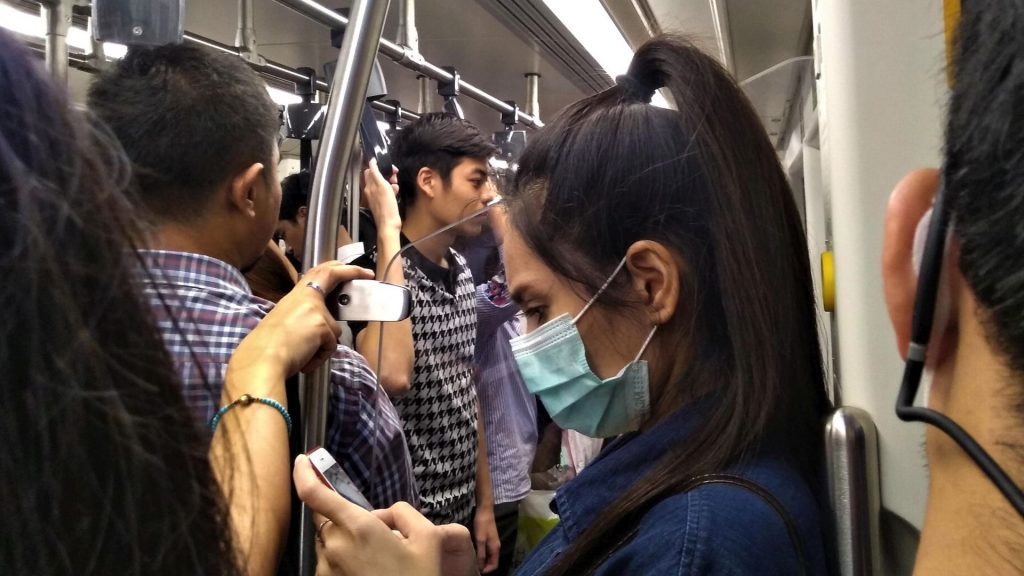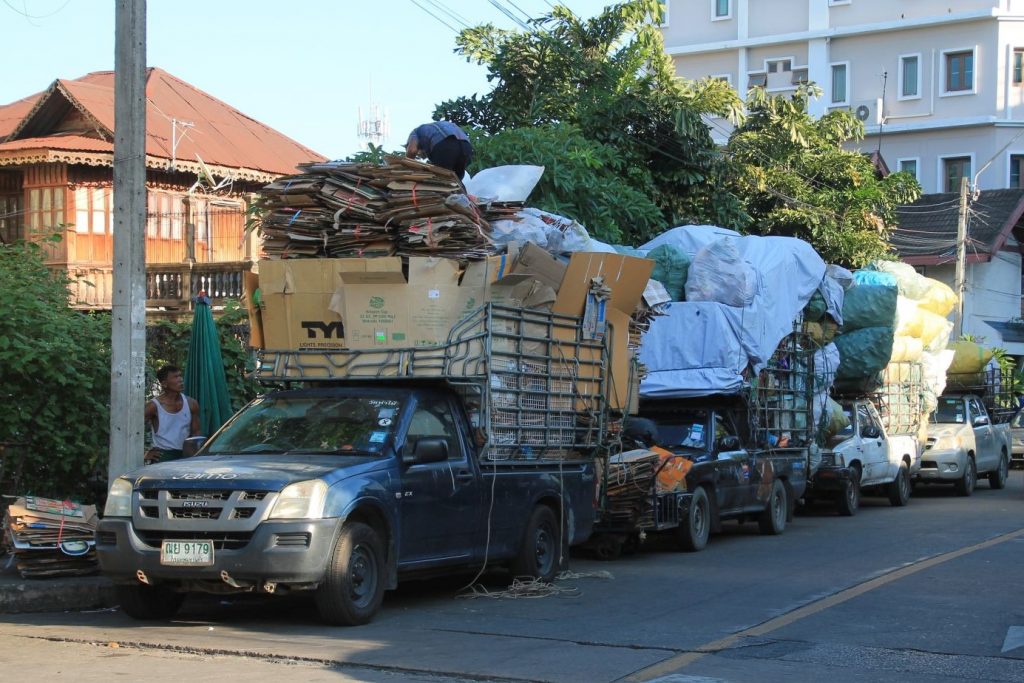 People
It´s said that Thai people are very nice, friendly and kind. Here in Bangkok my experience is ambivalent. I got pushed in the crowd, shouted at by a taxi driver, ignored or snipped at by people at information desks or customer support. Ok, not always, there are the nice ones too. But those many unpleasant experiences surprised me. I learned not to expect anyone to smile, unless I smile first. If I do so, I will find surprise but eventually a smile back. But it's hard to meet someone's eyes anyway. The majority is busy with either their phones or themselves. I never saw anyone with a book. But maybe that's just the city, like Berlin where everyone is grumpy.
What I found surprising is that most people do not speak English. Somehow my expectations were different. I always thought English is the secret second language. But communication is not a problem, for the food and the prices there is always a way to communicate. Sometimes a smile miraculously turns an apathetic person into somebody alive.
Another surprising fact is their discipline. It already starts with the kids who line up properly and march on command. So do the adults. They line up for the train exactly as the arrows on the ground indicate. They patiently line up for all sorts of things, taxi, elevator, bus etc. On crossroads, stations and similar places there are "whistle-blower" in uniforms who make sure everyone lines up and follows the rules. Anyone who does not, like me for instance, will be corrected immediately.
Most unusual: When certain music is played on public loudspeakers, I guess the it's the National Anthem, life freezes. No one moves an inch anymore. I experienced it twice, once during rush hour at a busy BTS station, most absurd that everyone stops and freezes, the other time in a park where suddenly all joggers stopped and stood still. I could hardly believe it. On the kings birthday everyone was wearing yellow! Can you imagine? It takes time to get used to that type of behavior.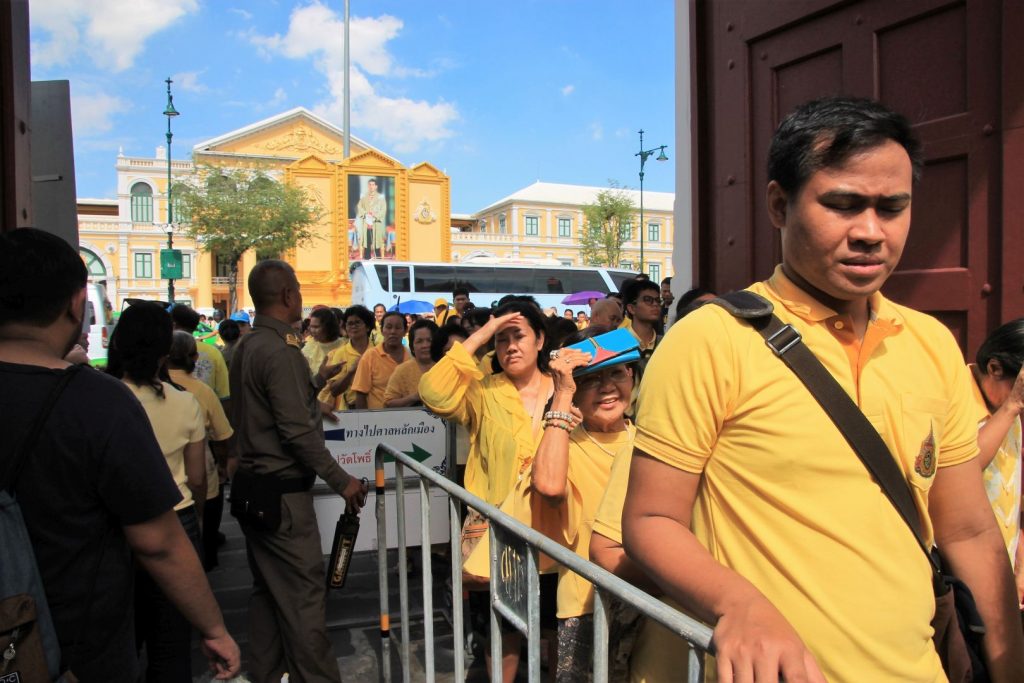 I must say I have not figured out what is typical Thai. Sometime I feel like in Japan, seeing all the malls and shops and the modern huge adverts, the screens , the crowds, the little tech toys and all the people on their phones. Then I feel like in China looking at the temples and the traditional buildings, the monks and all the Buddha's, and also the food. What is it that makes it Thai? I hope it is more than yellow shirts worn on the king's birthday.

I have spent some 10 days in Bangkok and found 10 Fantabulous Places to Visit