Last updated on 28th August 2019
Large, Legendary and Luring – Phuket
Travelling to Thailand must include exploring the countries many islands, or at least a few of them. When it comes to the Thai islands, Phuket seemed to me the most promising . Not only is Phuket the largest island in Thailand, but it's also visited by the majority of all international visitors. On such a large and popular island should be plenty of fun things to do. I thought.
Kamala Beach
I had chosen the hotel according to my preferences and budget and it happend to be in Kamala beach. It turned out to be a rather disappointing place: The main road has two lanes in each direction with traffic cutting right through the little town. There is one road going along the beach and back to the main road with shops, bars, massage places and restaurants. That's where the music plays in the evening and nice looking Thai-ladies ask tourists to come in, but it's mostly empty. There are a few pubs around where some tourists have their beer, but they are along the main road. The big FantaSea Theme Park is a NO GO. Eventually Kamala has a tiny night market every evening. It is located opposite to the Big C supermarket. But again, it does not attract many people.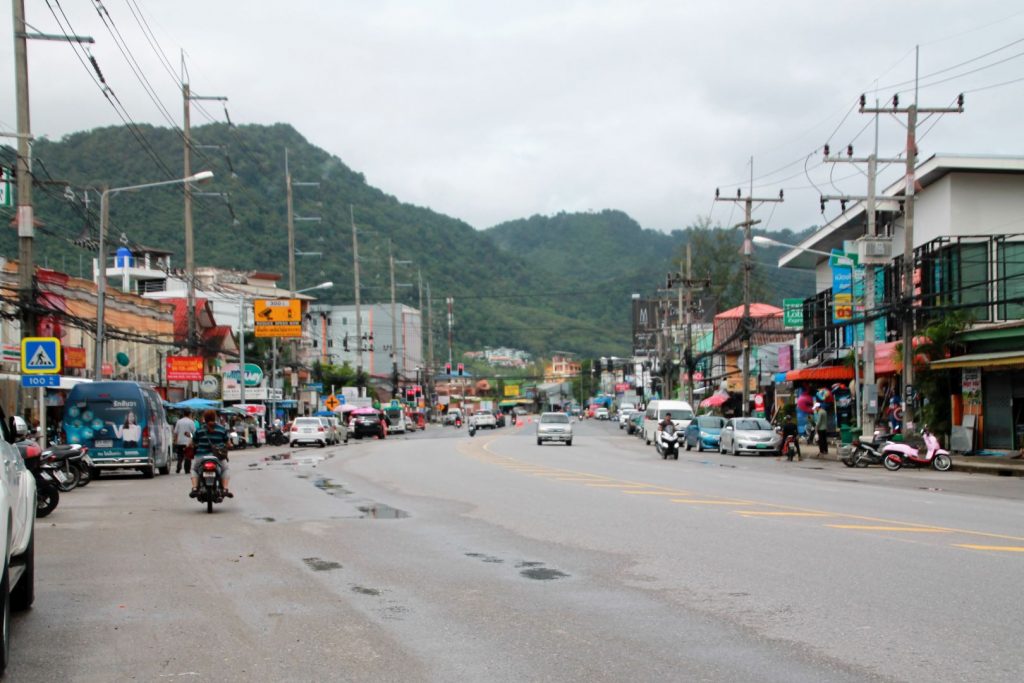 The beach in Kamala could be very nice if it would be clean. It's wide with golden sand and some coral reefs in the south. But so much rubbish lies around. Apart from that I found Kamala to be expensive when int comes to prices for taxi or meals in restaurants. A taxi for a 7 km ride costs 400 Baht (Patong beach to Kamala), in Bangkok I have paid 100 Baht. But I learned that's the case everywhere on the Phuket Island.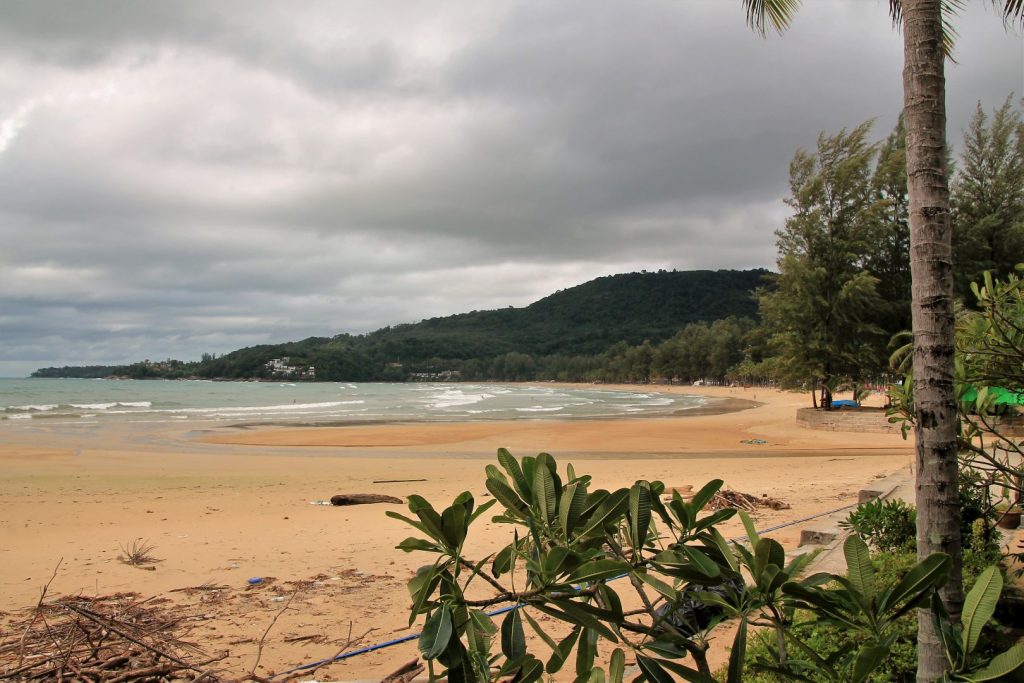 But Kamala has it's nice spots. There are some buildings that look really faszinating like stolen from a movie. I am not talking about the hotels but the places where people live. My favourite is a small house in the road that goes to the beach, overgrown with blooming green, a heavy motorbike usually parks in front of it and a road bike inside.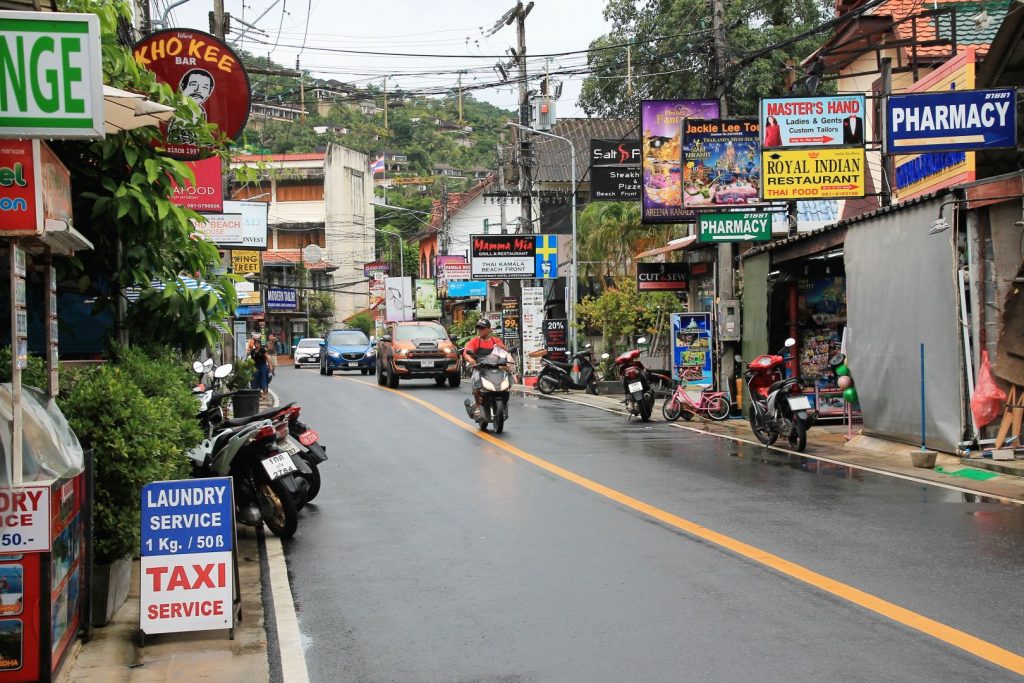 Kamala has the Laem Sing View Point with a fantiastic view at the coastline of Haad Laem Sing and Kamala Beach. It is directly at the road about 3km north of Kamala. I recommend a scooter or other motorized transportation as walking along the road is no fun.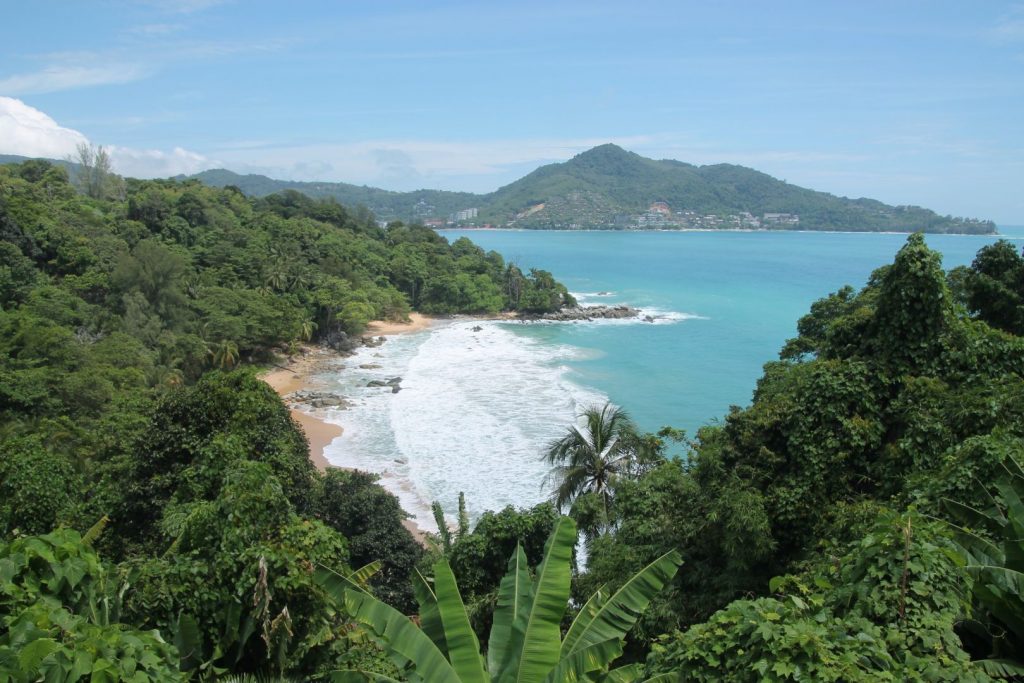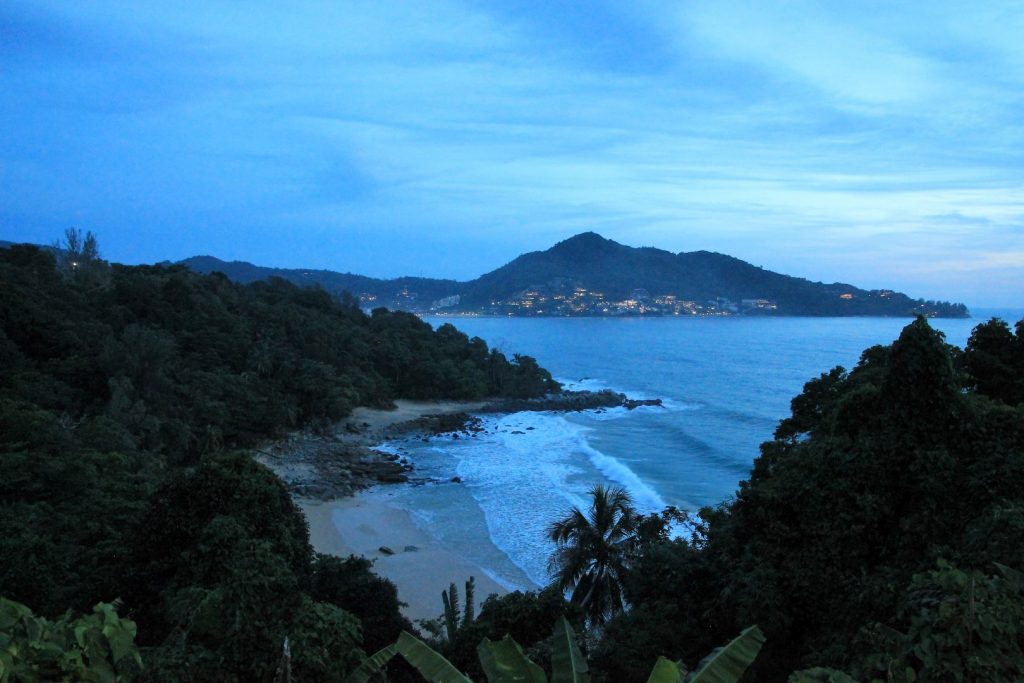 There is another viewpoint worth visiting called Kalim viewpoint. It can be reached by either hiking or motorized vehicle. I chose the hike. And it seems not to be very frequented. At the time I was up there I was the only one. The view is spectacular at Patong and Tri Trang beach. The hiking distance from Kamala is about 8km and down to Patong beach another 2km. From there I took a scooter taxi back to Kamala.
It is a nice and short hike but sometimes steep uphill . I found it quite challenging in the heat and sunshine. The way goes first along the road, passing the Bonkuan View restaurant with a beautiful view at Kamala beach, and then it becomes a cemented path and later it is a real offroad hiking path through the "jungle". I did not see any animals, apart from spiders, but I am sure they saw me as I heard them fleeing. I passed the Elephant Camp but ignored it. The way down to Patong beach is cemented that's the way for cars or scooters.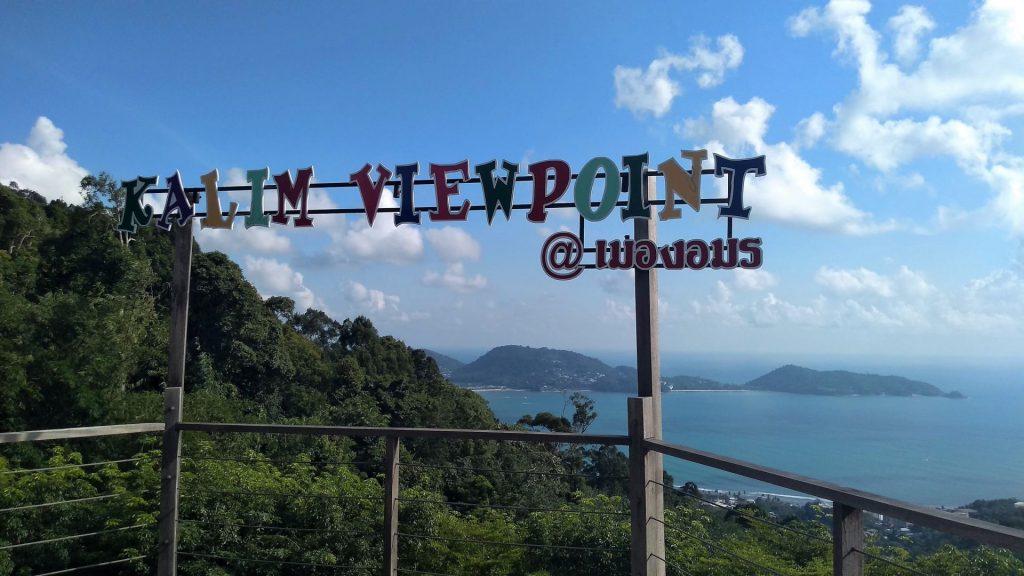 What else to do? Escape!
There are wonderful beaches, smaller but less frequented, beautiful places like waterfalls and islands to be discovered! No point of spending too much time in Kamala. I rented a scooter again and drove all the way down to the islands southernmost point, Promthep Cape, visiting other viewpoints and waterfalls on the way. I have made my way to Phuket Old Town using the public transport which are old open air busses, partly made from wood! Of course I had to investigate the islands in the Andamam Sea so I booked a tour in a traditional long tail boat to James Bond Island, combined with some canoeing. And I could not resist to jump on a speed boat to see "The Beach" on Phi Phi Island, combined with some snorkeling. But I also spent some time by just bumming around the massive pool of my hotel or sitting at the beach watching the sunset. So relaxing!