Last updated on 27th January 2020
InCRADLEble Tasmania
Tasmania is the biggest Australian island, it's the same size as Sri Lanka but with only 500 000 inhabitants instead of 21 million. In other words, in Sri Lanka live nearly as many people as in entire Australia on an island as big as Tasmania!
Tasmania is well known for its natural beauty, more than 40 percent of the islands nature is protected. Tasmanian's landscape, flora and fauna are unique and well known worldwide, e.g. the Tasmanian Devil.
Tasmania is THE place for hiking in Australia, it has wonderful mountains with alpine vegetation, rainforests and moorlands, beaches and lakes; and a massive network of outstanding hiking trails of all levels and distances across the island. It's a MUST GO for outdoor fans. The climate is cool and pleasant in summer, but freezing cold in winter.
Lovely Little Laid-back Launceston
It is a 45min flight from Melbourne to Launceston, the second biggest town in Tasmania. I choose not to take the ferry in order to save some time. I had so many ideas for hiking on Tasmania and only 9 days on my disposal, I did not want to lose one day on the ferry.
Launceston is a sweet little town that lies in a picturesque valley at the head of the Tamar River in Tasmania's northeast. Its elegant, and partly beautifully restored colonial buildings give the city a wonderful historical character. Oak-studded, well-maintained parks breathe the air of English heritage. But instead of taking one of the town's interesting heritage trails, I first went to a sports shop and got myself a new pair of hiking shoes. My old ones, which I wore every day until now, had become holy. The cheapest way to do so, when Decathlon is not around, was to go to Anaconda.
Equipped with new shoes, I went to test them. I had a quick orientation walk through the city, not more than 2 hours because the town is small. I admired the Town Hall and the old Post Office, passed several churches and climbed the hills in the west for a bird's eye view in the evening sun. I admired the fountain at Prince`s Square, had a stroll along the water, took pictures of an old windmill , had a look around the theme park at Penny's Royale Adventures and stood in front of the old water mill. It is all very contemplative.
Nature is another big draw. Not more than 15-minute from the town centre lies the beautiful Cataract Gorge, with its cascades, hiking trails, gardens, and restaurants. And so I made the Cataract Gorge Reserve my first hiking destination.
Getting around on Tasmania without a car is nearly impossible. With my driving license being stolen in Malaysia I was not allowed to rent a car. There is no real public transport apart from a few local buses. There is one private bus going to Cradle Mountain at 7 am every day for 77$ but the bus back would be the following day. Most hikes start at car parks where no bus ever goes. There are a few public buses going o Hobart for 45$. But to go to Freycinet one must change in Bicheno and wait there for 4h for the connecting bus.
I spoke to the hostel manager who tried to help, and I went to the Tourist Office in town, where I found really helpful people with some ideas and suggestions. The lady there tried to get me a rental car with just my international driving license but it did not work out. I really tried everything to get a shared ride: I posted in Facebook groups and even put a note on the notice board of my hostel. No success.
Considering time and prices I dropped the idea of climbing Cradle Mountain or visiting remote places. I booked a day tour to Cradle Mountain which would allow a few hours independent hike. A private bus would take me forth and back, it included a guide and cost me 130$. I also booked a day tour that took me from Launceston to Hobart via Wineglass Beach. I had to compromise on the climb of Mt. Amos but I solved my travel problem and included that wonderful beach, costing me 180$. That is much faster and saved me the trouble of changing busses as well as expensive accommodation in Feycinet (which was not available for less than 350$ per night at that time).
It was raining on the day I arrived in Launceston. But then I think my old friends haze and rain had a conspiratorial talk to apply Murphy's law, knowing that I left my shorts and sandals behind, as well as the sunscreen, and brought a padded jacket instead, expecting cold days in Tasmania. And the weather turned into exactly the opposite: Hot and dry. But perfect! What more could I wish for? I did not wear the padded jacket; the weather was sunny and warm. I had my sport shorts and my bikini! And I had the best weather Tasmania had seen for years!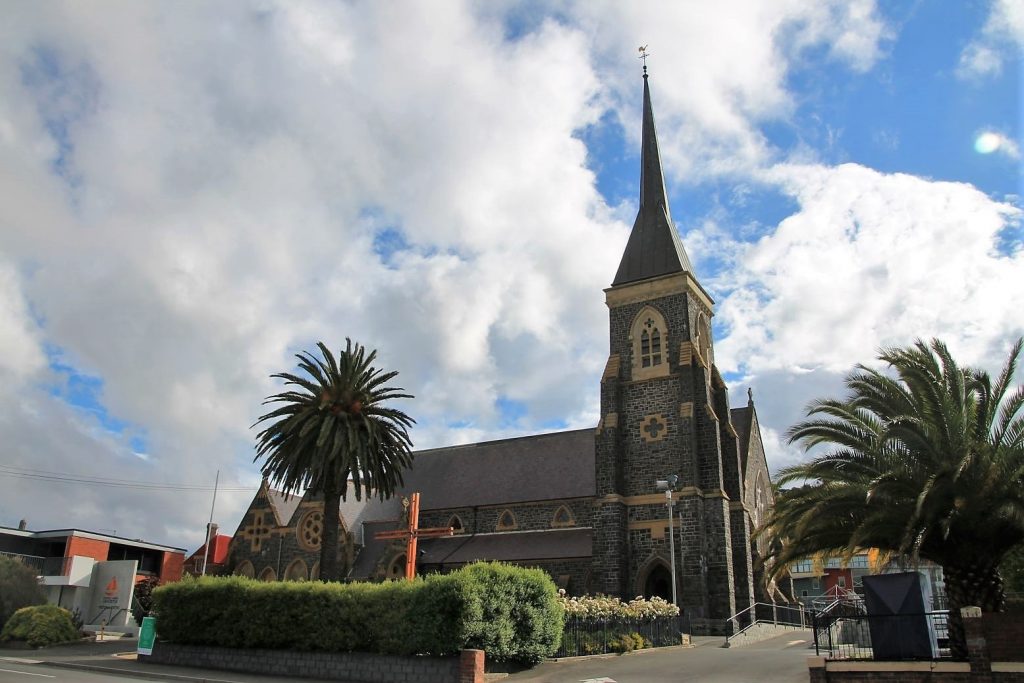 Cataract Gorge
Cataract Gorge Reserve is just outside the city centre, maybe 15 min walk from my hostel, where the South Esk River courses down a deep, rugged trench and then, after passing below Kings Bridge, becomes the wider Tamar River. Trails run along both sides of the river.
I decided to start with the steeper Zig-Zag Track. It crosses the bluffs on the south side of the gorge and provides some excellent views. I came back on the north side via Cataract Walk. After a little more than 1km, I reached the First Basin. It is a big opening with some restaurants, a swimming pool next to the rivers natural pool, a chairlift and the famous Alexandra Suspension Bridge.
I continued the trail, and after another few kilometres, I reached the Duck Reach Power Station. This old, decommissioned water power plant had delivered the electricity at the time when Launceston was first electrified in the 19th century. There is another Suspension Bridge to cross the river at that station and I turned back on the other side.
There are a number of well-marked bush trails that will take one further into the Reserve, and these make for excellent walking. I have used a few of them to lengthen my hike and see more of the rich wilderness: I took the Snake Gully Track (no worries, it's just a name, no snakes there) on my left, turned onto the Powerline Tack (under the power line, less trees, perfect views) and went back on the Matinee Track (originally for MTBs).
After 12 km and 5 hours, I was happily back at Kings Bridge. The tracks are all really easy walks. Some people use the lesser steep north side for jogging (and I followed their example on the next day). It has some great viewpoints too. It was a sunny warm day with a deep blue sky, therefore I took my time, enjoyed the sunshine, sat on the round-washed stones with my feet in the water. Some people went swimming but for me the water was still too cold.
Tamar River Wetlands
The morning of my second day in Launceston I jumped into the local bus no. 814 that serves the northern "suburbs" of Launceston. Basically, it goes in a loop to Legana and back. The bus goes every hour or so and the ride costs 4.40$ which explains why the bus is nearly empty. Just 8 km out of town there is an island inmidst the Tamar River and the wetlands around it have been turned into a conservation area. It is entirely free to enter the wetlands and to walk along the boardwalks into the unique ecosystem of mudflats, lagoons and islands. It was a wonderful sunny day and out there some wind was gently stroking the man-high grass. The perfect day and environment to take a deep breath of fresh air and let go! I was out early so that I had the island nearly for myself!
The walk starts at the "Interpretation Centre", where I may educate myself about the wildlife I could expect out there. It is very nicely done with aquariums, stuffed animals and a wonderful glass front as a lookout into the wetlands. The boardwalk took me to Tamar Island and indeed I could find some animals on the way, black swans and other water birds, crabs in the mud and I saw eels in the shallow water. The landscape here is exceptional with its high grass, the muddy river arms and the little islands with thin pine trees. It is perfect for bird watching and a suitable hideout is already there. But the walk is not more than maybe 2km, and even if I went extra slow, after two hours I had seen and watched everything.
For the way back I decided to walk. The next bus was scheduled in 1,5 hours and I estimated this would be the time that I need to walk the 8km back. Partly the path leads along the road, partly along the river, which was much nicer. But I really must complain about the lack of public transport! How do people cope who don't drive, like kids and elderly people?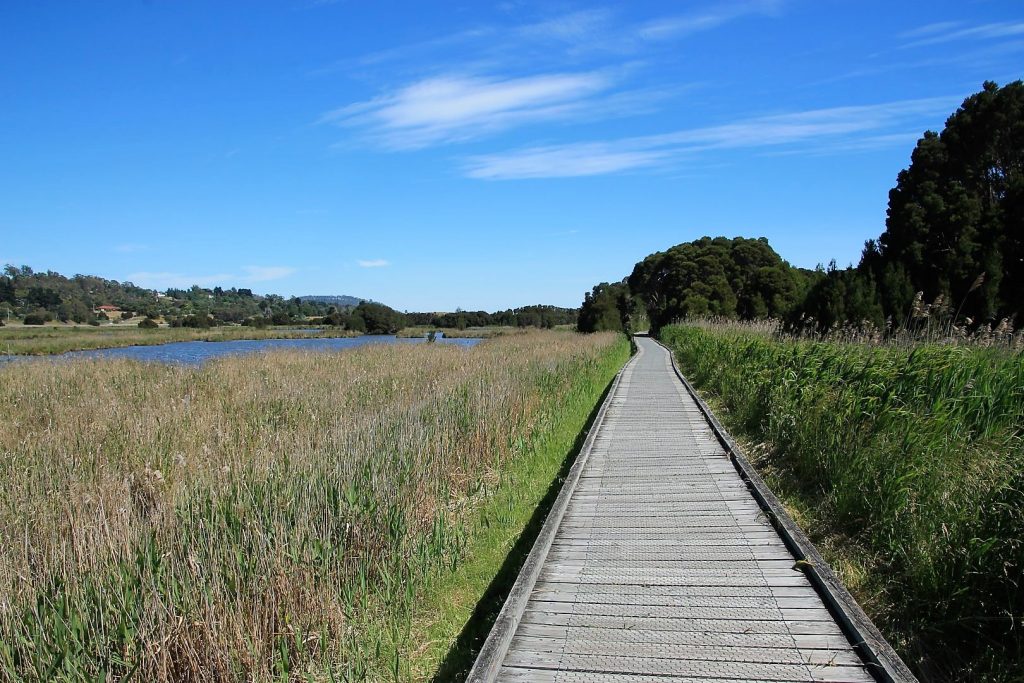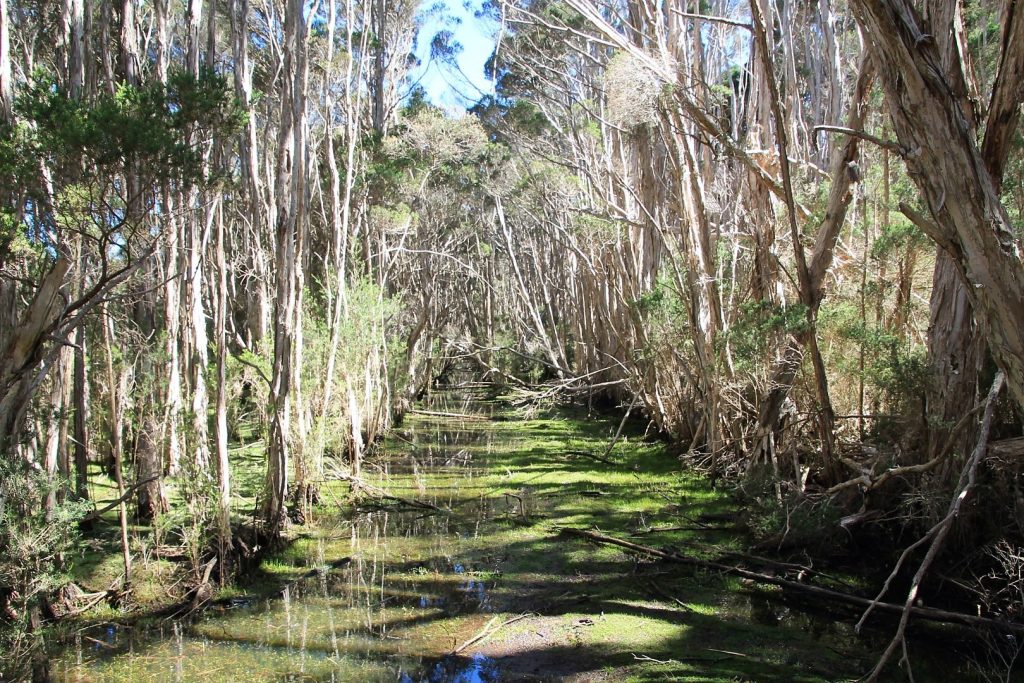 Cradle Mountain
What a long but beautiful day out. I was picked up from the hostel early in the morning, and the minivan brought me and six Asian tourists into the Cradle Mountain National Park which is part of the Tasmanian World Heritage Wilderness Area. We were left at Cradle Mountain with 4h on our disposal for hiking and had two options: Either do the easy but wonderful walk around Dove Lake at the foot of the mountain, a circuit of about 6km. Or do the more challenging and steep hike up to Marion's Lookout passing Lake Lilla, Wombat Pool and the Crater Lake and enjoy the most incredible view from there onto Lake Dove and Cradle Mountain, a hike of 3km up and 1km down.
I decided to do both. I just could not accept to miss out on something. And it really did work out well and I was back on time. I did Marion's Lookout first, more challenging, sometimes so steep that there were chains for support along the track. The path back down was even steeper and needed extra care while stepping down. It took me two hours and I had another two hours left for the trail around the lake. A comfortable timeframe.
Both hikes were incredibly awesome. The landscape is so beautiful. There are forests covered with moss so thick, and bush land, and areas full of funny looking button grass, steep craggy rocks surrounding the lakes, deep gorges and a water fall from the very top down to Dove Lake. Most fascinating, I found, was to see several lakes from Marion's Lookout but all of them on different elevation levels, two of them easily a few hundred meters above Lake Dove. In rainy times they must be overflowing and create waterfalls.
I was not lucky enough to see any animals apart from birds and tiny lizards. But I was extremely lucky with the weather, clear sky, mostly sunny, and best views. I even put my feet into the freezing cold mountain lake. Here and there were a few patches of snow left on higher elevations.
The only thing I did not like was that we spent 30 min on a local cheese manufactory on our way back. I certainly tried the cheese and found it very delicious. But I would have preferred to spend that time on the mountain and not with food. But unfortunately, organized tours always have some sort of arrangement with local businesses to bring tourists to them to enhance their sales.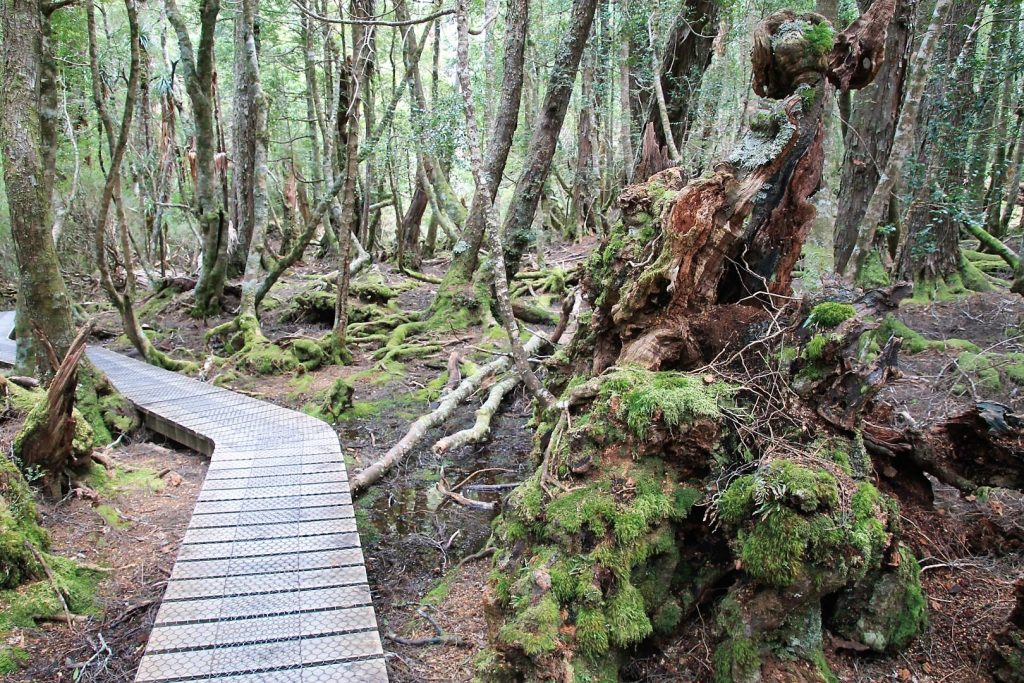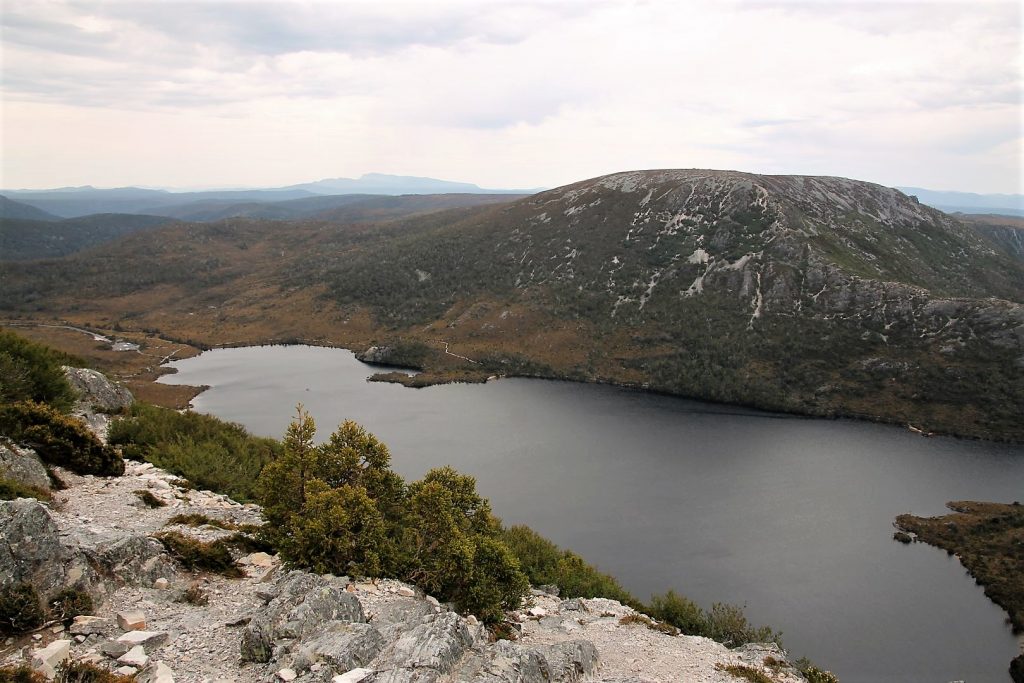 Launceston – Freycinet – Hobart
Wineglass Bay
In short: It is absolutely worth going there but not with a tour! Freycinet just deserves to spend much more time, it is such a wonderful place!
Freycinet is a peninsula in the far east of Tasmania and known for its pink granite. But more famous than that are the steep mountains that are built from this granite, and the wonderful bays in between. One of them is Wineglass Bay, voted to be one of the ten most beautiful beaches in the world. And truly it is a wonderful place, dreamlike situated between high mountains, steep cliffs and surrounded by Tasmanian wilderness, a white-sanded beach, shaped like a perfect arc, with crystal clear, turquoise-blue shimmering waters and a steep entrance that makes the waves appear mighty as they only break when they are already at the shore. A truly magical place. And I say that despite the fact that there were zillions of other tourists hiking the same path as we did. It could not take the paradise-like feeling away.
My tour had another 13 people on board who went from Launceston to Hobart via Feycinet with me. It took us about 2,5h to reach the car park at Wineglass Bay and from there another 25min to hike up to the Wineglass Bay Lookout. It's a fantastic view onto the beach, the ocean and surroundings.
From the lookout it is a 30 to 40 min hike down to the beach. Only two people of the group did that due to the many (many!) stairs that we had to hike down and later back up again. We had to be back at a certain time and the schedule left us with just 30 min at the beach! That is not enough for a place like that! I managed to be fast enough to jump into the freezing cold waters. The weather was hot and sunny, perfect for a swim. What a joy! Ice-cold water tingles everywhere and makes you literally feel the life in your body.
I learned that, in theory, it is not necessary to hike back the same way I came. There are many other beautiful hikes in that area, and from the beach one trail is going in a loop back to the car park being 8km long (3,5h) through eucalypt forest and along the rocky slopes around the mountain, passing another two sweet and beautiful beaches. I would have definitely done this if I had my own schedule. But I had to give it a miss as time did not allow. And apart from that, on such a nice sunny day I would have wished to stay a little longer at this wonderful beach, watch the waves gently rolling in and the wallaby's hopping around.
Instead, we had spent 30 min on a local oyster farm before we arrived at Wineglass Bay and another 30 min on a local Berry Farm after we left the beach, introducing local business with the recommendation to try some of the products. Certainly a nice idea but I would have preferred to spend that time at the beach. Maybe better to put such shoppings into a separate "Local Cuisine Tour". The only problem might be that no one would book such a shopping tour, I suppose.
We arrived in Hobart at around 7pm and were dropped off at our accommodations, in my case at a wonderful place in the hills with a wonderful view at the harbour.