Last updated on 20th January 2020
The Capital of Victoria – Melbourne
The city lies in the very south of Australia at the shores of river Yarra and along the coastline of Port Phillip Bay and spreads into the hinterlands towards Dandenong, Mornington Peninsula and Yarra Valley. This location is nearly as beautiful as Sydney and the "Melburnians" love their hometown. They are very sporty, you see them cycling and jogging, rowing and surfing, playing tennis or football, and there are big arenas for football, cricket, tennis and other sports. Similar to Sydney there are gyms at every corner, indoor and outdoor swimming pools, cycle lanes and massive parks with outdoor gyms.
The Melburnians also like their BBQ, their coffee (!), parties in the evenings, and they are art-loving people. The city's small laneways are famously known for their street art, and there are museums, galleries and exhibitions, above all the National Gallery of Victoria and the World Heritage-listed Royal Exhibition Building , they have musicals, most famously there is "Harry Potter and the cursed child", and other music events, theatres, and also literature, represented by the impressive Melbourne Library. For example, at the time when I was there, Elton John performed on four evenings in Melbourne, and it was all sold out apart from places with restricted view. The ticket price was about 250$ and I decided against it.
I had a nice homestay about 7km from CBD at Gary's place. He was a very caring and supporting host (Thank you Gary!) and made me feel most welcome. He offered me his bike to use for cycling around the city, along the beautiful Yarra River or along the amazing coastal trail of St.Kilda. It felt relaxing and I took my time to breathe and slow down a little, do less and gain more. I went to the wonderful parks for jogging, to swimming pools for swimming and to the gyms for exercise, it all was nearby and Gary took the time to show me around. I did not feel so much like a tourist anymore.
Nevertheless, I was interested in what the city has to offer and wanted to see some of the main attractions in Melbourne. As I did in Sydney, I took the Free City Tour to start with. We had a brilliant student guiding us through the city centre, along the little laneways, the State Library, City Hall, Exhibition Centre and Flinders Station to finish at the Arts Centre with its great view at the skyline of Melbourne, overlooking Yarra River at Prince Bridge. It was a great introduction and gave some good ideas what to do in Melbourne. The other half of ideas came from my friendly host Gary, and here it is what I chose to do:
Royal Botanic Gardens – State Library Victoria – ScienceWorks – National Gallery of Victoria – Shrine of Remembrance – Phillips Island – Mornington Peninsula – St. Kilda Bay Trail – Dandenong Ranges – Photographers Workshop
There is well working public transport in Melbourne. They have an extended tram system, busses and trains. The ticket is the so called "myki" card, it's easy to use, but costs 6$ to buy. Unfortunately credit card cannot be used as an alternative here.
Royal Botanical Gardens
These beautiful Gardens are home to amazing and diverse plant collections. The place is very much different from the more openly designed Botanical Garden in Sydney. It has camellias, rainforest flora, succulents and cacti, roses, Californian species, herbs, and so on. Most fascinating is the Australian forest walk and the walk through Fern Gully.
Some self-guided walks are available and an Aboriginal Heritage Walk. Most excitingly, the Garden features an open air moonlight cinema! And most interestingly, there is a natural water treatment system called Guilfoyle's Volcano. It can be climbed and investigated.
The beauty of the park is owed to the numerous lakes and islands, massive trees and lawns. Unfortunately the enormous Government House in the middle of the park takes quite some space. It is not accessible and it is not even possible to have a look at it because it's hidden behind walls.
There is an observatory at the main entrance next to the visitor's centre that invites for investigation, but unfortunately it was closed at the time of my visit.
State Library Victoria
The State Library is open to the public, free to enter and an absolutely impressive building, especially from the inside. It allows reading books and strolling through interesting exhibitions, but first of all, when visited the first time, its remarkable interior design must be admired.
I must admit that I did not see, nor looked at, many books, even though I really love books. I was taken away by the massive Dome, the La Trobe Reading Room. It is a magnificent, octagonal room that stretches over six floors and is as high as the entire building, covered by a dome-like ceiling. I went around it on all floors and visited all its exhibitions, and I also walked in-between the wooden tables with the green lights in the reading area. Fascinating! A flight of wide marble stairs in colonial style leads from the entrance up to the reading room.
Similarly impressive is the Ian Potter Queens Hall with its huge wooden tables and the wonderful architecture of the ceiling. But also the more modern rooms are interesting to visit, all equipped with the latest technology, and there is an inviting kid's zone, and even a conversation quarter.
The library has free WiFi and I believe it is easy and convenient to come here, sit down and work peacefully in that great environment, or use the public spaces for events and meetings. The library was recently refurbished to emphasize Melbourne's position as a UNESCO City of Literature.
ScienceWorks
ScienceWorks is a popular science and technology museum that features modern interactive exhibitions. It allows not only to learn but also to interact and try things out. It includes some very interesting facilities like the old Pumping Station, the Melbourne Planetarium and the Lightning Room. The latter hosts shows that present high voltage lightning bolts, maybe the most exciting that the museum has to offer.
It was an unfortunate decision in my eyes to place the museum so far outside the city, across Yarra river on the other side of Port Phillipp Bay. It took me a 45min bike ride to get there, a car would not have been much faster due to the traffic.
The exhibition is rather small, just two floors, and aims mainly on kids I believe. I was rather disappointed by the choice and variety of exhibits. Especially the very interesting part about "Seeing the Unseen" could have been full of fantastic things but did not bring much of the unseen to light: a few screens, a few writings, and thats it. That was disappointing.
Nevertheless, there is always something new that can be learned. In this museum I saw the wheel that was invented a second time, one that can move in all directions. The lightning room was closed unfortunately.
Entrance is 15$, and the museum already closes at 16:30!
National Gallery of Victoria
The National Gallery (NGV) is a huge, modern and impressive building in walking distance from Flinders Station near the State Theatre. It is full of fantastic artwork that must attract anyone who is interested in art. I believe it has changing exhibitions and will always remain attractive. The entrance is free so I went to have a look.
The NGV greets at the entrance with a massive statue of the artist Kaws called "Gone": a huge comic-like clown figure carrying another big figure which is supposedly dead. Honestly, seeing that figure felt repulsive, I did not see any creativity in it. I rather thought that this artist must have grown up with too many cartoons in his life.
Much more impressive is seeing the Great Hall and its amazing stain-glassed ceiling. It is the world's biggest of its kind. Thousands of geometric pieces of coloured and clear glass bounce and refract coloured light and give the Great Hall a magical atmosphere.
Furthermore, the NGV has sections dedicated to the different geographical parts of the world, in particular big sections for Europe, Japan, Britain, and Australia. Most of the exhibitions I saw were about fashion and everything that has to do with fashion, depending on location and time. Not only the clothes and shoes but also furniture, china and glass, make up, paintings, photography etc. can be seen.
Interestingly, I came across a little movie that is shown in the European section: a dancing woman. I recognized her, due to the colourful lights on her dress, as one of the "forgotten artists". This refers to an interesting book about which a friend wrote an article on his blog which I just had read. Loie Fuller, the woman with the magic dance, performing in Paris, was one of the forgotten artists. She was dancing on that little video in the Australian NGV. I would not have noticed it otherwise. Check out the blog here, it's a brilliant piece of writing and research (in German).
Shrine of Remembrance
The Shrine of Remembrance on St Kilda Road next to Melbourne's Botanic Garden is one of the largest war memorials in Australia. It was erected as a memorial to those who served in World War I, but it soon became Australia's central memorial to all Australians who served in a war. It is the site of the annual ANZAC Day ceremony.
Once more I was surprised that Australia only honours their dead soldiers but not the victims of the war(s) in general. I believe there are many more who lost their lifes.
The memorial reminded me somehow of the Neue Wache in Berlins historically most significant street Unter den Linden, which is, similarly, dedicated to the memory of all victims of war and violence. But the Melbourne version is much bigger and is located on a little hill providing a nice view onto the surrounding garden and greens.
Next to it stands a tall column with the names of countries or regions engraved on it and an eternal flame is burning in front of it.
St. Kilda Bay Trail
Thanks to my host Gary I had a bike at my disposal. My last biking was several months ago and so I could not wait to go on a nice bike ride again. It was a very windy day and I chose to cycle along the coast which resulted in me getting wet from the spray of the ocean and the waves from time to time. But I did not mind, it was a great ride.
My homestay was in Prahan. From there I cycled down to St. Kilda Pier and then followed the coastal path south until Black Rock Gardens. The path goes further along the coastline and it might be possible to cycle as far as Sorrento and even to the very end at Fort Nepean.
The Bay Trail goes wonderfully along the coastline with many lookouts, piers, beaches, parks and gardens, even bushland (not for bikes). I have passed St. Kilda Beach and Brighton Beach with the famous beach huts. I just did not know that the huts were supposed to be an attraction and did not take pictures, I considered them to be ordinary English style beach huts.
I crossed the little John Cribbes Footbridge and climbed Point Ormond, a little hill, for the view, and I got very wet when I went to the very end of Brighton Pier. And I took a lot of pictures of Melbournes skyline in the distance with the wavy sea in the foreground. I liked that wind and fresh air and the stormy wetness. It gave a feeling of being alive.
I watched the waves breaking at Sandigham Harbour and passed the golden cliffs of Red Bluff. After passing Half Moon Beach I arrived at the Black Rock Clock Tower and turned around. I cycled back straight along Bluff Road. It was a wonderful day out, even if it was windy. Of course, that trail can be walked too and the experience will be equally exciting.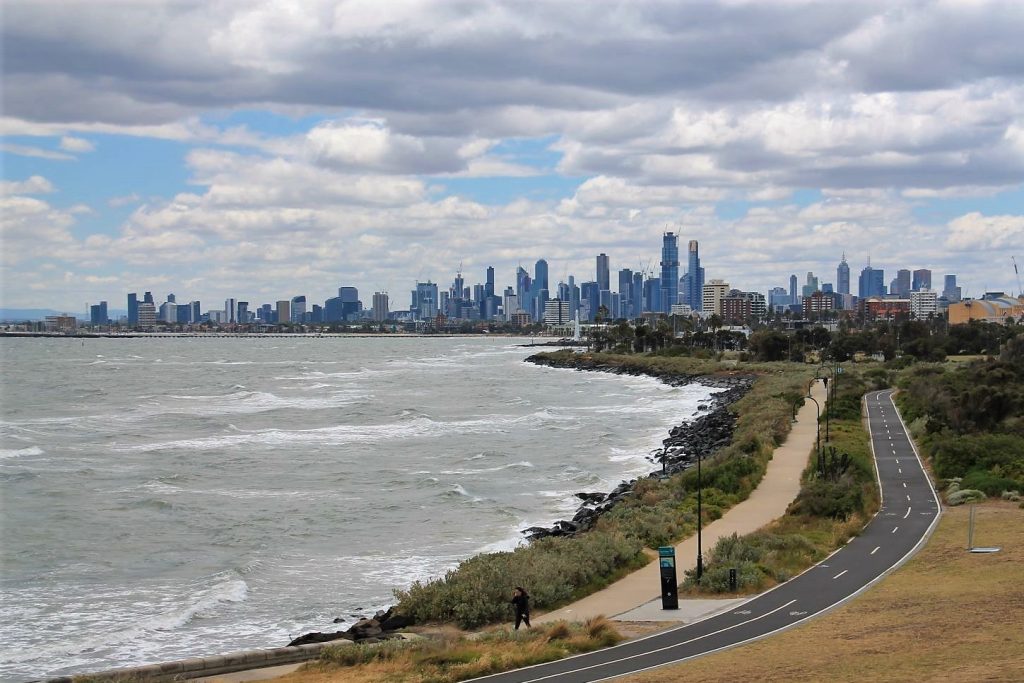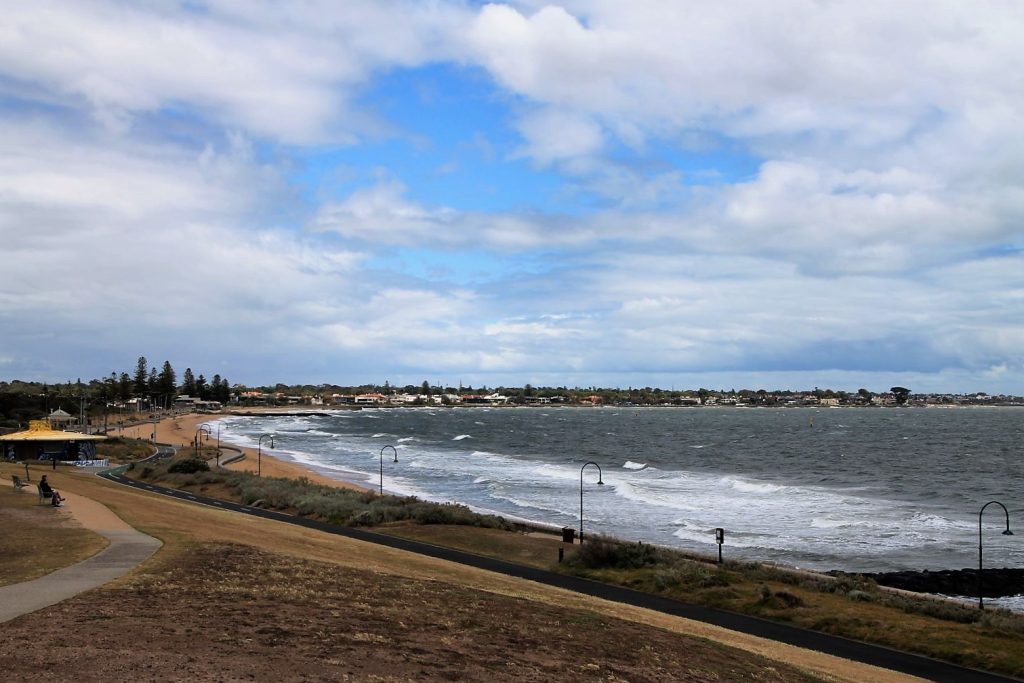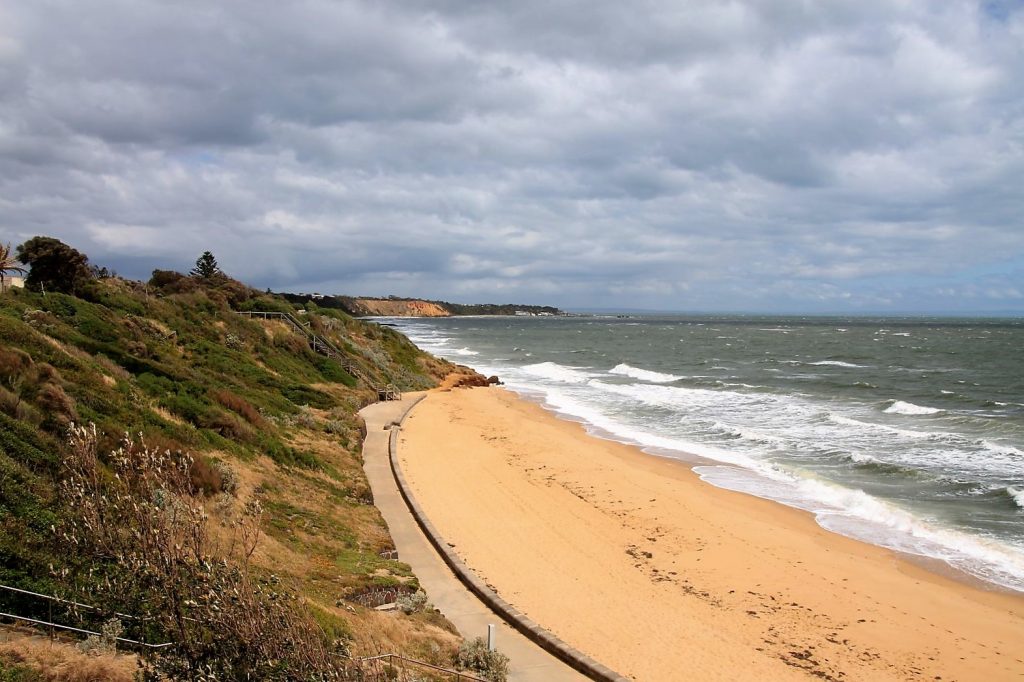 Mornington Peninsula
We put the bikes in the car and drove all the way I had cycled before along St Kilda coastline, and then further until we reached Point Nepean National Park on the Mornington Peninsula. There is a bus going as well but it is complicated as busses need to be changed at least once. Thanks to my friend Gary we had a much more convenient and also scenic drive along the coastline.
Once we arrived at the old Quarantine Station we took the bikes out and cycled the last 5km to the very end of Mornington Peninsula to see Point Nepean and enjoy the view from the cape. Point Nepean had been fortified in the past. Fort Nepean was an important defensive facility during the world wars. It is said that the first Australian shots of both World War I and II were fired from Fort Nepean.
The road going to Point Nepean still is called Defence Road. About half way down that road there is a hiking trail on the left hand side that leads up to the National Parks highest lookout on Cheviaot Hill. It allows a wonderful 360° view over the national park and Point Nepean. And as it is the highest point it has also some remains from the army that can be visited.
Apart from its military history, the national park is a wonderful place of wild bushland that replaces the original oak forest that used to grow here until it became firewood. Now the area is protected and wildlife could be seen, with some luck, which we did not have. Instead, we were bothered with hundreds of flies orbiting our heads.
Before we left, we made a little detour to London Bridge Lookout at the beach on the other side of the peninsula, just south of Quarantine Station. Along that amazingly beautiful beach, which has a steep entry and bulgy waves, are sandstone cliffs shaped by the wind into most fascinating structures. Some of them extend into the sea and form a remarkable arch. People walk underneath it to watch the sunset or go fishing, as some did when were there. At that arch the stones form a plateau which ends abruptly into the deep ocean, like a natural jetty, and spectacularly breaks the waves.
Phillips Island
Phillip Island is located about 140 km southeast of Melbourne, connected by a short bridge to the mainland at a place with the wonderful name San Remo. It is a popular holiday destination for Australian families and a well-known tourist attraction due to its wonderful beaches, the Koala Reserve and the Penguin Parade. There is no other way to visit the island than by car or, if time allows, bicycle. Alternatively, a tourist tour could be booked that takes people to the main attractions. Thanks to my friend Gary we had a car and were flexible.
We visited the Koala Reserve where we saw semi-wild Koalas sleeping on the Eucalyptus trees. We learned that the first settlers felled the trees to such an extent that only 15% of the natural vegetation is left today. In the 1990's people understood that it is crucial to preserve and protect the wildlife that is left. Today, replantation efforts try to provide a growing natural habitat for Koalas and other wildlife.
We went to the sweet little town Cowes in the north of Phillips Island with its beautiful Erehwon Point Beach for lunch and visited two other beaches, Smiths Beach and the wonderful Woolamai Surf Beach. The latter is more natural and wild, quite remote and therefore exceptional beautiful. I have walked along that beach and then followed the trail along the cliffs for another kilometre or two up to Pinnacles Lookout. As the name suggests, I stood on high cliffs looking at pinnacles that rise steeply out of the ocean. The trail goes further along the coastline only I did not have time anymore as we wanted to see the Penguin parade.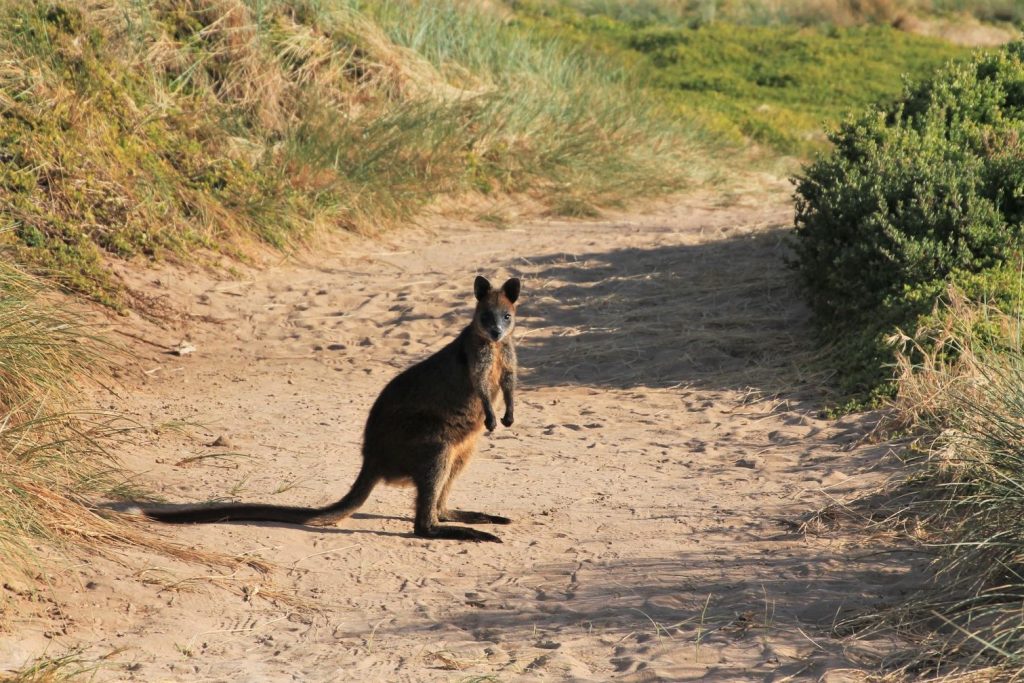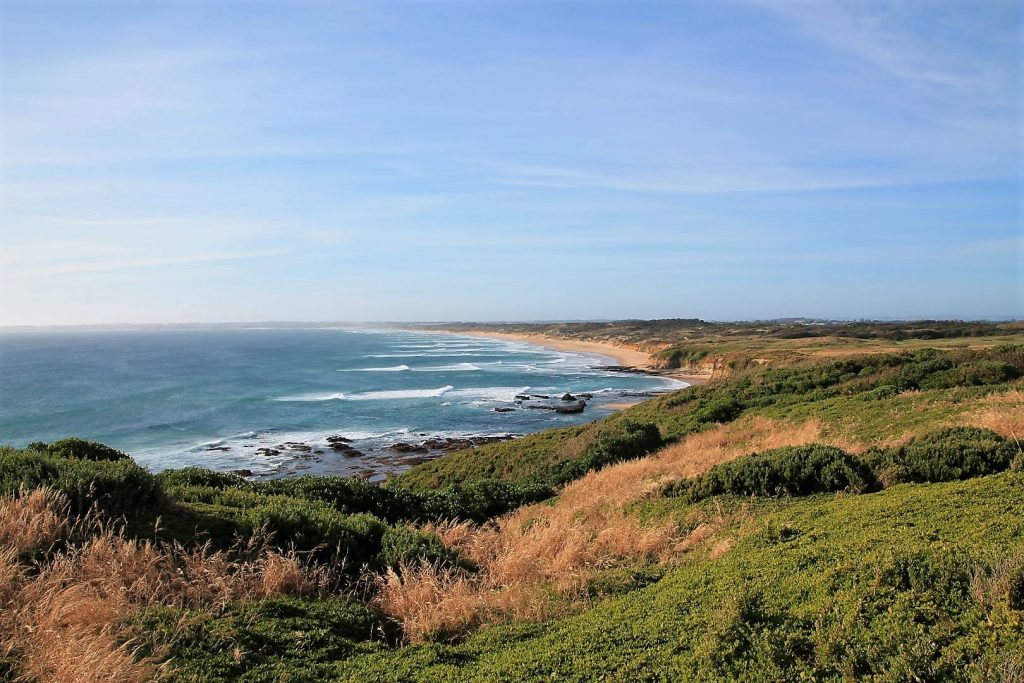 The Penguin Parade happens every evening at sunset. The little penguins arrive from their food hunting in the ocean to feed their young on land. The Little Penguin is the smallest of all species and the only one that is blue and white, instead of black. Human impacts such as farming and housing, introduced predators, over exploitation of marine ecosystems, oil spills, marine pollution and climate change had threatened the colony of little penguins and as a result, some efforts have been made to preserve and renaturalise. Along with these efforts, a boardwalk for tourists had been built right through the colony, guiding the tourists to three tribunes at the beach from which they can watch the little penguins arriving. Walking back on the boardwalk people can follow some of the penguins to their homes. The spectacle costs 28$ per person and takes as long as one likes to watch – it's considerably cold and windy! Sadly, no photos are allowed.
As much as I liked seeing the little creatures arriving and waddling to their homes where the young hungry babies wait, as much I felt that the hordes of tourists, their chatter and all the lights are rather disturbing for the penguins, not to mention the obstacles that are built right into their colony in form of trails, the boardwalk, and a toilet! At one point the rangers had to close the trail for people and open a gate on both sides for the penguins to cross. Like we would do for a crossing train.
Apart from the penguins, the far western cape of the island at Nobbies Centre is worth a visit at any time as it provides breath-taking views onto the ocean, the cliffs and Seal Rocks. A board walk takes visitors around the cape and here and there some "houses" and earth holes can be seen, with young penguins in it, waiting patiently for the evening that brings their parents and food.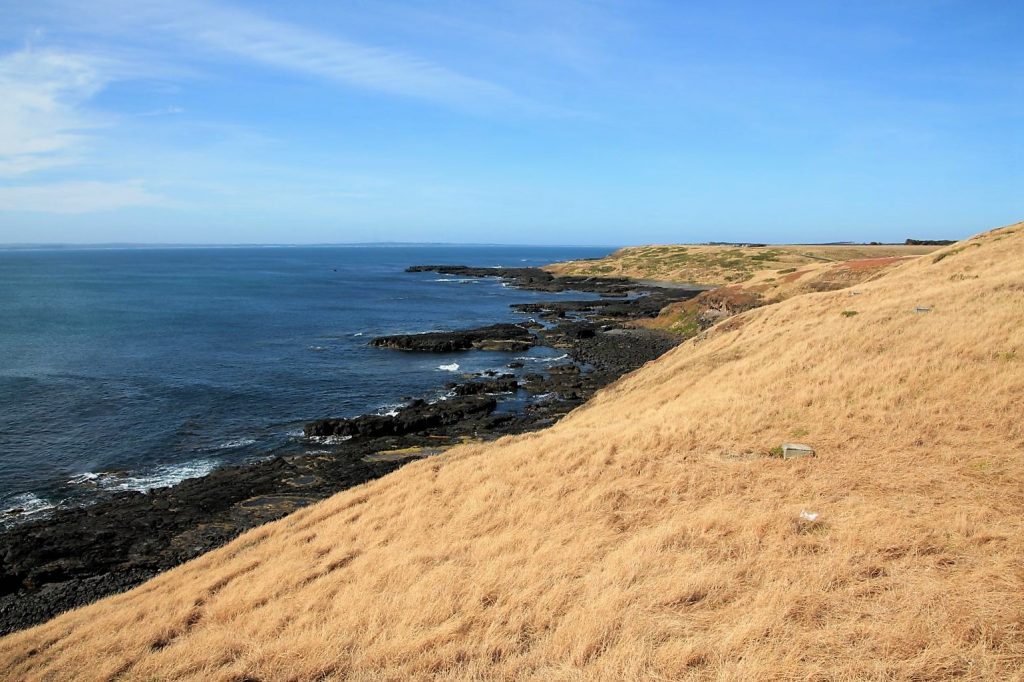 Dandenong Ranges
The Dandenong Ranges are a couple of low mountains less than 40km east of Melbourne. For me, going there is all about nature and adventure. And also it provides another perspective. Because even though those mountains are low, they will provide a wonderful view at Melbourne's skyline from the distance on a clear day.
I don't have to mention that I did not have a clear day. It was sunny and warm and the sky appeared to be blue but the outlook into the distance proved that it was not as clear as we thought. The SkyHigh, the viewing platform atop Mount Dandenong, gave only a very disguised view of Melbourne at a blurry horizon.
Dandenong Ranges can be reached by train or by car, the latter being much easier and this time I was lucky that Gary wanted to go for a walk there as well. We went to Sherbrooke forest for a walk of about 7km to a small waterfall, the Sherbrooke falls and back in a loop. It's a beautiful scenery, a lush and magical forest and certainly a refreshing walk. It is remarkably cooler out there.
Certainly, Dandenong has so much more to offer. Apart from hiking, there are picnic areas and scenic drives, a railway and cycling routes, there are art galleries in sleepy villages and beautiful gardens. We could not do all this on just one afternoon, sadly.
Photo Workshop
Darran Leal, a multi-award winning professional photographer, guide and TV presenter, had invited for a Photographers Workshop in Michaels Camera Shop. The shop happens to be more than just a shop but also a museum full of modern and historical photographer's equipment like cameras, lenses, lights and flashes, printers, tripods and so on. And of course it displays some most beautiful photographs taken by talented professionals.
Thanks to my friends Gary and Lorraine it could be arranged for me to attend the workshop as well. Darran was introducing his "K.I.S.S. Photography" (Keep It Simple Shooter) principle and showing some of his wonderful photos, mostly taken on the "World Photo Adventures" that he organizes: He takes small groups of photographers to global destinations to share his experiences and educate the participants and develop their skills of photography.
Darran is a nature lover and his preferences are pictures of breath-taking landscapes. He has been all over the world, on all continents, which made me honestly a little jealous. Together with his son Frazer we had a look at some of his pictures and it was described how those pictures were done. Also, we had a detailed introduction in the processing of the photographs after they had been taken, their way from a simple shot to an amazing picture that is a pleasure to look at – and that can be sold. It has been a very insightful event for me, worth attending, and it was all free.
Equipped with new ideas for photography and keen to produce some amazing shots myself I decided my next destination would be Tasmania because it would provide me with perfect motives: grand landscapes, rocky mountains, wild waters and the wildlife in it. Just 240 kilometers south of Melbourne.