Last updated on 19th August 2019
Same Same but Different
"Same same. But different." is a popular answer from the locals in Thailand when they are asked for a place of interest: Somehow everything is the same, but different. The saying has become a running gag among backpackers. It's also used in an attempts to sell something that can be anything (same same) depending on what the user is looking for (but different). Some say the saying also refers to the Thai Lady Boys selling themselfes: When the two breasts look same-same like a woman's but the dong is still there: Same same but different.
10 Fantabulous Places in Bangkok
Grand Palace – Wat Pho – Wat Arun – Khao San Road – Golden Mount – Siam – Ancient City – Ayutthaya – Rooftop Bar – Bangkoks Parks
1. Grand Palace
The Grand Palace has been the residence of the Thai king for many decades, was home to the Royal court and the administrative seat of government. Today it still is used for official ceremonies. One of them I had the pleasure to encounter: the Kings Birthday on 28. June. That day the entrance was free but due to the ceremonies not all parts of the palace were open to the public. So I was not lucky enough to see the Emerald Buddha. The Grand Palace of Bangkok is grand indeed, left me in awe with its beautiful architecture and intricate details, all of which is a salute to the creativity and craftsmanship of the Thai people.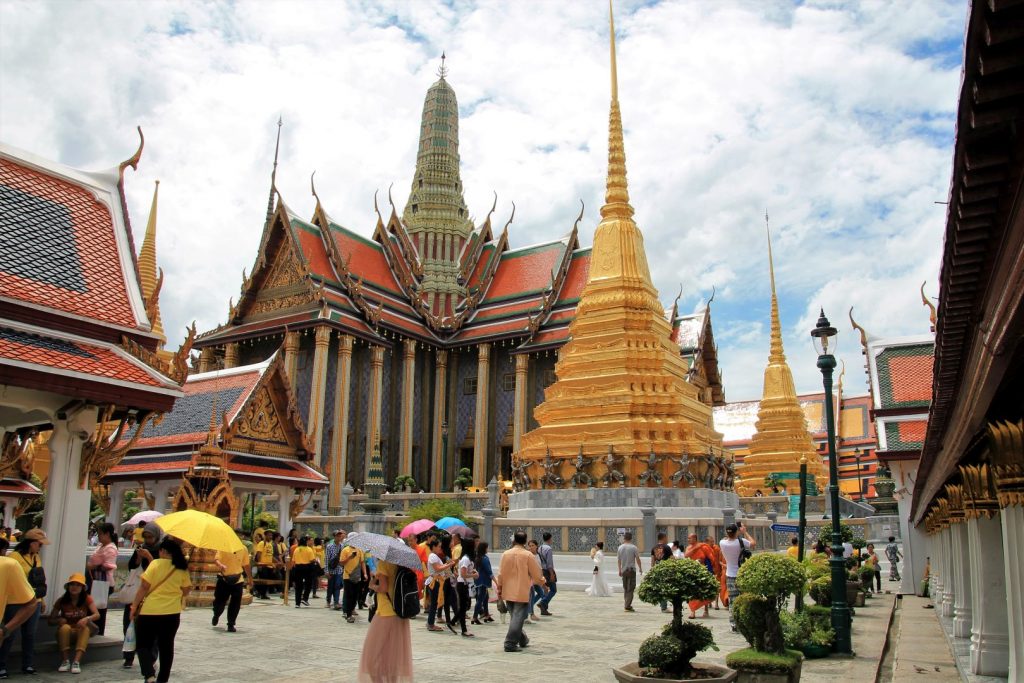 2. What Pho
Next to the Grand Palace lies Wat Pho, also called Wat Phra Chetuphon, or the Temple of the Reclining Buddha. It is not only one of the most beautiful temples in Bangkok, but also one of the biggest and oldest religious complexes of the city. It houses more than 1,000 Buddha images which is more than any other Wat in Thailand. The Reclining Buddha is a 46m long, lying statue of Buddha whose entire body is plated with gold. The Wat complex consists of a large number off different houses, temples, stupas and halls. I have been stunned by the amazing artwork, richness and details of the buildings. And fun fact, Wat Pho is known as the birthplace of Thai massage!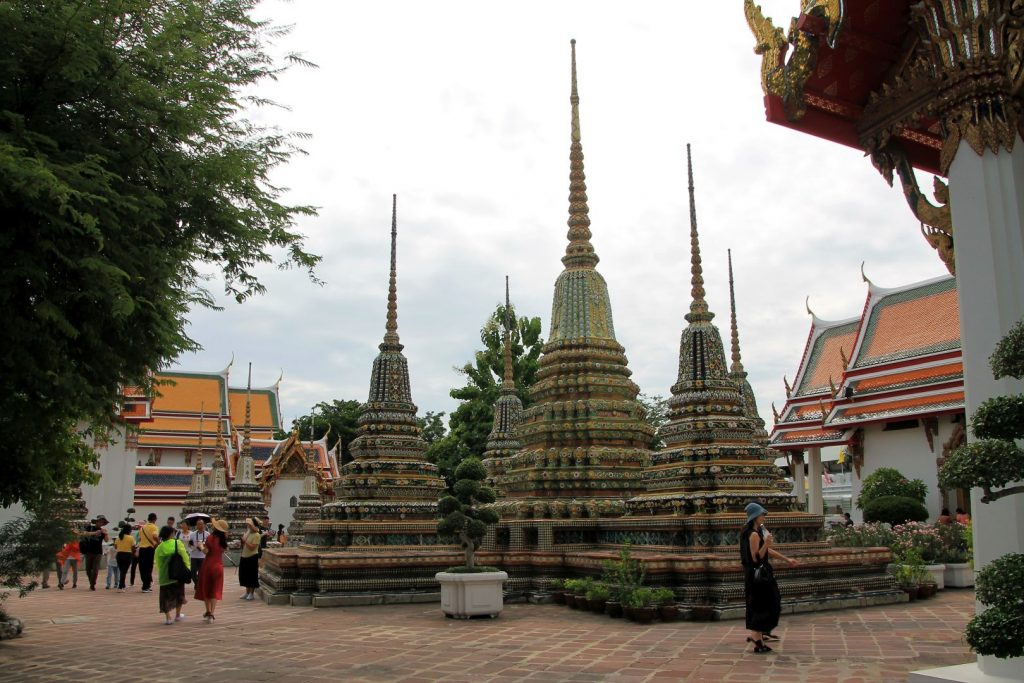 3. Watt Arun
Take the ferry from the banks between Grand Palace and Wat Pho to see Watt Arun, just opposite to Wat Pho. The Wat Arun is best known for its massive prang, a tower built in Khmer architectural style and decorated with ceramic tiles and fragments of multi colored porcelain. The prang with its height of more than 80 meters is the highest in Thailand. It is one of the eye-catching riverside landmarks of Bangkok, known from postcards. The Wat Arun, commonly known as "the Temple of Dawn", is one of only six temples of the highest grade of the first class Royal Temples, and also one of the few temples that predates the founding of Bangkok. Apart from its religious importance to Buddhist people, it really is a spectacular sight which I enjoyed visiting.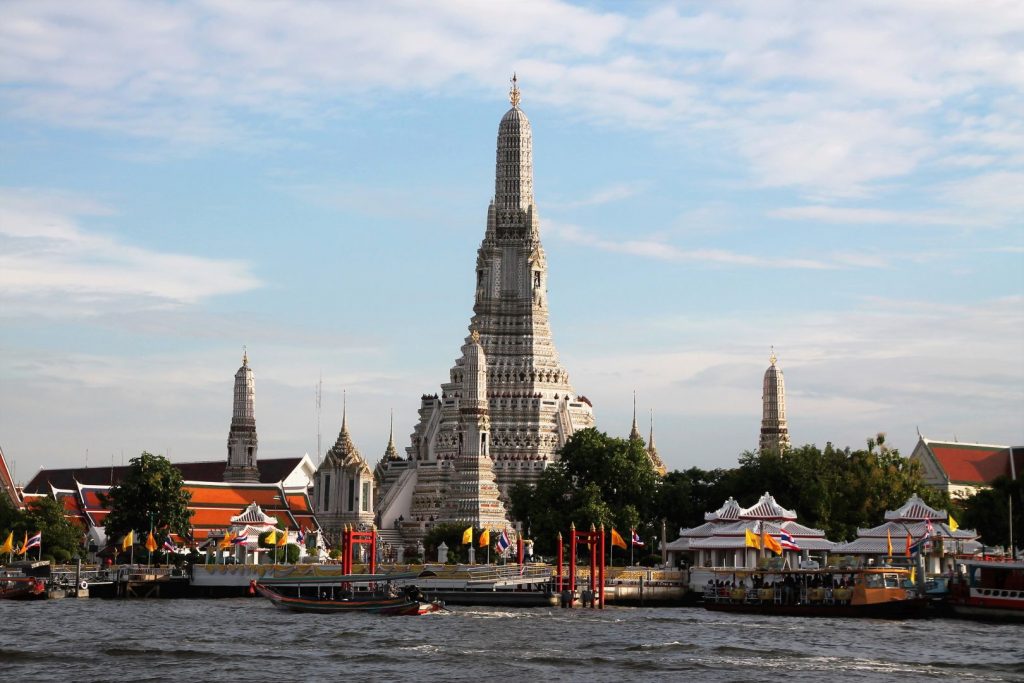 4. Khao San Road
It smells of fryer fat, meat and fresh pineapple. An old woman stands in front of her wok frying Pad Thai, next to her a man offers coconut ice cream with peanuts, which he serves in hollowed out coconuts. A little further on, in the middle of the street, there is a handcart with fried insects. Tuk-tuks squeeze through the crowds. In the evening it gets even more crazy with beertowers in front of the pubs and "Ping-Pong Shows". That´s the legendary Khao San Road, the most famous backpacker road in the world. It's near the Grand Palace, walking distance I would say, and a very authentic way to let the day fade away.
5. Golden Mount
The Golden Mount is an ancient Buddhist temple on a steep artificial hill with golden Chedi and wide views. It's about 1,3 km distance from the Grand Palace. I think that is walkable distance with the benefit of passing the Giant Swing on the way. Most spectacular views can be expected during sunset, so why not going there after visiting the Grand Palace and go to Khao San Road after? By following the Ratchatdamnoen Road the Mahakan Fort, Rattanakosin Exhibition Hall and the Democracy Monument can be seen on the way. The Golden Mount, also known as Wat Saket Ratcha Wora Maha Wihan, is one of the most famous attractions in Bangkok and offers a 360 degree view at the city.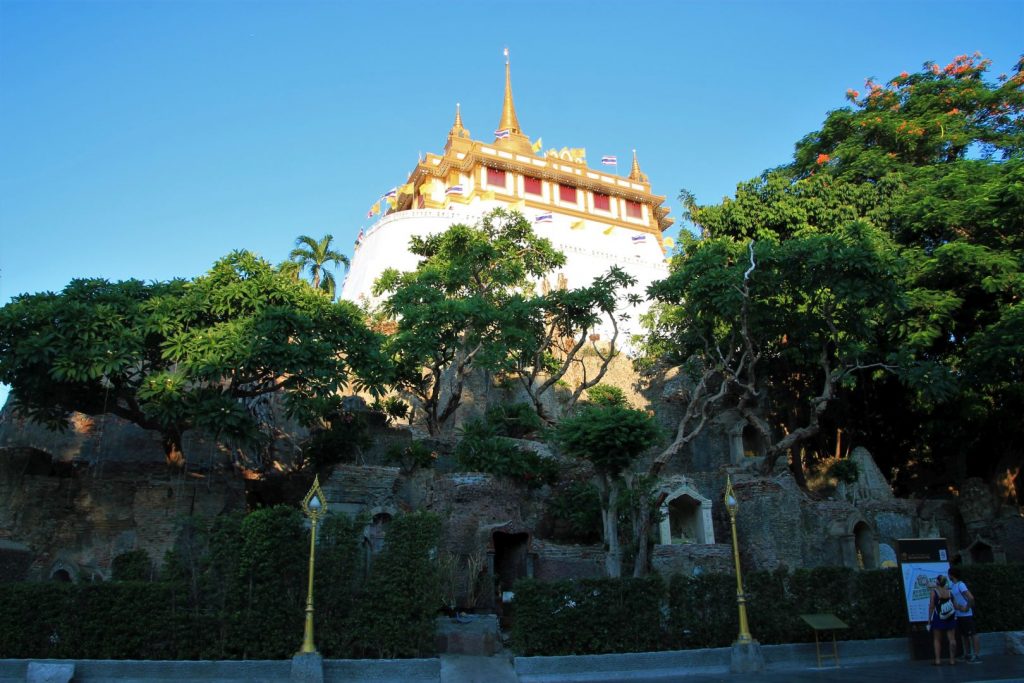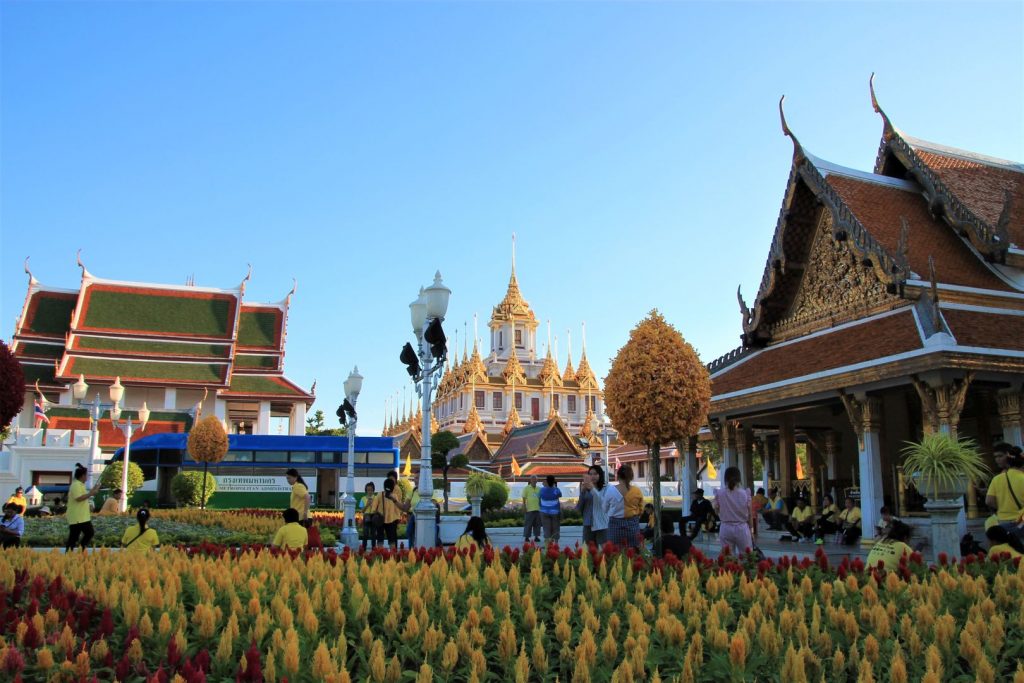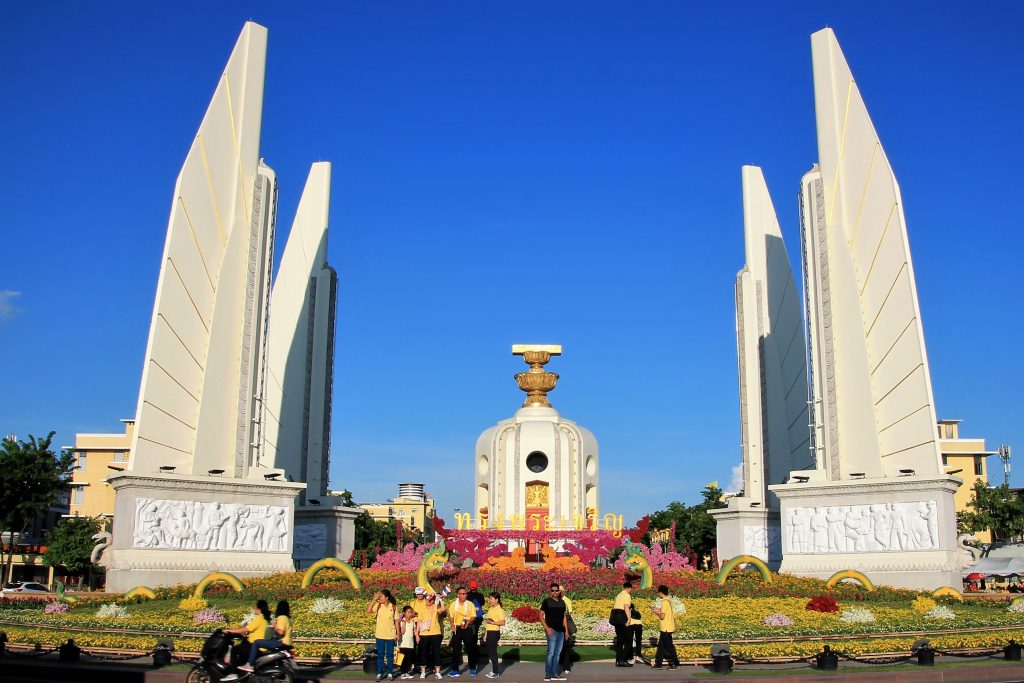 6. Siam Square
The Siam Square is Bangkok's main shopping hub and its BTS Skytrain station is often considered as the centre of the city. All buildings here are comparatively young, first buildings were only constructed in the 1970s. It started with ordinary shops, but has since expanded to a shopping and entertainment mecca that has everything: luxury shopping malls and glitzy department stores filled with designer labels and hip fashion boutiques. I might not be a big fan of shopping, but found it's still worth a visit, just to see the Bangkok-of-the-future. I also visited Sealife for the experience of being under water without getting wet and seeing sharks live and very near. Surely it is debatable how good or bad such underwater world is for the animals in captivity. I do prefer them being in the ocean instead in a basin that never can be big enough. But still I found it educating and nicely done.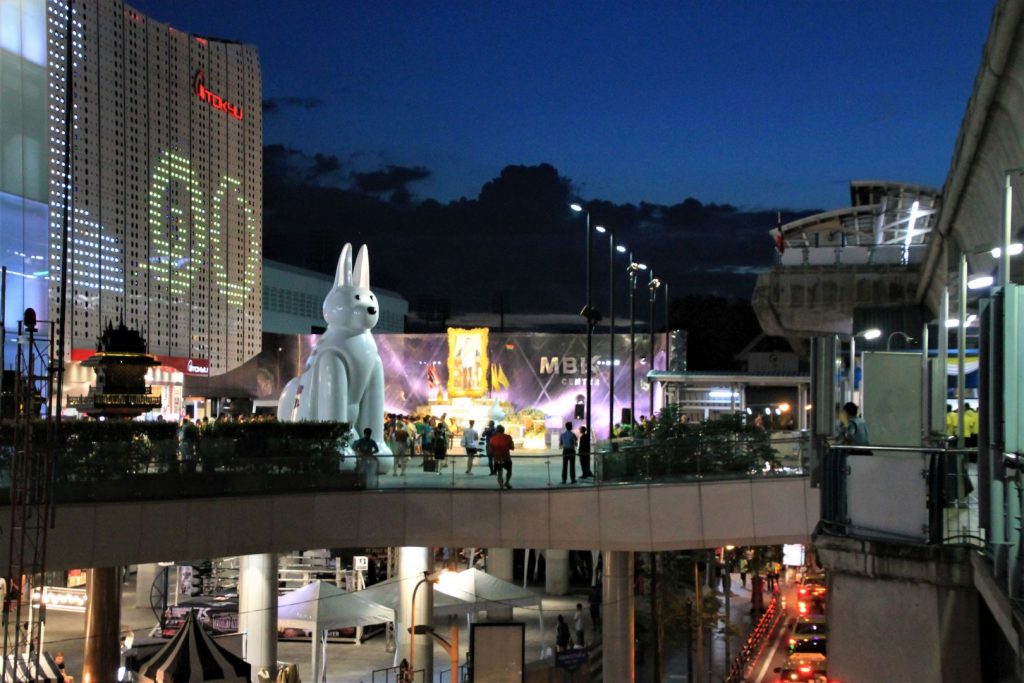 7. Ancient City
The Ancient City is located about 4km south of the last BTS Skytrain station Kheha in Samut Prakan. It is a huge park, created at a location of an ancient settlement of which some ruins are still visible and well preserved. But Ancient City are not just ruins, it is an extensive area filled with creations, monuments, structures that embody and depict the Thai culture. There are buildings copied from the main attractions throughout Thailand, there are houses, boats, even a floating market, plants and animals, sculptures of history, tradition or religion. The absolute impressive and well maintained park aims to encourage people to learn about the history and culture of the Thai people, mainly aiming on the Thai people themselfes. Entrance for foreigners is 700 Baht but definitely worth it. To get around walking is not an option! There are rental bikes for free, which I took, and its fun! But there are also elctric cars, similar to golf buggies, or alternatively small tourist trains and big tourist busses, but they can only go along the bigger roads.
8. Ayutthaya
Ayutthaya is an ancient city, in the real meaning of the words. Ayutthaya was built 1350 by King U-Thong. It was built on an island, surrounded by three rivers. Ayatthura was the capital of the SIAM kingdom for 417 years and the most important metropolis of the Southeast Asian mainland. It was destroyed in 1767 as a result of the Burmese–Siamese War. The ruins of the old town today form the Ayutthaya History Park, an archaeological site with palaces, Buddhist temples, monasteries and statues. Ayutthaya is UNESCO world cutlural heritage site. Some say it's as impressive as Angkor Wat , just smaller. Ican confirm the park is truly impressive and well maintained. I have visited the main sites, time is not enough to see every temple. Most lies in ruins anyway but some has been preserved. I was amazed by the massive efforts and money spent to maintain a place already in ruins. No efforts to rebuilt. I hope that same efforts go to nature, before it's ruined. The magic about nature is, it would not need maintenance, just protection from the human danger. However, for Ayutthaya wheels are required to get around, one option is a bicycle again, it can be rented for 30 to 50 Baht a day. Alternatively there are busses, scooters and cars. There is also elephant riding but do not do that ! There is no entrance fee for the park but for each of the temples seperately between 20 and 50 Baht.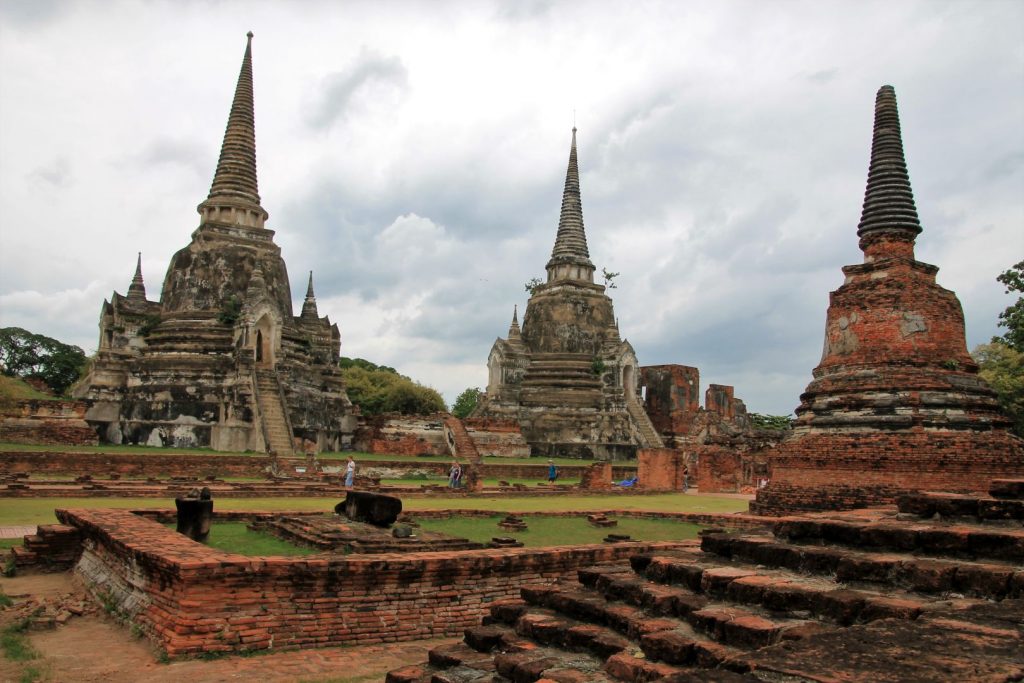 9. Rooftop Bar
High Life! A visit in Bangkok is not complete without visiting on of the many rooftop bars that Bangkok is famous for. While most may aim to the top selling addresses like the Octave rooftop at the Mariott Hotel, or the Vertigo and Moon Bar at the Banyan Tree Hotel, I went to the Park Society, Sofitel So. The bar and restaurant on the 29th floor of Sofitel So has a beautiful view over the greenery and lakes of Lumphini Park and beyond to the skyscraping skyline of Siam and Silom offering the perfect combination of nature versus culture! The best time to enjoy these views is around sunset observing the changing lights of the park and the buildings of the city around it.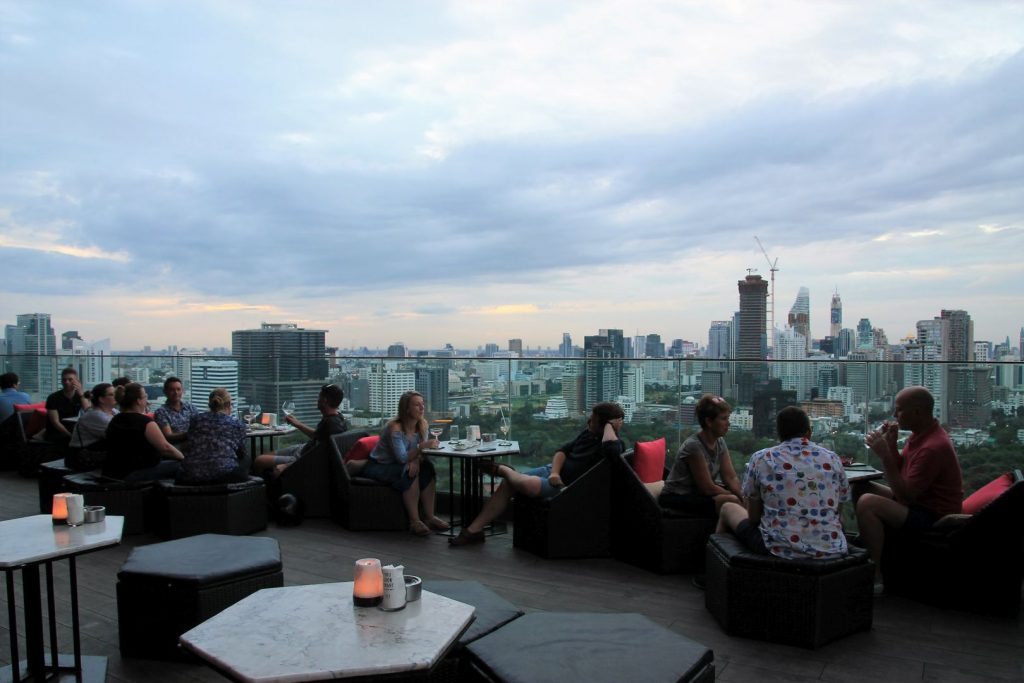 10. Bangkoks Parks
Bangkok might be a crazy and chaotic city full of skyscrapers, street food stalls and insane traffic. But there are a number of awesome green spaces: the beautiful Bangkok parks. Apart from Benchrisi Park, where I went first time for jogging, there are Benjakitti Park, Lumphini Park, Queen Sirikit Park, Chatuchak Park, Wachirabenchathat Park, Santiphap Park and – my favourite – King-Rama-IX-Park available and highly recommended for training and workout, or just for relaxing and strolling. Surely those few parks are not enough for a city as huge as Bangkok. But they are all exceptionally beautiful, with exotic trees, lakes, bridges and island sometimes, flowers, sometimes fountains, and rich meadows, with paths for walking, jogging and cycling, with gyms and exercise stations, tennis courts, volleyball and football fields sometimes. They are relaxing little gems of green in the ocean of concrete and tarmac.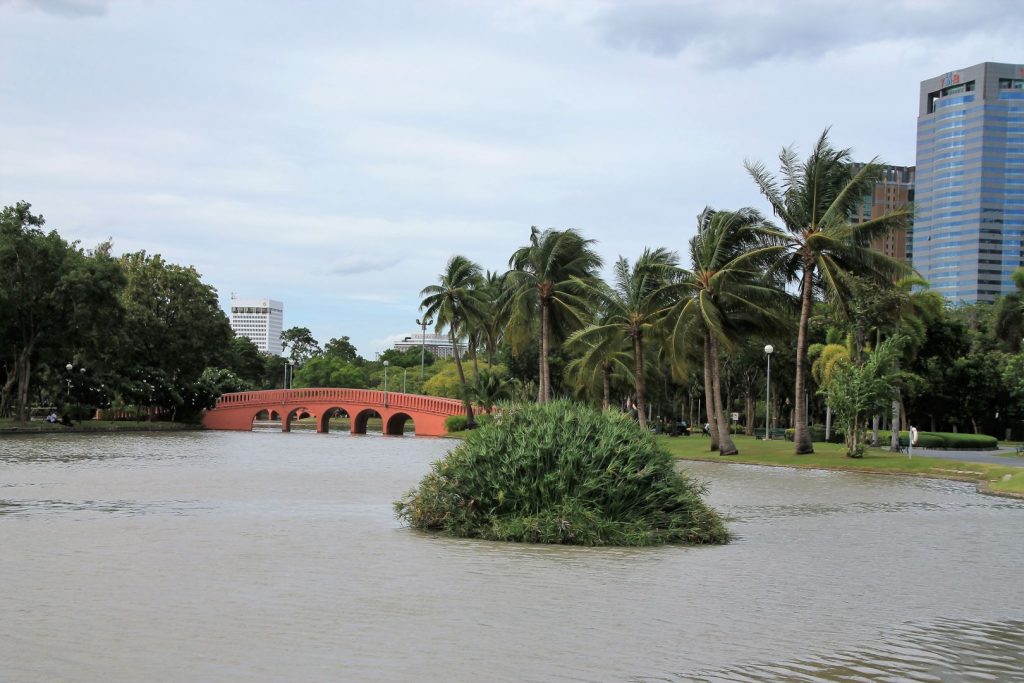 One Extra:
11. Bhumibol Bridge
In Bangkok all Bridges are named after a member of the Royal Family and so is this. But inofficially it's also known as Mega Bridge. Bhumibol Bridge is part of the Industrial Ring Road and spans the Chao Praya River twice, hence there is Bhumibol Bridge 1 and Bhumibol Bridge 2. Both are cable-stayed bridges with seven lanes together supported by two diamond shaped pylons each. The road is 50 m above water level. Unfortunately for pedestrians it is not possible to cross the bridge so that this fascinating structure can only be admired from the distance. The bridges are colourfully illuminated at night which had an irresistible effect on me when I first saw it on pictures. So I had to go. There is no public transport going there or I did not know. Maybe a boat does. I took a taxi. Underneath the bridge is a little park but closing at nine. As it was late I only managed to see the northern part of the bridge, but I made the taxi cross the bridge while taking me home. It's absolutely fascinating!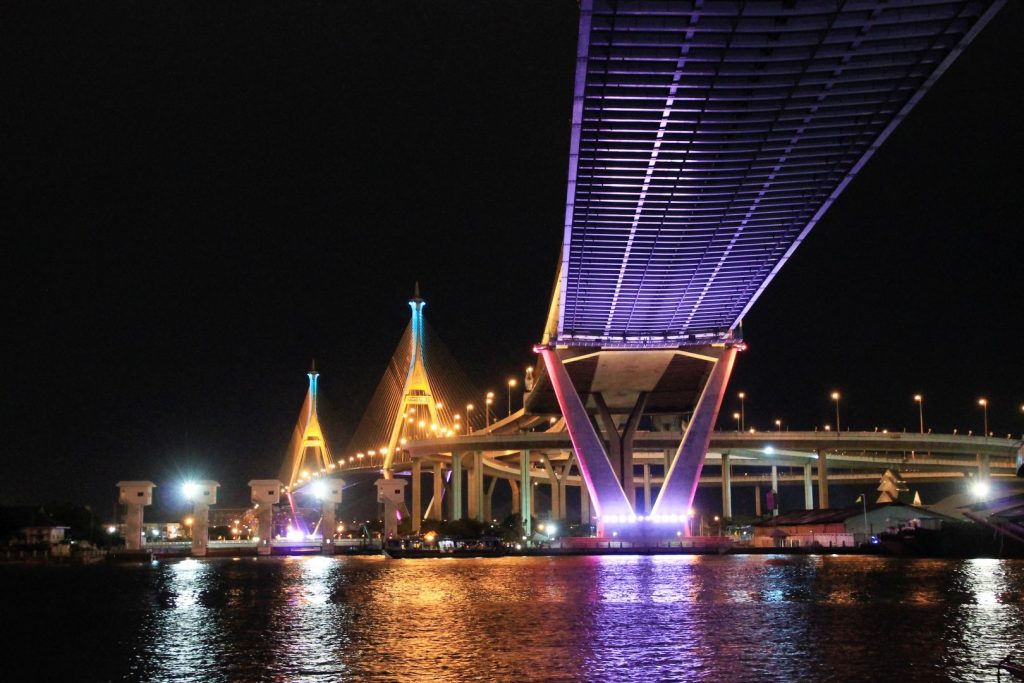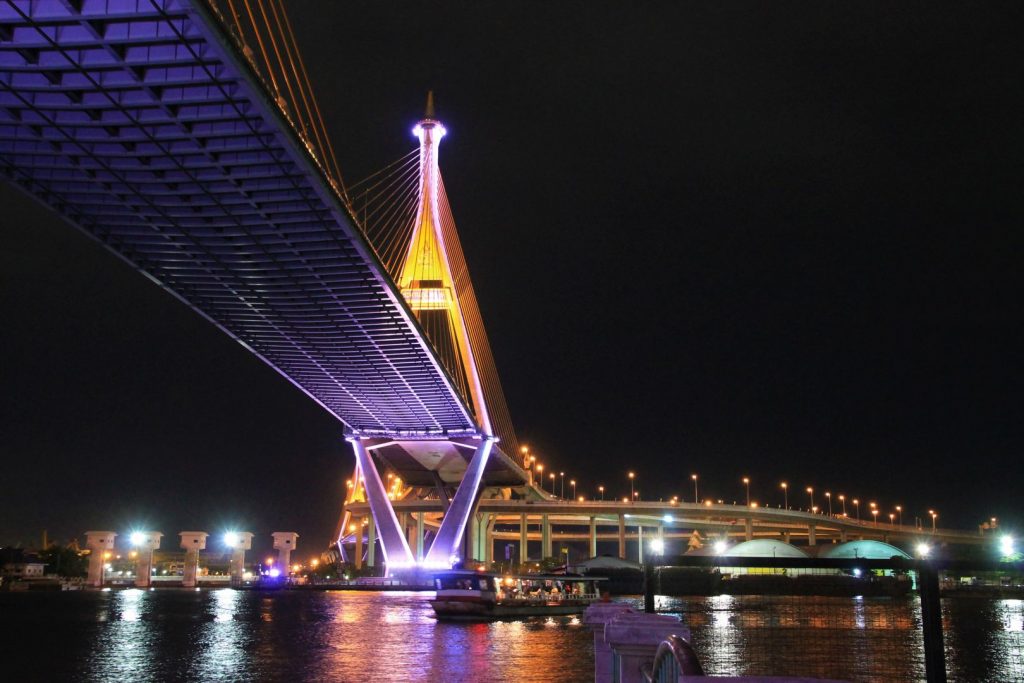 Leaving Bangkok is never easy. I take the plane and go to Chiang Mai in the north of Thailand.