Last updated on 2nd March 2020
The Gateway to the Great Barrier Reef
The reason to visit Cairns is the Great Barrier Reef. So I booked me in for just three days. It turned out that Cairns has so much more to offer and I only found out in Cairns by talking to the locals. Just to name a few: there is Port Douglas and the Daintree rainforest, there are numerous beaches, above all Trinity and Palm Cove, there are the Crystal Caves, there are several hiking trails into the surrounding national parks, and also cycling tracks around Cairns, there are mountains to climb, above all the Walshs Pyramid and Mt. Bartle Frere, the latter being the highest mountain in Queensland (1622m). Choices are aplenty here. Cairns does not have a beach in town but instead, it features a huge public swimming pool which is free to use.
The rainy season had just started, little late this time I was told. Generally, it is more humid here and it feels so much hotter than it felt in Adelaide. On my first day, it was raining most of the time. Therefore it was a good time to have a look inside the Cairns Aquarium, to spend time booking tours, to plan the further trip along the east coast and to undertake a sheltered stroll through Cairns city. Another option on a rainy day is the big casino with free movies every Tuesday!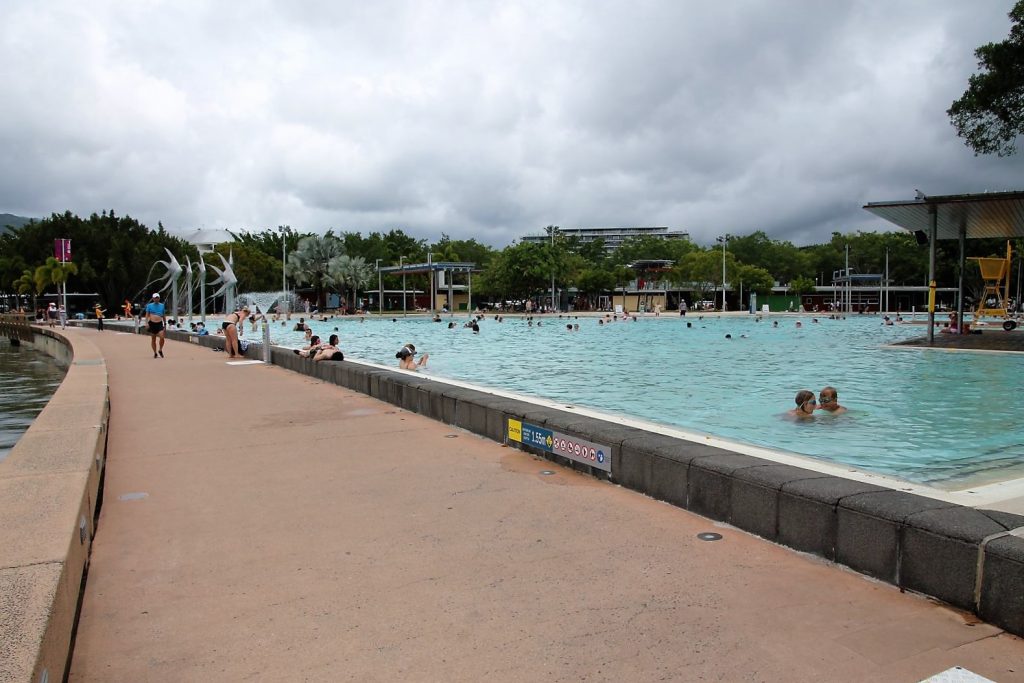 Great Barrier Reef
One of the most spectacular natural wonders of the world
I went to the Tourist Office and booked a tour out to the reef for diving. I noticed only later that Cairns is actually full of "tourist offices" which are actually all tourist agencies providing tours for tourists. However, I had chosen the so called "Reef Experience", an all day and all inclusive tour to the outer Great Barrier Reef on a fast catamaran motorboat. I realized later on that the tour was not so much "all inclusive". I had a few extras to pay for: a second dive, the dive guide, the pictures and the camera rental. But all diving and snorkelling gear, pick up and food/drinks were provided, all day snorkelling was included as long as I wanted, and it was well organized by an amazing crew. I definitely had a good day out on the reef.
Unfortunately, the boat was very big. There were at least 60 people on board. You can imagine the organisational challenge when it is time to jump into the water. Luckily there were not so many divers and only two people doing a divers second dive: me and my dive buddy Mirijam. Hence, once we were a little away from the boat we had the ocean for ourselves.
I must say that the Great Barrier Reef, at the point where we dived, was not as impressive as I had expected. No massive reef wall, not as many fish and not the colours I believed to find due to the documentaries I had seen. I certainly have been on a spot to which the tour operators usually carry all the tourists. That might have already caused damage to the reef. I have seen beginners and snorkelers trampling on the reef. It also affected the visibility underwater which was not as great as one would wish. Putting this aside, I still did see nice reef structures with hard and soft corals and fish, just not as big as I had expected. I have seen the familiar reef sharks, parrot fish, trevallies, wrasses and such. But I had seen all this similarly on my trip around the Komodo Islands, and certainly Sipadan was a lot more impressive.
Most excitingly: I had my fist self-guided dive. The operators had an extra fee for a dive guide. They rather expected every certified diver to be able to do the dive themselves. For the first dive, I chose to go with a guide because I was not familiar with my gear and the dive spot yet. Also, I was the only advanced diver, all others were Open Water divers with fewer dives than me. That was a surprise to me because I had just logged 31 dives. That is nothing! However, for the second dive I took Mirijam as my dive buddy with me and we went on our own. I had to navigate myself for the first time since I passed the Advanced Divers Course. But it all went well, we returned to the exact spot near the boat, perfectly on time. Mirijam was an excellent buddy and we had a wonderful and relaxed dive.
Kuranda
Kuranda is a very picturesque little village. It's located about 25km northwest of Cairns and offers several interesting attractions. There is a public bus that goes every other hour and costs 6,90$. The other way to go to Kuranda, apart from a car, would be the Scenic Railway. Its tracks were built through the rainforest, it passes several waterfalls and provides breath-taking views. The price for a one way ticket is 50$ which made me decide in favour of the bus. Nevertheless, I visited the train station in Kuranda and inspected the train. And I must say that both are a really fascinating piece of Australian history, preserved excellently. The railway is now Heritage Listed and a National Engineering Landmark. Look at the pictures!
I did the short Rainforest Walk along the marked boardwalks. I heard the familiar sound and breathed the typical humid air. Someone said that it would be a little cooler in Kuranda because it is located on a higher elevation in the mountains. But to me, it did not feel cool at all that day.
I also had a stroll along the beautiful Barron River. Maybe a 2km walk from Kuranda are the Barron Falls where the river falls 250 m onto the narrow coastal lowlands and later flows to the Coral Sea. On the river Barrow one can do a guided riverboat tour for 20$ per person exploring a little bit of the lower rainforest along the river.
Kuranda offers a lot of further entertainment, especially for families. There is a Skyrail, a type of cable car hovering through the Barron Gorge National Park, there are sanctuaries for birds, butterflies and koalas (entry fee was 19$ each sanctuary), there is a traditional rainforest market and several other market places with a lot of very special local art and handicrafts as well as food. It is a wonderful place for a relaxed day out of Cairns.
Atherton Tablelands Waterfalls
The Atherton Tablelands are dotted with a collection of spectacular waterfalls. The tour I booked brought me close to a few of them and has been really enjoyable and great fun. There was no tight schedule, no rush and even the possibility to add or change destinations. It started at about 7 am and returned home at about 7pm! Russel, our guide, was full of stories and knowledge about the area, some jokes and an open mind. The group was small. We were only 11 people on the bus, and so it was much easier to get in contact with everyone.
We went to see the Babinda Boulders first. We did the Devil's Pool walk through the rainforest. Russel told us the story that young men die when they venture to swim in the Devil's pool. The reason is supposed to be a young beautiful bride that drowned in the waters and is now waiting there for her groom. Aborigine's superstitions. We found it too dangerous as well and swam in the bigger pool right next to the car park instead. The water was fresh, cold and clear.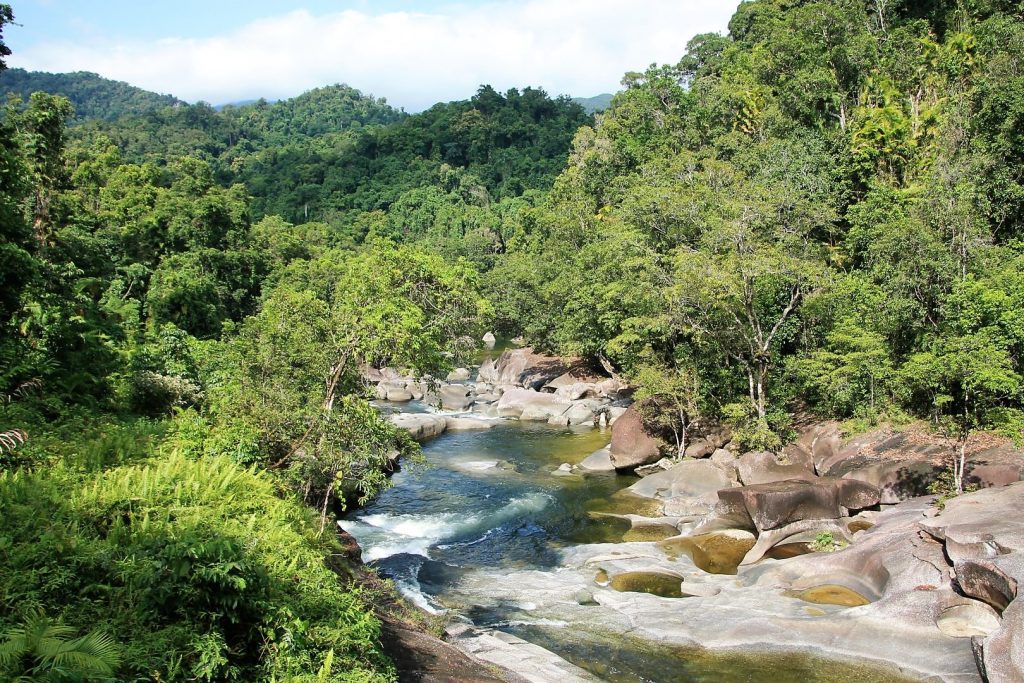 From there we went to see Josephine Falls. They were the highlight of the day for me. The water rushes down several levels over smooth granite rock embedded in beautiful lush rainforest. At the lowest level nature has created something like a natural water slide. During periods of low or medium water level, it is safe and worth a try. And we did! We had so much fun sliding down there on our bums and bellies.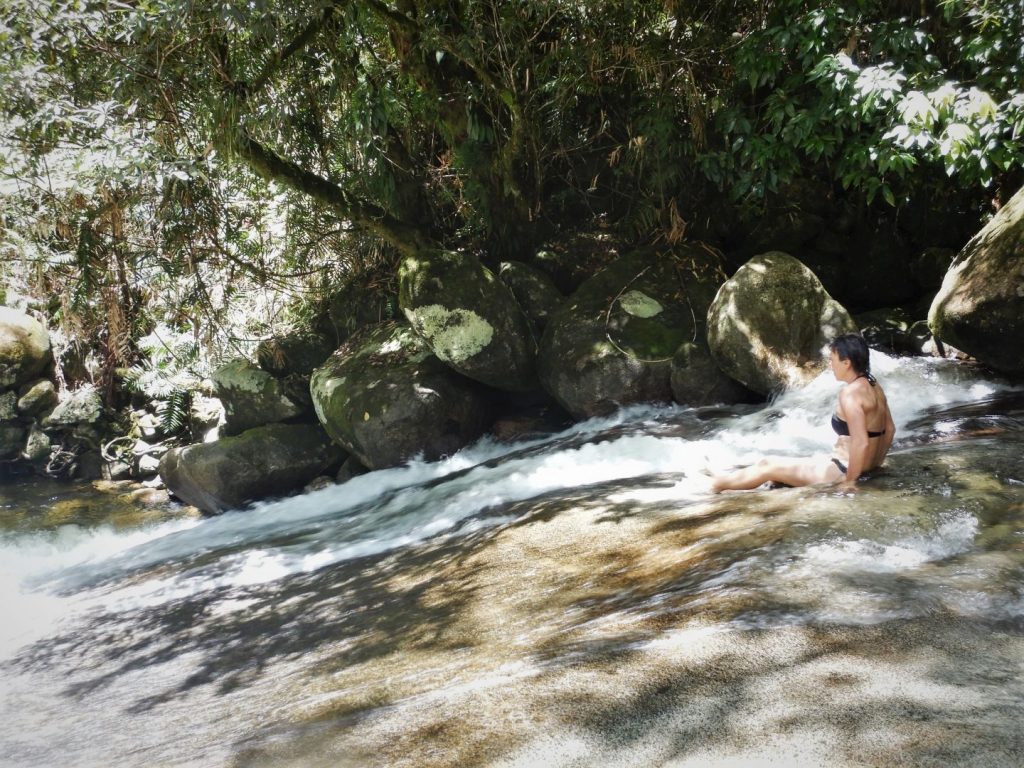 On our way to our next stop, the Milaa Milaa falls, we went to see an impressive huge old fig tree, one that had made it successfully to a massive tree. We could see all the many roots reaching down to the soil carrying that massive tree. Fig trees often start to grow on host trees, taking some of their nutrients away, while their roots grow down until they reach the soil, and then, with its growth, slowly kill the hosting tree. During hundreds of years, this process creates amazing structures: roots hanging down like a curtain and so it's called curtain fig.
Milaa Milaa falls are a very picturesque waterfall of about 18m that falls nicely straight down into a round pool. Many TV adverts and photo shootings had utilized the beautiful setting. The water was rather brown and the falls had only little water so that I did not swim here.
Our last stop for the day was Yungaburra and the crater lake Eacham. The lake is nearly perfectly round with a diameter of about 1km. No one really knows how deep it is. Divers were once sent down to find the lake's bottom but did not succeed. They dived as deep as 65m but did not reach the ground, Russel told us. Also, he told us that one crocodile lives in the lake. Despite all the years he visits the lake regularly, but has seen it only once. No one knows how this crocodile came to live here. Anyhow, it's not a danger to people. The water of that beautiful lake has an enchanted silver-turquoise-bluish colour, is not cold and feels super soft. There is a wonderful hiking path around the lake where another two massive fig trees grow. I went swimming in the lake after the hike, a wonderful refreshing pleasure. All in all, it was an amazing day out!