Last updated on 29th June 2019
Tsakhadzor
Little Mexico City
According to reports, Tsakhadzor within Soviet Armenia was chosen as a "Little Mexico City" to provide altitude training to the Soviet athletes in preparation for the 1968 Olympic Games in Mexico City. Since then, the mountainous terrain of Tsakhadzor (2000 meters above sea-level and about 25km from Lake Sevan) hosts the Olympic Complex. It was entirely renovated in 2007. Hence Tsakhadzor has always been and still is in the centre of attention of CIS and European athletes.
Gorge of Flowers
Today the village is popular destination for winter sports, in particular skiing. There are several ski lifts and many slopes of different difficulties and lengths winding down the mountains. The village offers some luxurious accommodation, despite numerous hotel buildings never were finished, are abandoned and some already ruined.
Tsakhadzor translates to "Gorge of flowers" which is true and hence makes the place also a very tempting destination in summer. From the monastery the road leads straight up to the ski base. One of the ski-lifts operates all year. It took me up the mountain onto 2300m (2000 Dram return). The next level ski lift was not working but as weather is warm and sunny hiking further up is not a problem. The view is spectacular onto the village, lake Sevan in the distance and the Aragat mountains on the other side. Sitting in the flower-speckled grass, relaxing peacefully, enjoying the view and breathing fresh air was so beautiful that I did not have much time for the village itself. For more excitement there are offers for horseback riding and quad tours.
Getting there
Tsakhadzor is located less than 50km northeast of Yerevan and can be reached by public transport, taxi or car, it takes only 40 min.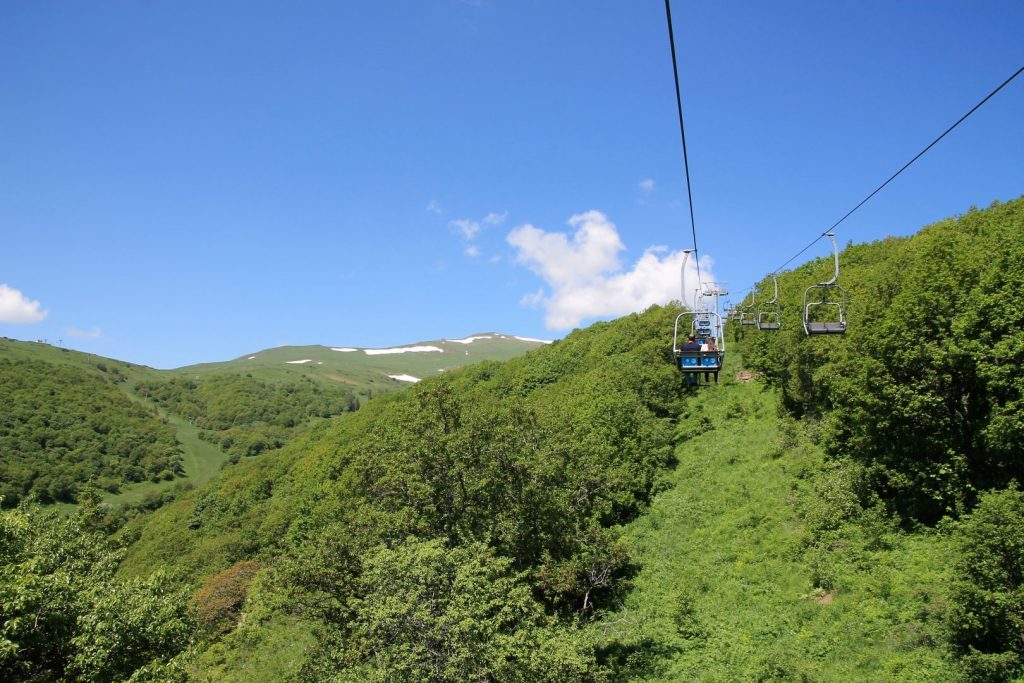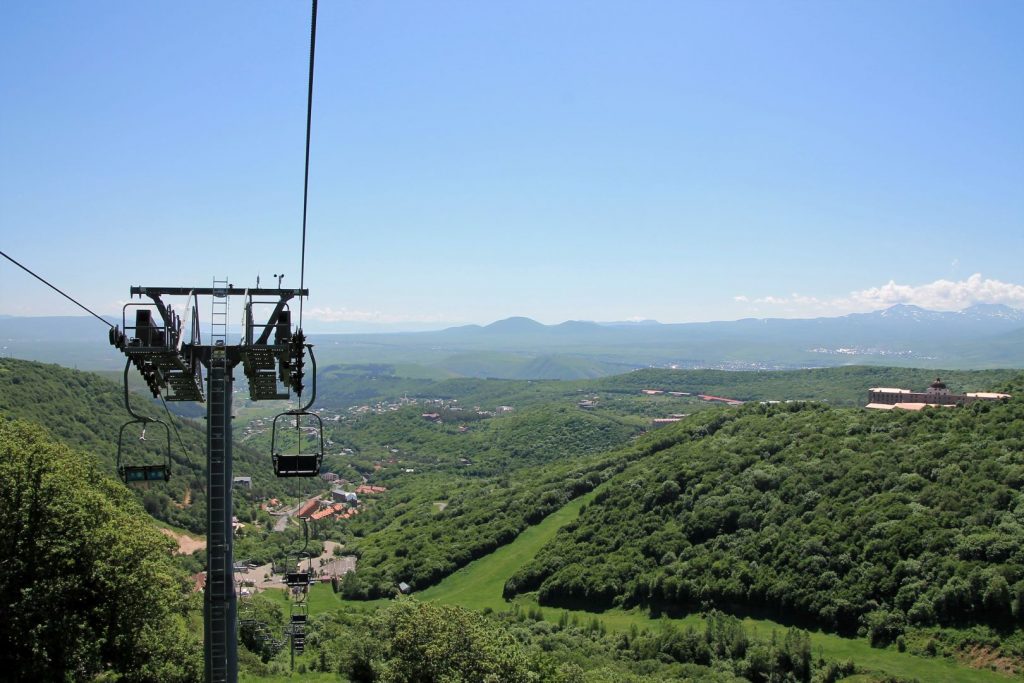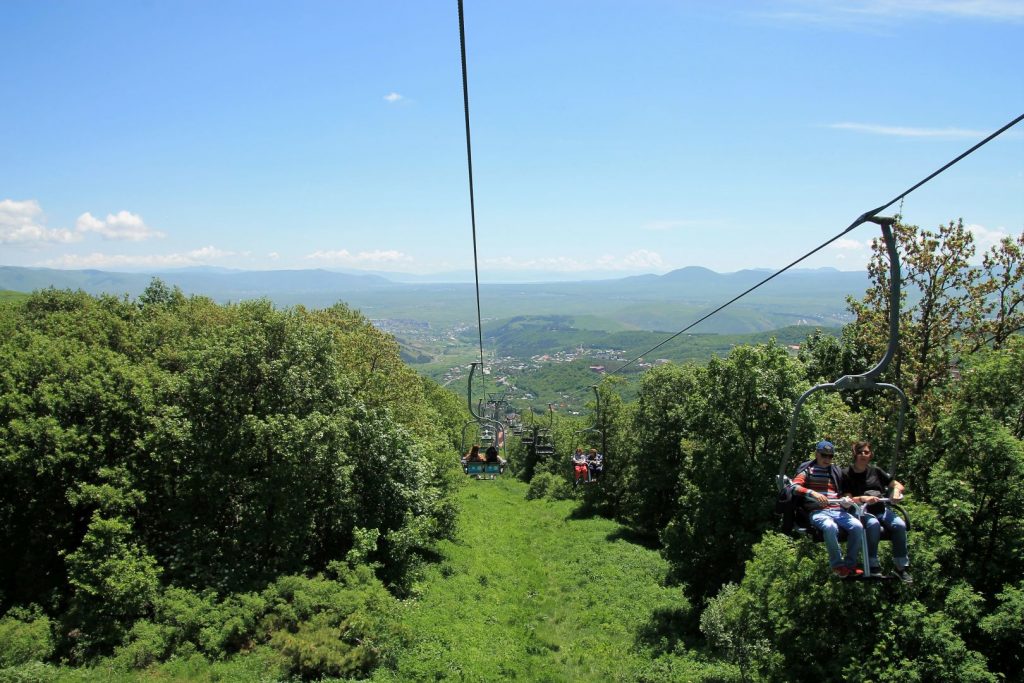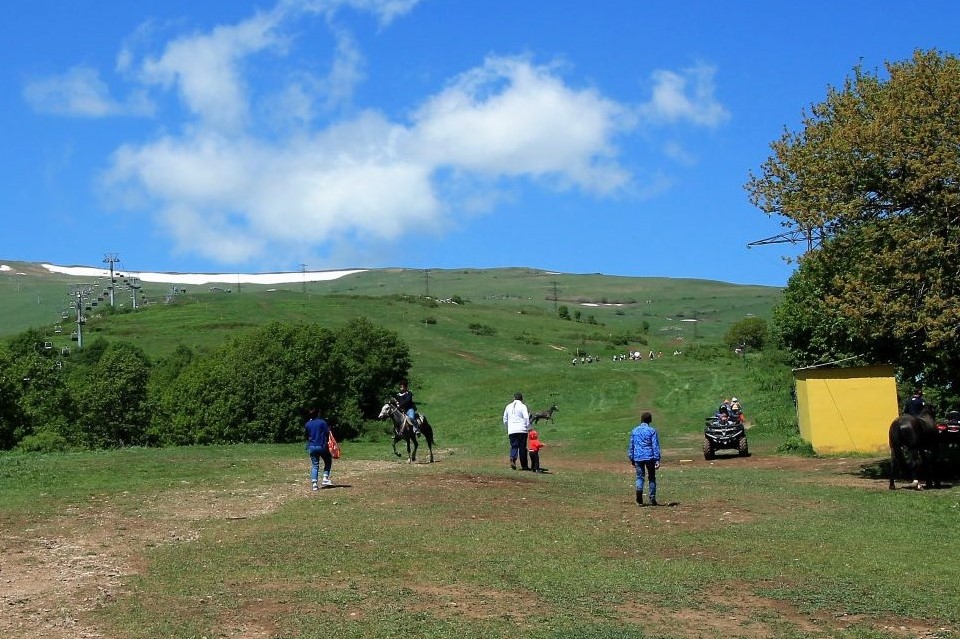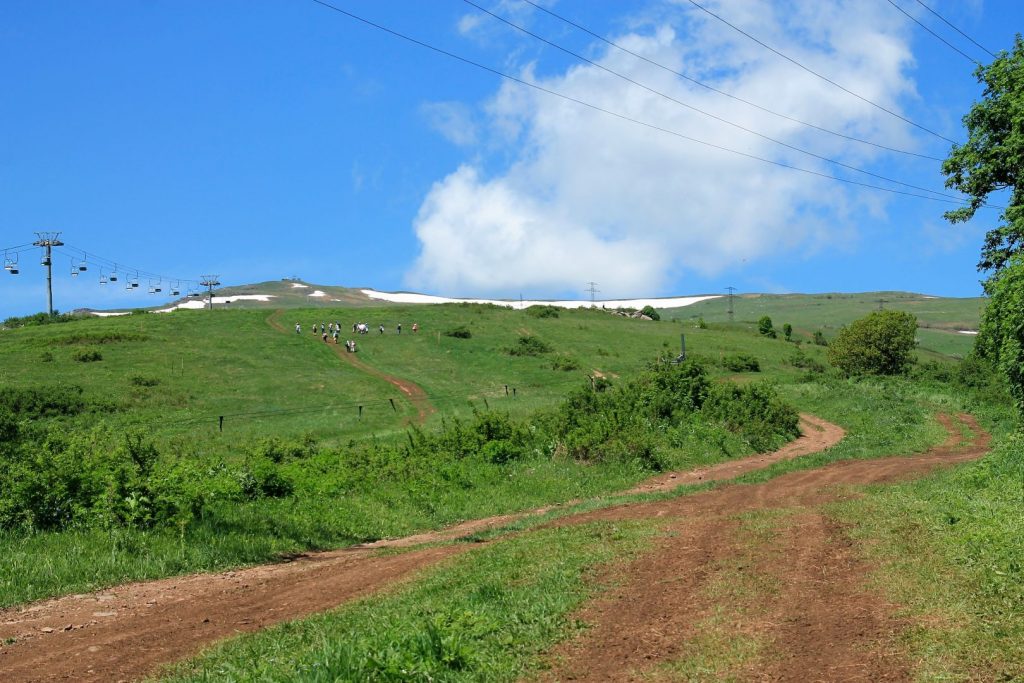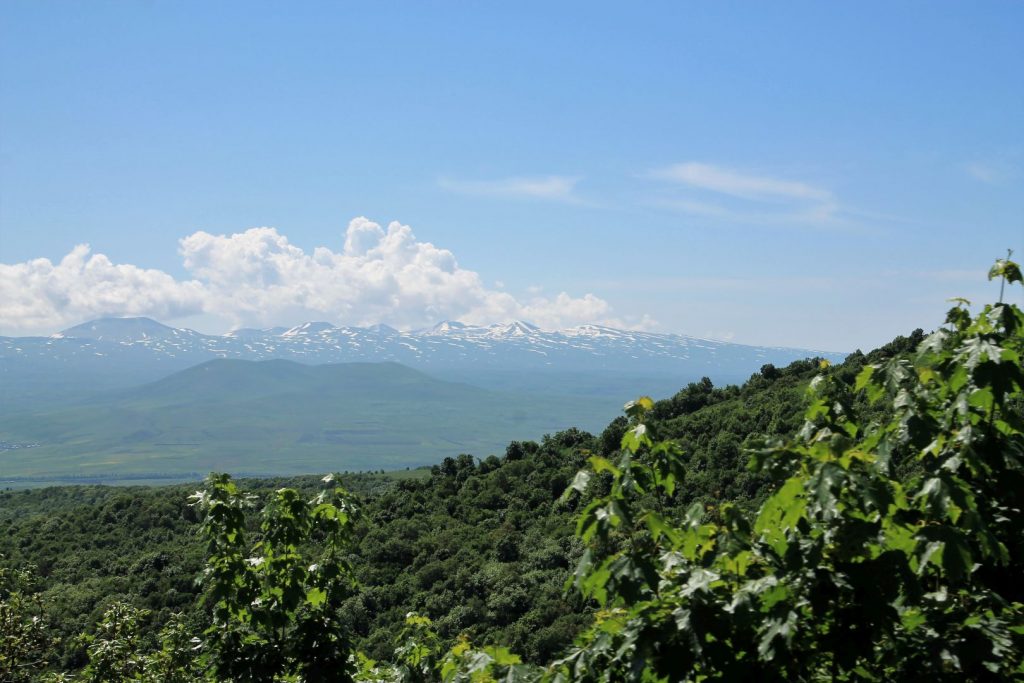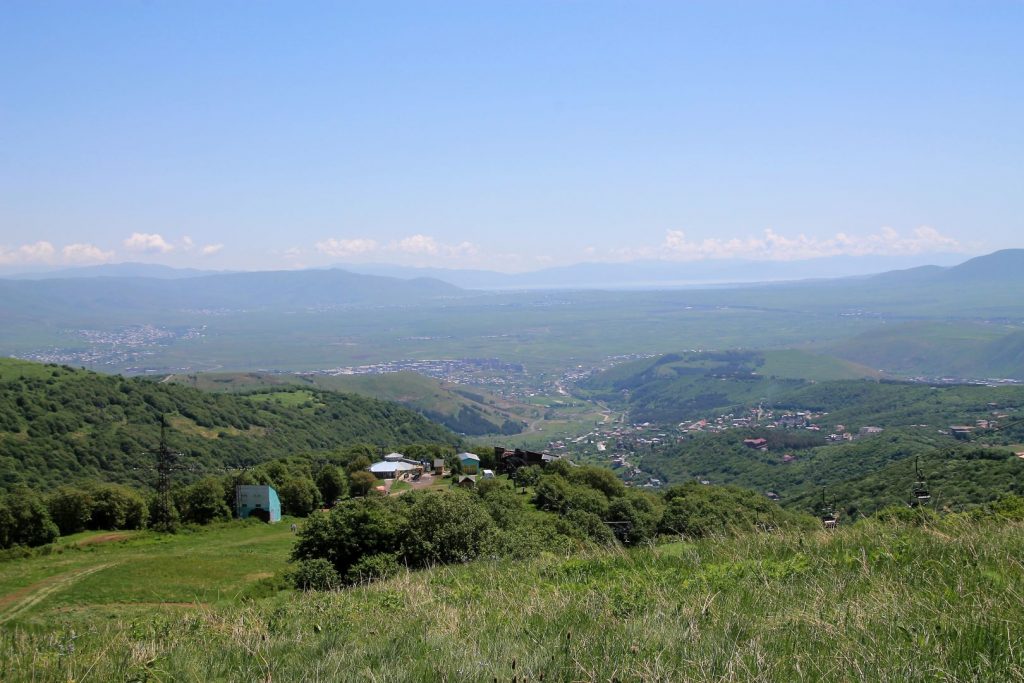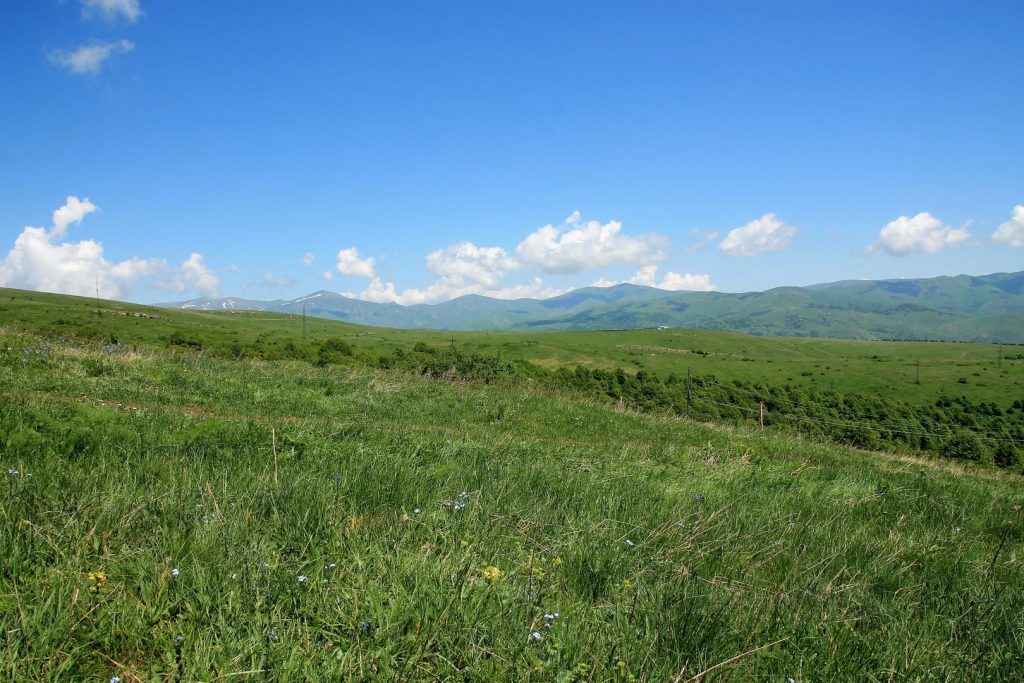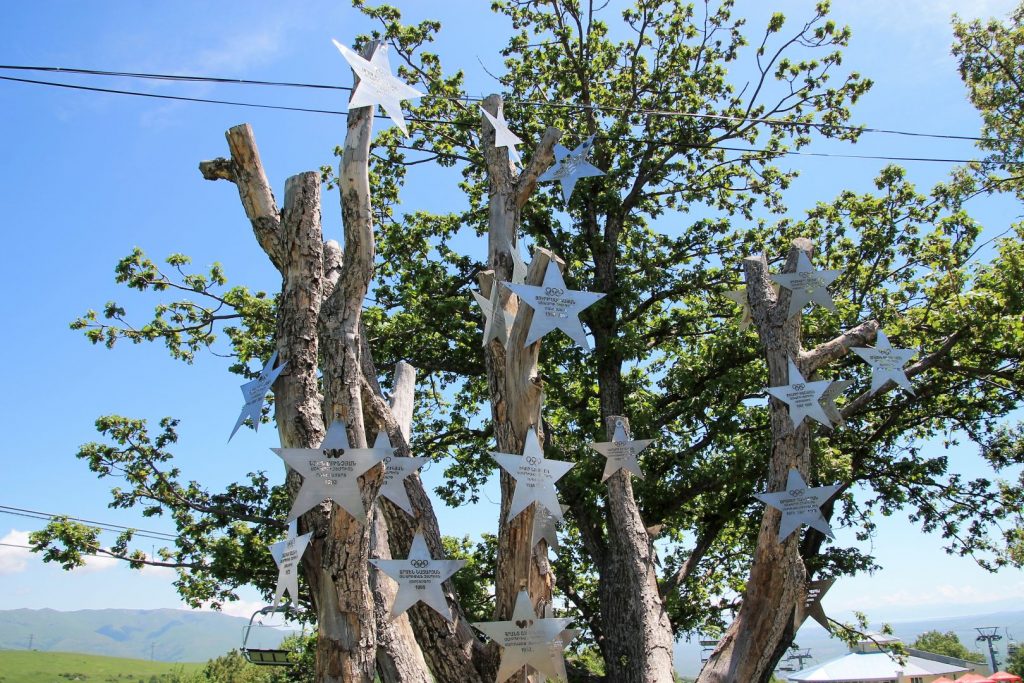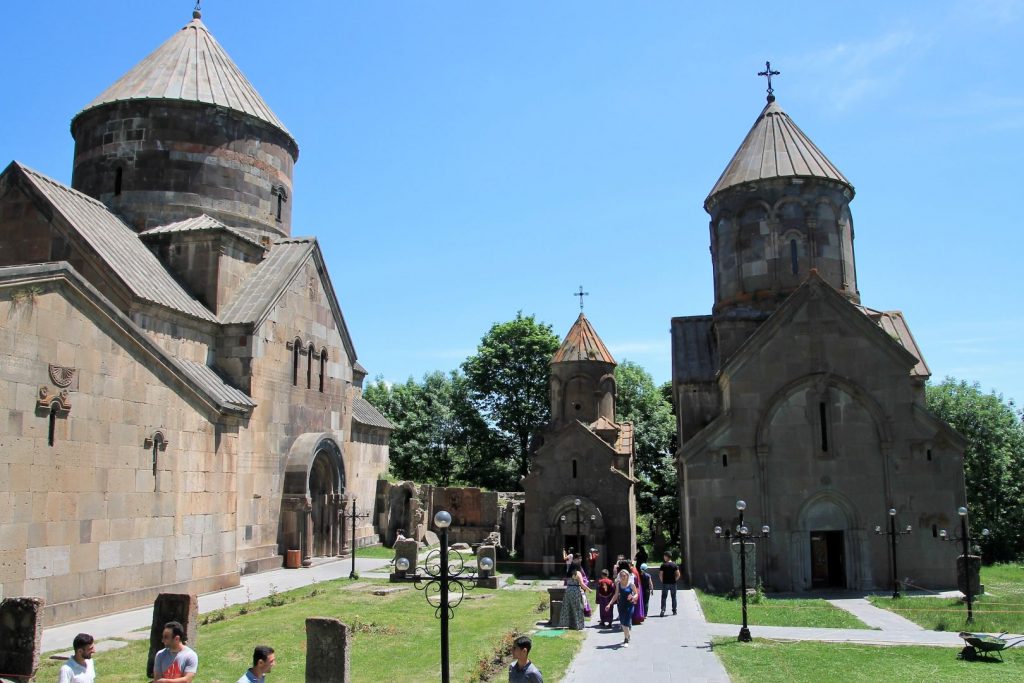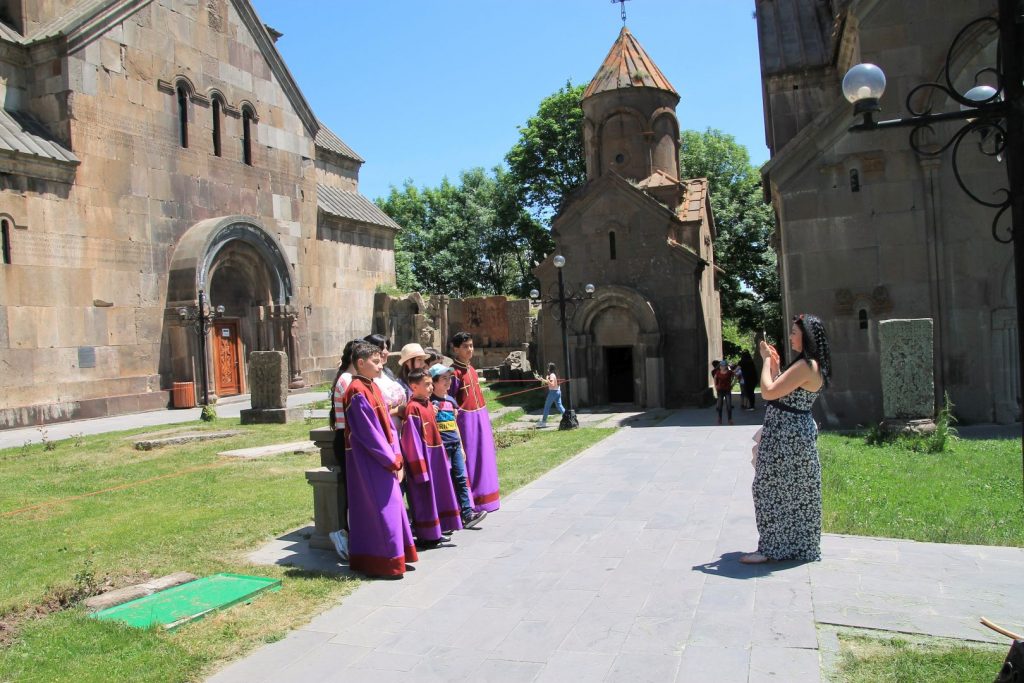 Lake Sevan
Getting there
From Yerevan it is only a 60km drive northeast along M4 highway. I went there twice, one time with private taxi, which is certainly the most convenient way, and another time I tried public transport. For the latter I took Marshrutka 46 to the Northern Bus Station (Hyusisayin Avtokayan), already at the M4, and then Marshrutka 317 to Sevan village. From there the bus driver offered to continue to Sevanavank peninsula which was happily accepted by most passengers, price was 1000 Dram. For the way back I was not lucky enough to get a Marshrutka, they all went empty. I found out that after 18:00 the service has finished and I had to take taxi for 7000 Dram.
F

avourable Destination
Being the biggest freshwater lake in the Caucasus region and among the biggest lakes worldwide Lake Sevan offers exceptional natural scenery and the healthy climatic conditions of Trans Caucasus on an altitude of 2000m, twice as much as Yerevan. The lake has numerous beaches, many of them newly-created during last years, providing a one-off experience to anyone. Also, on its north shores, there is a restaurtant that offers freshly baked bread, fish and meat BBQ, sweets and coffee. The bread comes fresh from the oven and can be watched while baking. It will be still warm when purchased. I recommend the baguette-like type with cheese in it. Very tasty! Also the BBQ fish is extremely good and worth a try! Don't miss this place!
Sevanavank
As most tourists and day visitors, I have visited peninsula Senanavank with its monastery on top of the hill providing great views onto the vast lake which extends beyond the horizon in the southeast. The monastery is still in service for weddings which I could witness twice during the short time I was there. The peninsula is also host to a religious "Academy" which produces new monks I believe, and a little beach at which all sorts of water sport activities can be enjoyed: swimming, jet skiing, boat trips, only I did not see surfers or kites. I dipped my feet in the sparkling clear blue waters and it was freezing! No wonder that, despite the hot weather, only very few people, mainly kids, were in the water.