Last updated on 28th May 2019
Kutaisi is the second largest city in Georgia and has been capital several times in the past. David the Builder was crowned here and buried not far in the Gelati monastery. Furthermore, Kutaisi is famous for having been a destination of Jason and his Argonauts searching for the Golden Fleece. Therefore the city is full of historical, architectural and natural riches and surrounded by impressively high, snow-capped mountains in several directions.
Bagrati Cathedral
North of the city centre, on top of a hill, widely visible there is Bagati Cathredral. We crossed the river on the chain bridge (Jachvis Khidi) and walked up, choosing the stairs over the cobbled road. We were awarded with a stunning view over the city, the river and the surrounding mountains. The Cathredral is Unesco's Worlds Heritage and its said it was renovated recently –but did not really look like. On the other hand we did not have the chance to go inside so maybe we missed it.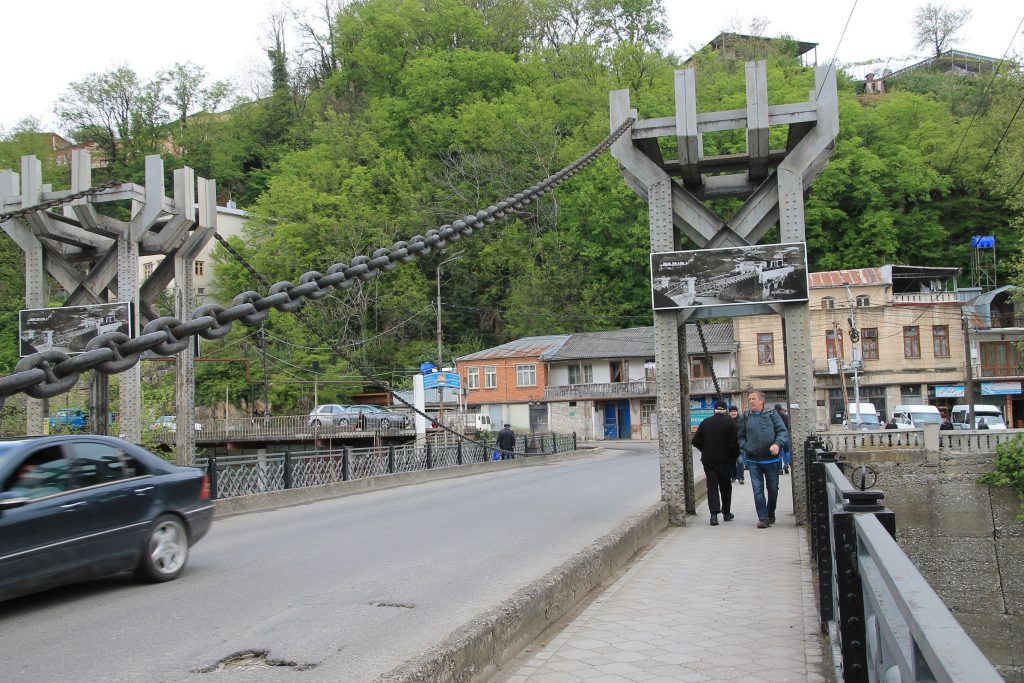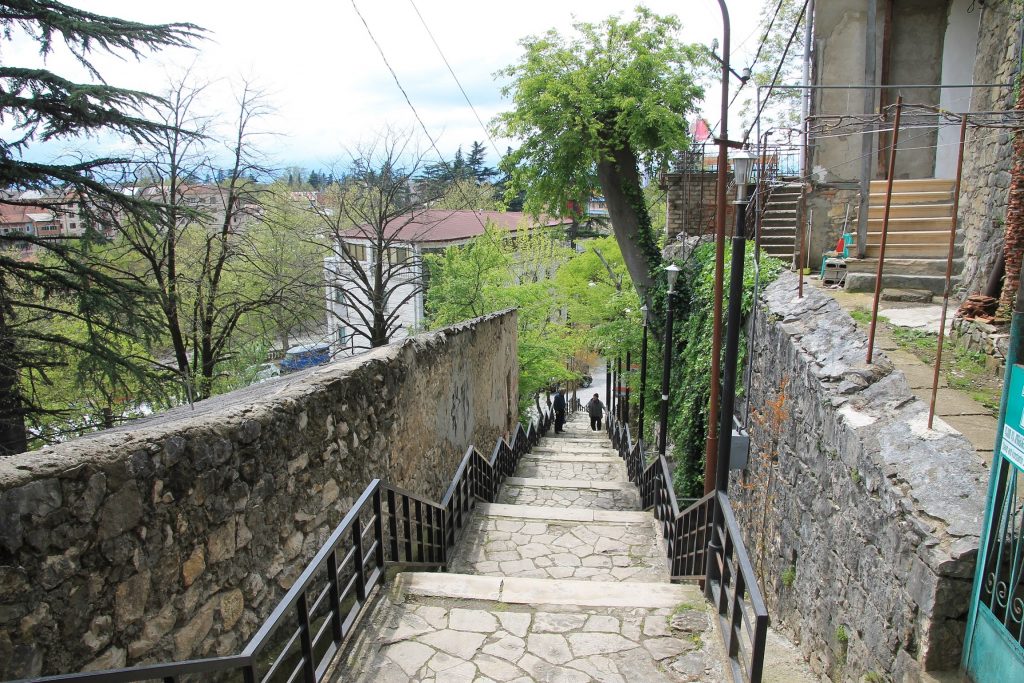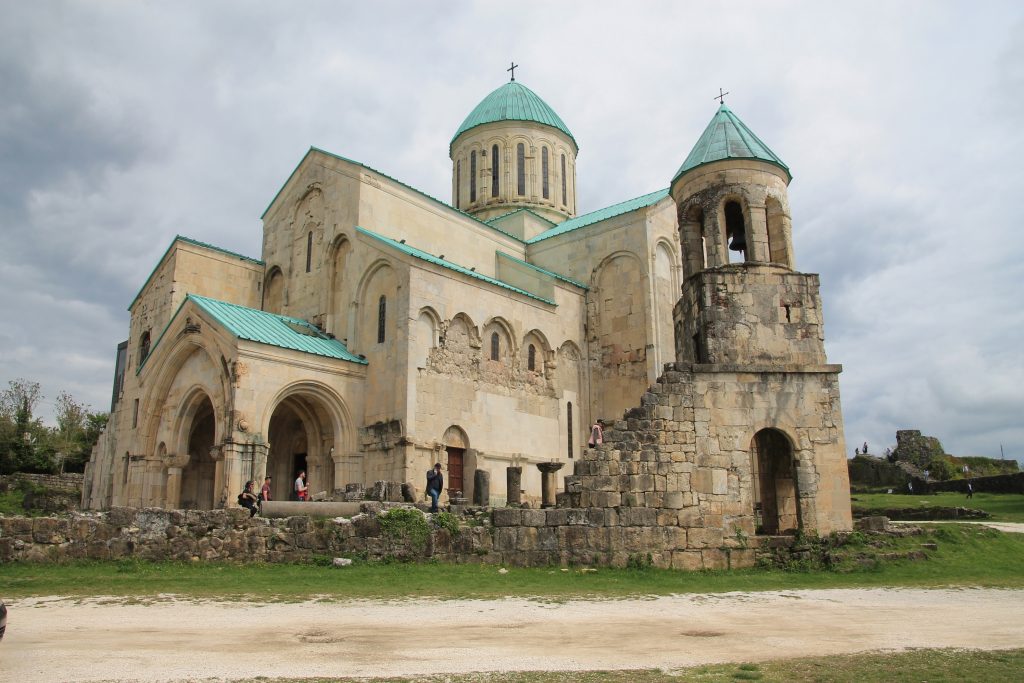 Kindergarden
When walking in tourist style ( base cap, backpack, cameras) it happened that we were stopped by a woman who asked us to come with her. Not understanding her language and hoping for some help in our search for a car to rent we ended up in a tiny kindergarden. There were few women with a group of kids and they were saying "photo, photo". So we thought we were asked to make some photos while they were playing with the kids. We happily agreed and took the cameras out. Looking back now I think "photo" was the only word we understood but as they all had their smart phones that was maybe misinterpreted. I guess what they really wanted was to have us as strangers in the room with the kids to play so that they learn that people can look and speak and behave differently. And take pictures of course. However, we had so much fun. It was a happy, enjoyable, buzzing atmosphere in there. Everyone was singing and dancing and playing and no child was aside. The room was very tiny like a small bedroom but it did not feel like. Even a piano was squeezed in. When we left we were given some sweets to say thanks . It was a very much appreciated glimpse into the daily life of some Georgian women and their kids.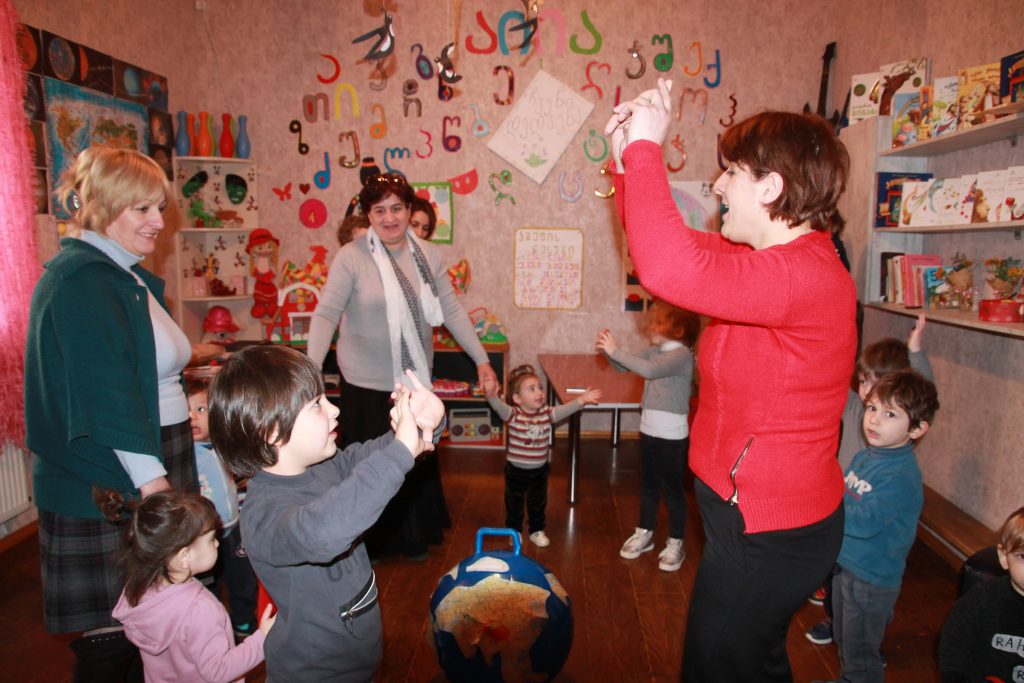 Kutaisi Indoor Market
In the city center there is an impressive red house wall covered with reliefs. Always curious I had to walk into that area and found myself in one of the largest, liveliest and colourful food markets . There are all sorts of fresh goods and Georgian specialities: fruit and vegetables, mountains of cheese and walnuts, herbs, spices, eggs, meat and plenty more, and churchkhela: strings of walnut coated in grape-juice caramel. I gave it a try but must say is not my type of snack.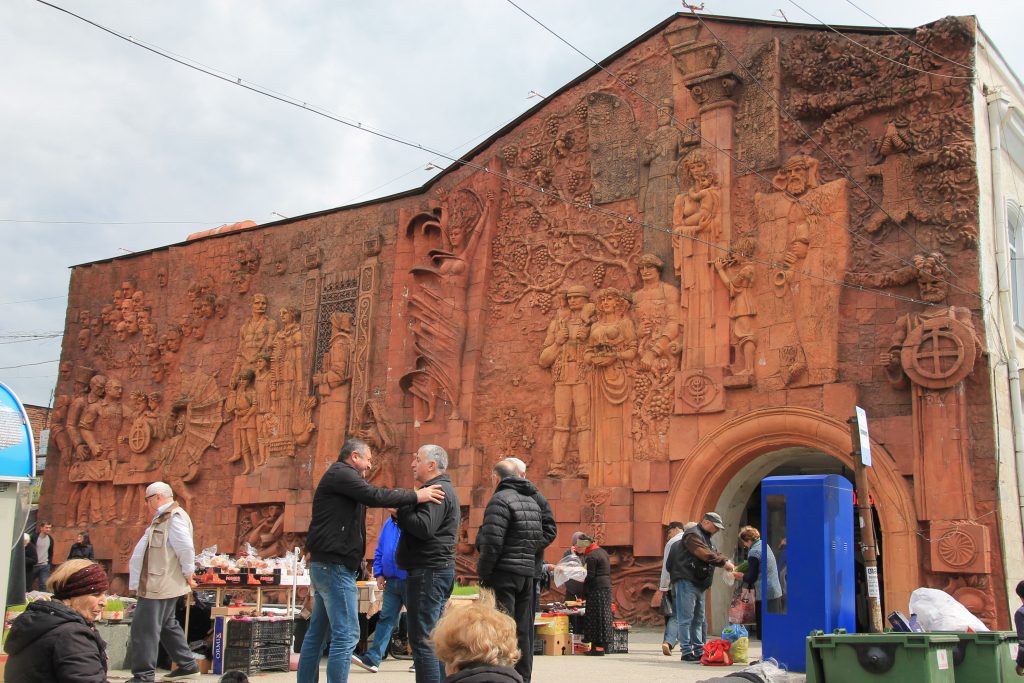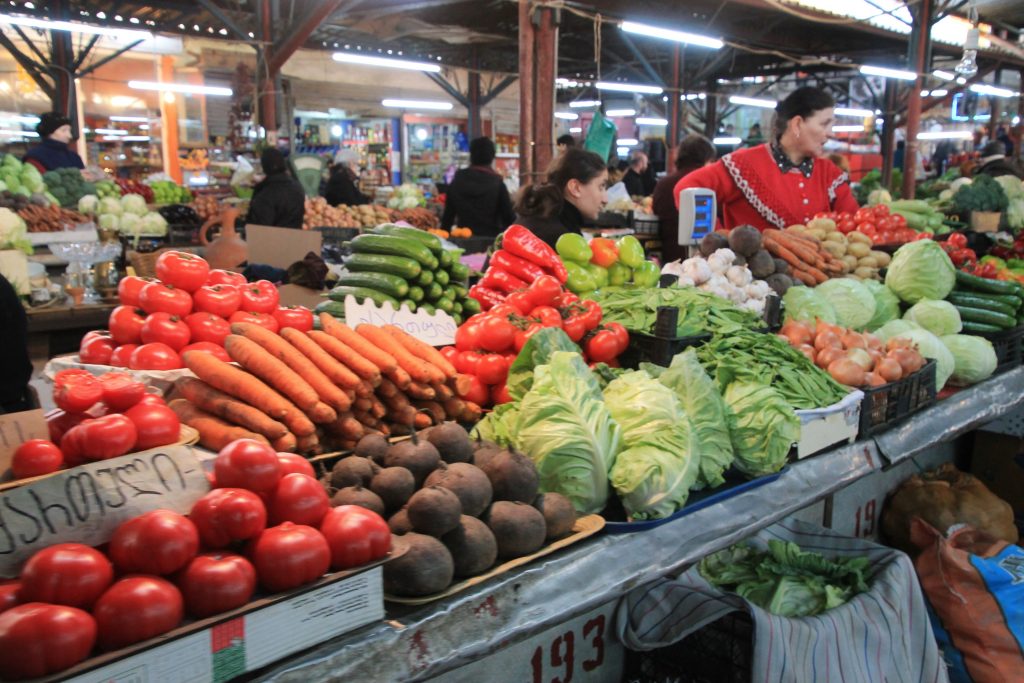 Parliament Building
A few kilomters west of the city centre there is the impressive parliament building. It looks like a massive glass egg, half buried, coverd with a huge white blanket. It must be quite new and looks very modern, but it seems to be abandoned. When we where there only few guards were present, telling us that there is no opportunity for visiting.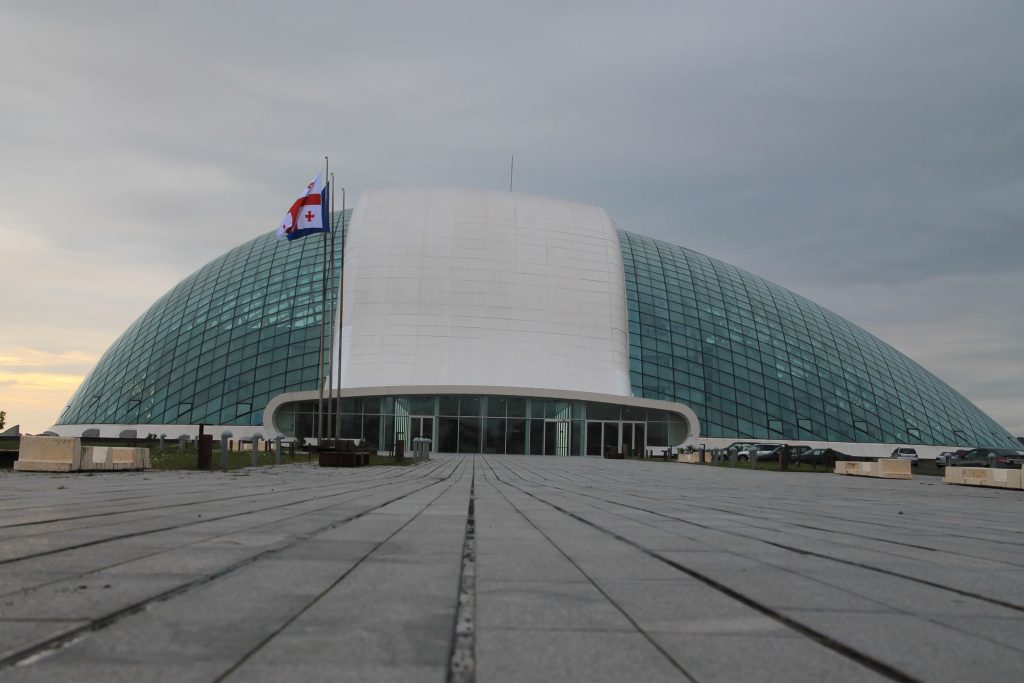 Kutaisi Train Station
There is one road going straight towards the station and dead-ends at the foot of a double staircase leading up, many stairs, so many stairs that one would not wish to climb those stairs with heavy luggage as I did two days later. Finally up and across another road towers a massive statue of David the Builder. From there it is a nice view down that straight road and the city, especially in the evening when the sun sets in the west. Turning around to the station we found it completely empty despite a busy train schedule. It was even hard to find the entrance door as it did not look like one. The positive side was there were no queues and so I got my ticket to Tbilisi in no time for just 8 Lari (less than 3€). Bargain!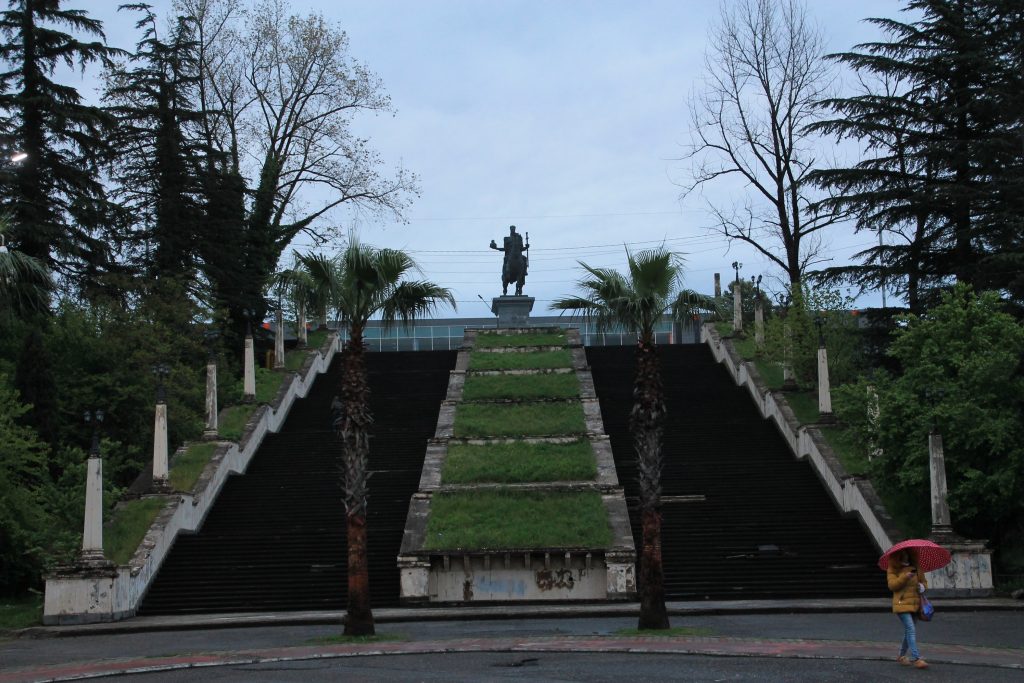 Cable Car and Theme Park
There is an odd but funny looking cable car operating from the town centre across the river up to the hilltop southwest of Bagrati Cathedral. Up there is a theme park with a Ferris wheel and other funfair acts. I believe in summer it is fun to be there and also it has wonderful view. But as it is April no one else was up there and nothing was operating except the Ferris wheel in slow motion, so we took the ride. It was funny on this old machine and felt like pulled back in time but surely we enjoyed the magnificent lookout from the top.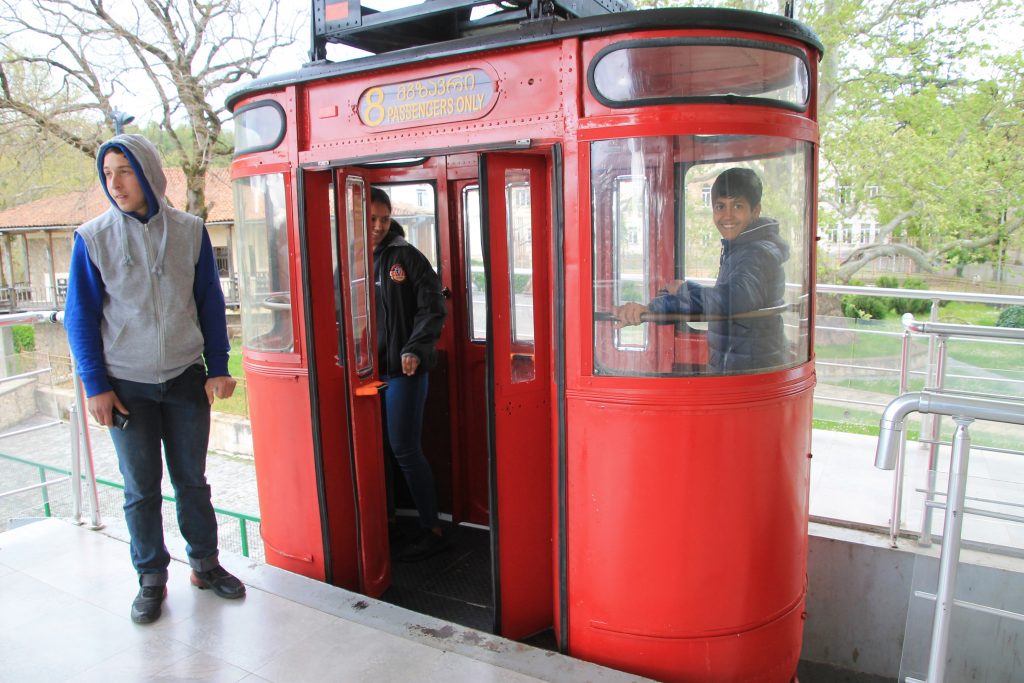 Botanical Garden
Northeast of the city centre on the banks of river Rioni there is a Botanical Garden which I believe was set up fairly recently and is not completed yet. On the entrance we found a well with a bucket and enjoyed cranking water up like in old days. I believe on hot summer days this will be one of the most frequented spots in the entire park. So far there is not much else to see yet and I believe the garden needs a lot more arrangements . But there is already one highlight which is an old tree with a door to go inside the trunk. At the moment this little room is full of religious stuff but I really like the idea and could imagine a kids attraction in form of fairy tail decorations from the land of the seven dwarfs.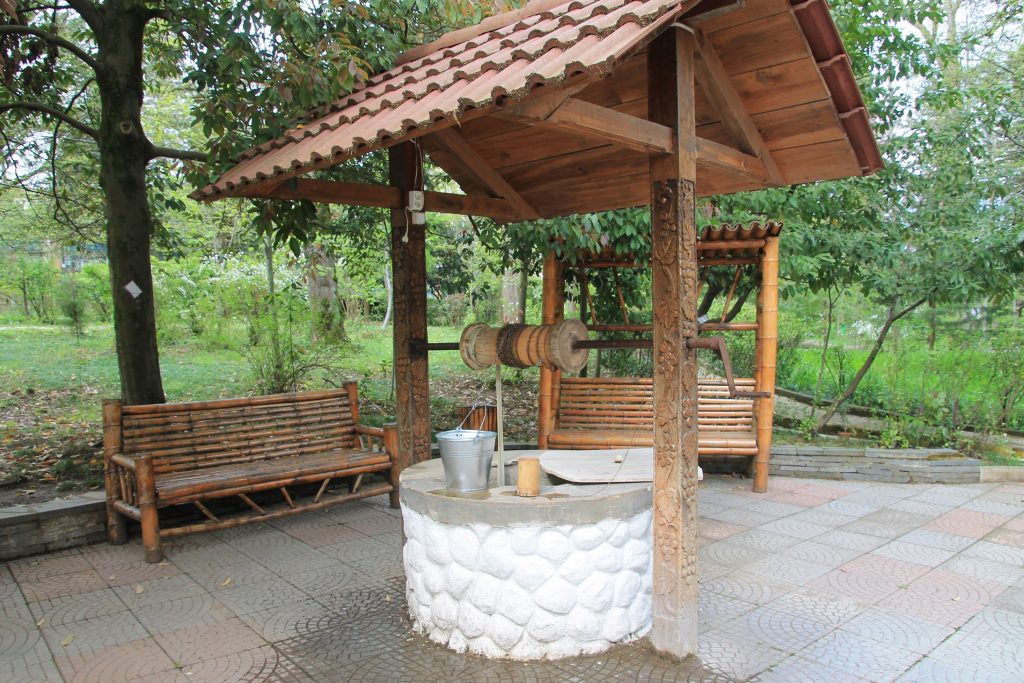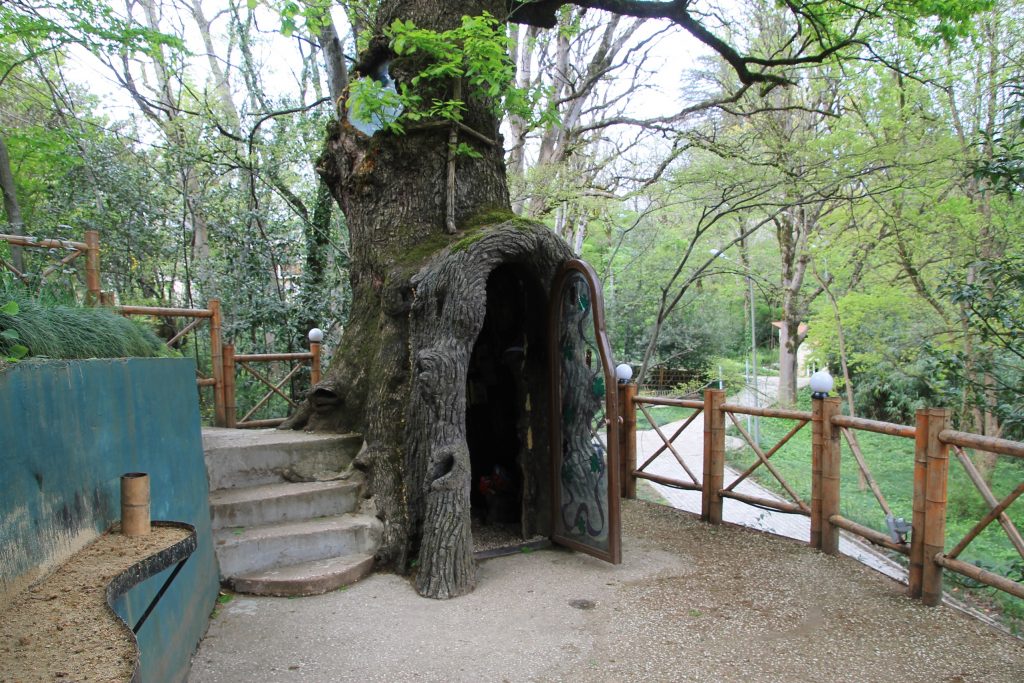 White Bridge
This is said to be the oldest bridge in Kutaisi, for pedestrians only. It was renovated recently and is not entirely white anymore but the structure and the handrails are. The floor ist made from metal and decorated with ornaments. Here and there metal was replaced by glas through which you can see the wild Rioni flowing.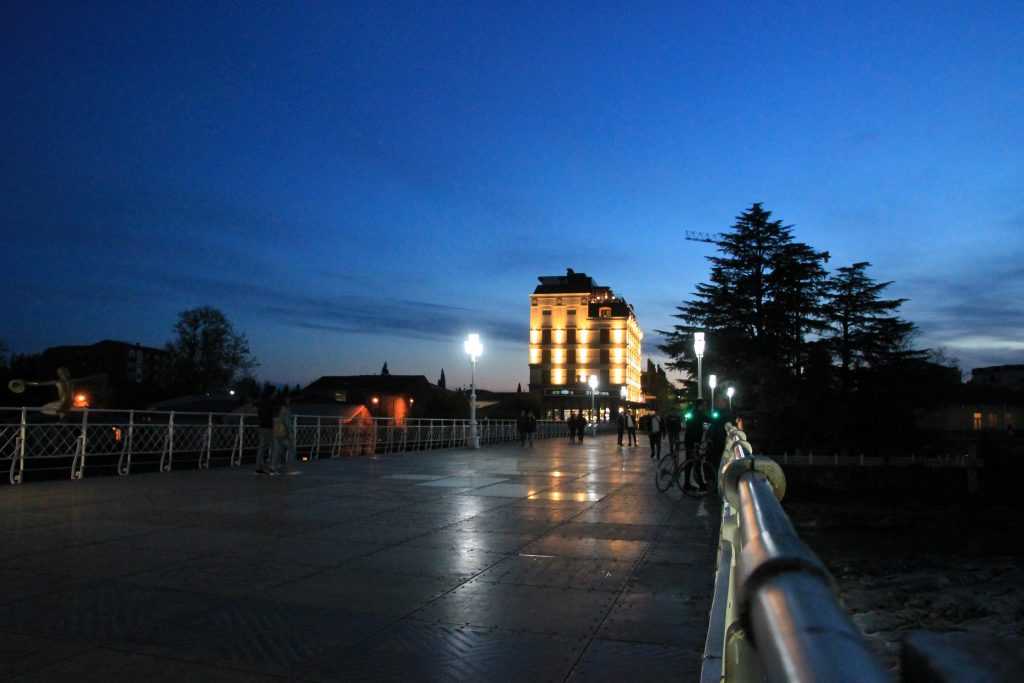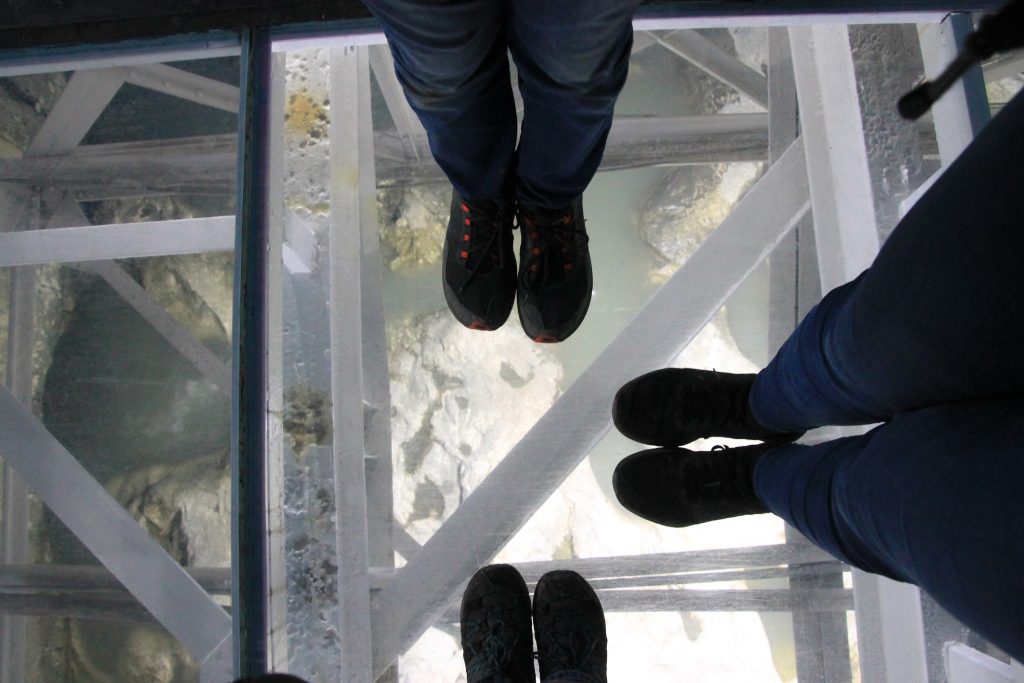 Gelati Monastery
A few kilometers northwest from Kutaisi on a hillside there is the famous Gelati Monastery. Many Georgian rulers are buried there including David the Builder. His grave is under the floor of the southgate. We went there on a rainy, misty day which gave the whole location a special mysterious atmosphere that felt just right. Inside the cathedral women where asked to cover their heads which led to me leaving it very soon. I must say I found it very different to read about those religious behaviour, or see it in movies or the news, than to really experience it myself, now for the first time, and I must say I felt discriminated and humiliated.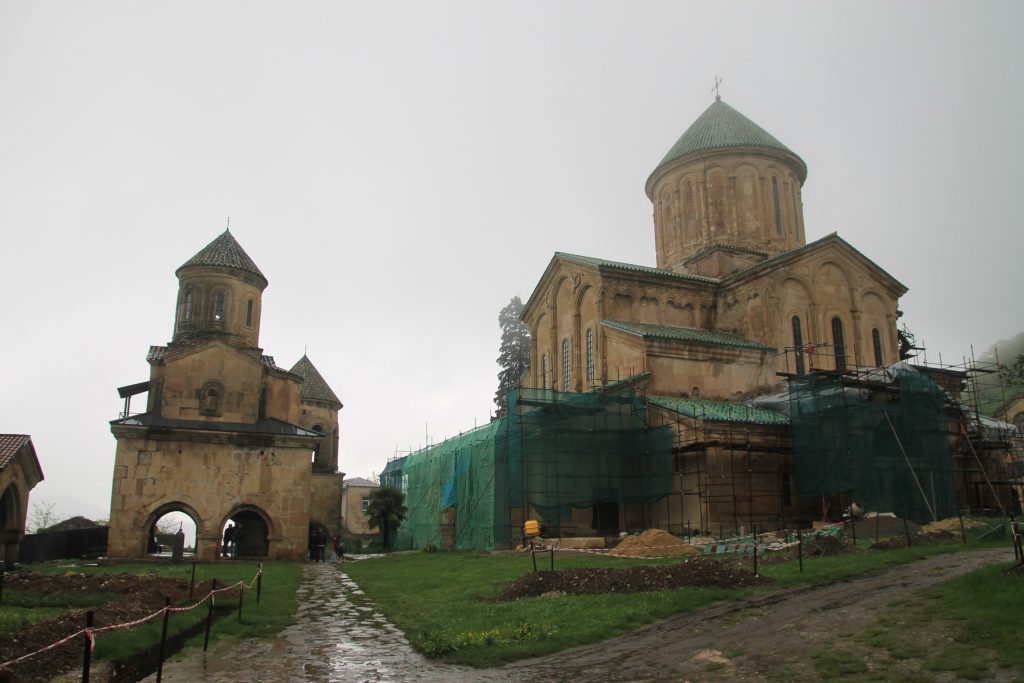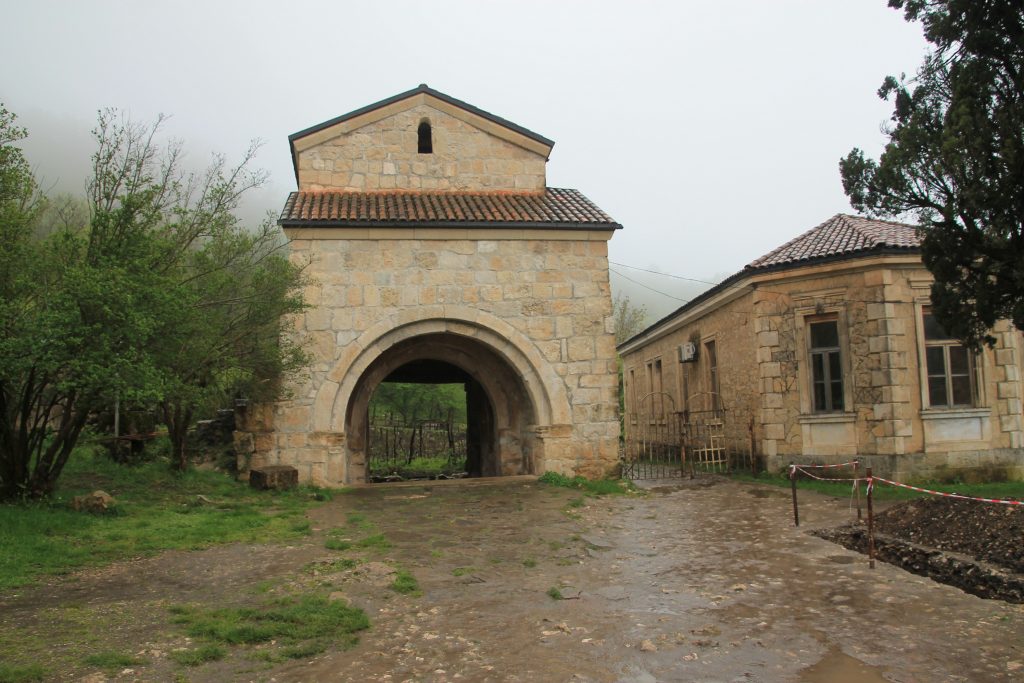 Motsameta Monastery
Right hand side of the road to Gelati we passed Motsameta. It has a little monastery sitting on a high clifftop which gives a spectacular view onto the horseshoe-bended river below and the dense green forrest.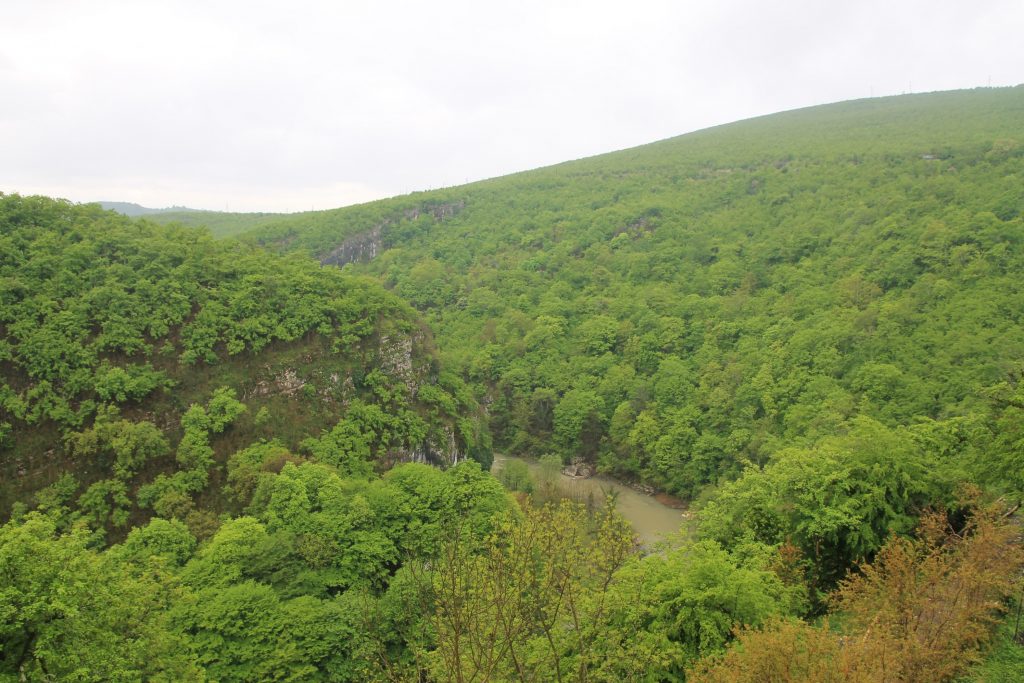 Prometheus Cave
With more than 1.4km in lenght and chambers as big as an opera house, and an underground lake, this cave is truly an impressive experience. They have guided tours but our tourguide was fast and soon disappeared. So we had the time and peace to experience the colourful illuminated undergroud world ourselfes. A boat trip on the lake was unfortunately not possible. I guess there was not yet enough water in the lake.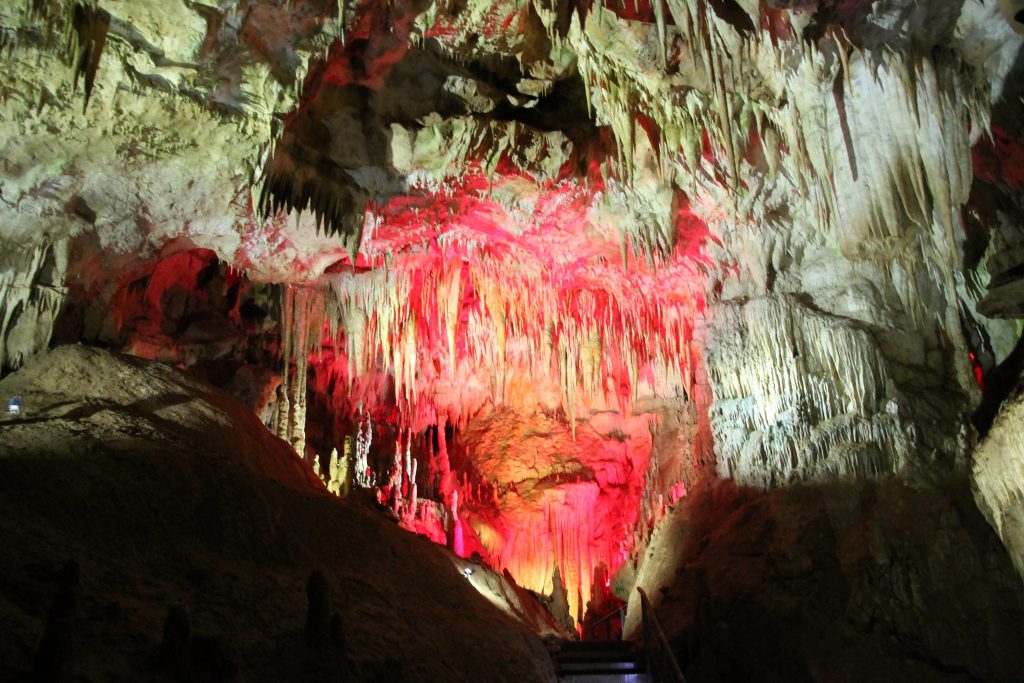 Okatse Canyon
Cool cool cool! On Okatse Canyon we walked a walkway along a metal framed construction attached to the rim of the canyon hanging high above the ground and leading to a lookout platform stretched like a skywalk high above the river. It is an exciting experience and and worth walking the 3km from the visitors center to the canyon. Plenty of drivers tried to offer a ride on a jeep forth and back but distances are short enough for a hike and the drivers are quite greedy: they asked for 30 Lari which is three times what we paid for the taxi from the airport to the city centre but only one-tenth of the distance.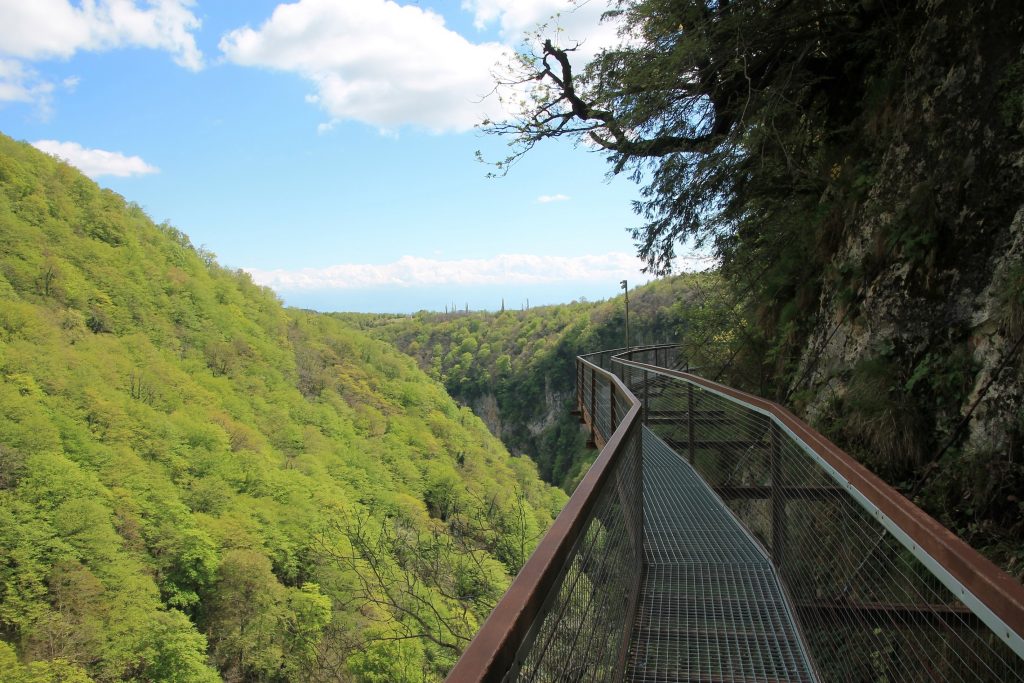 Kinchkha Waterfall
The same river forming Okatse Canyon a little further up jumps down from a cliff a few hundred meters I would guess. The waterfall has several levels, after the first one there is another one going down with less height but more water. Noise and power of the falls are impressive. They have constructed a nice walkway from a newly build visitors center along the stream right to the waterfall to look up and down. Unfortunately the construction was not finished yet so we were asked by the guards to go around a little further away. The sprinkling water led to muddy pathways so we ended up with enormously mud-covered shoes and trousers. On a hot summers day this water-sprayed place must be heaven. We walked a little upstream where the crystal clear water finds it's way through the rocks and forms little ponds here and there. I wish it was summer as I was so tempted to jump in those whirly pools.